Cowboys WR Amari Cooper Noticed a Flaw In Jon Gruden's Personality Which Eventually Came Back to Bite Him and Ended His Career
It's been a tough week for the Las Vegas Raiders. Jon Gruden resigned from his head coach position with the team following the emergence of a series of racist, misogynistic, and homophobic emails spanning seven years. Dallas Cowboys wide receiver Amari Cooper played briefly under Gruden in Oakland and noticed a particular personality trait his former coach displayed.
Cowboys WR Amari Cooper started his career with the Raiders
The Oakland Raiders drafted Amari Cooper with the No. 4 overall pick in the 2015 NFL Draft out of Alabama. Cooper was a popular prospect coming out of college due to his size, speed, and playmaking ability.
The Miami, Florida native played three entire seasons with the Raiders before they traded him to the Cowboys midway through his fourth season. Cooper caught 225 passes for 3,183 yards and 19 touchdowns in 52 games in Oakland.
Jack Del Rio coached Cooper for his first three seasons. The Raiders replaced him with Jon Gruden before the 2018 season. Gruden's guru tag was in question after he traded away Cooper and defensive Khalil Mack, who's now with the Chicago Bears.
The wideout hadn't hit his peak yet, and Mack had already established himself as one of the NFL's fiercest pass rushers. Gruden coached Cooper for six games before striking the surprising deal with Jerry Jones and the Cowboys.
Cooper reveals that Jon Gruden is impulsive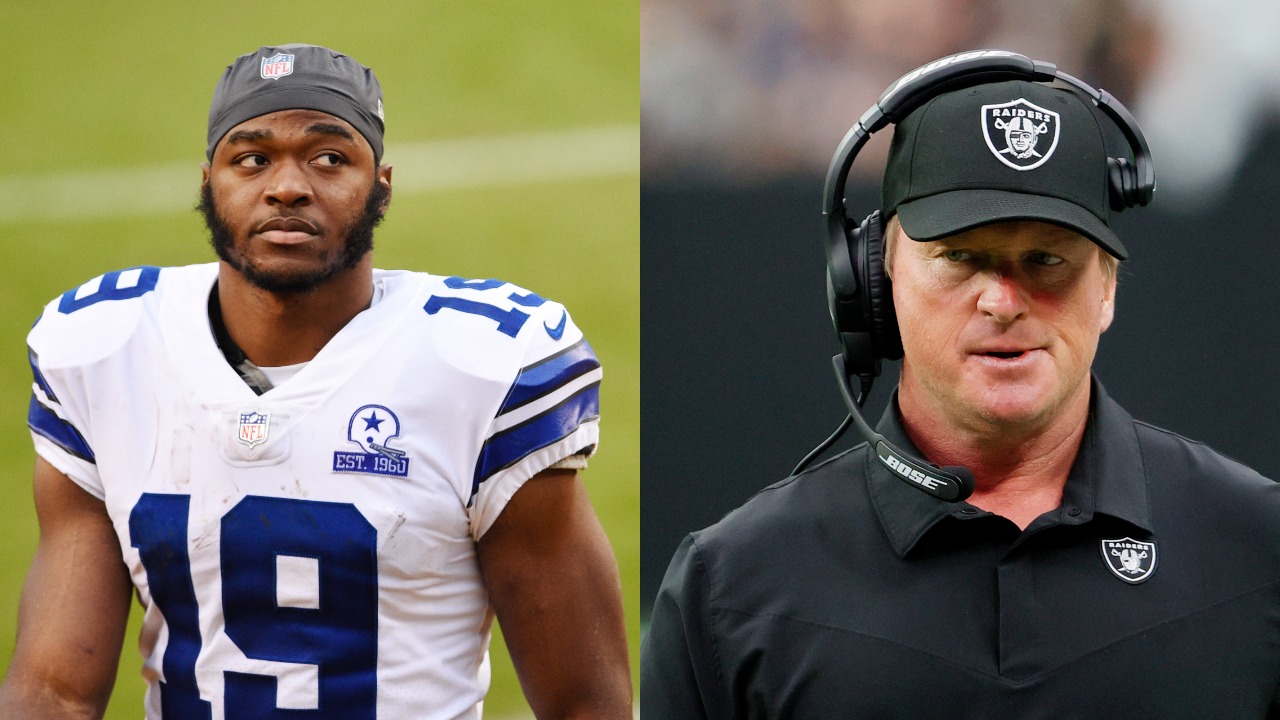 Although Amari Cooper didn't spend an entire season playing under Jon Gruden, he was around long enough to take mental notes.
According to USA TODAY Sports, Cooper studied all 16 Myers-Briggs personality types to understand his coaches and teammates better. The knowledge he acquired helped him pick up on specific characteristics of Gruden.
"It just goes back to what I've said in previous interviews of knowing personality types," said Cooper. "Knowing Gruden, he was able to make really quick decisions, and sometimes it can be impulsive. Sometimes it could be good, sometimes it could be bad."
This time, it was bad. The former Raiders head coach sent those emails without thinking about potential consequences later down the road.
Cooper further explained his analysis of his former coach and why he called him impulsive. "Like, for example, he's not the type of guy on a fourth down to be hesitant on a fourth down if you're going to go for it or not—that's where it's a good thing," he said. "He's not the type of guy to take 15-20 minutes to decide what he's going to be wearing."
The wideout mentioned Gruden's impulsive nature could rear its ugly head, too. "But then, on the other hand, it can be a bad thing when you're impulsive like that—I guess when you just feel like you have to say something and you just say it without thinking. It's just his personality, I guess."
Gruden's personality flaw cost him his job and reputation
Amari Cooper's analysis of Jon Gruden appears to be somewhat accurate. He sent disparaging emails to former Tampa Bay Buccaneers and Washington Football Team executive Bruce Allen and others without considering the impact of his words.
Cooper added that he's never witnessed any racist, misogynistic, or homophobic behavior from Gruden. "But knowing Gruden, I never thought he was racist. I never thought he was misogynistic, anything like that," he said.
Although he didn't see it, some of Gruden's other former players saw red flags, including Keyshawn Johnson. The former three-time Pro Bowler called the ex-Buccaneers coach a "fraud" and a "used car salesman."
Gruden got his first NFL assistant gig with the San Francisco 49ers in 1990. The Raiders gave him his first head coaching job in 1998. The 58-year-old was in his 15th season as a head coach, and it came to an abrupt end.
The email scandal tarnishes Jon Gruden's reputation. His lack of awareness of people from diverse backgrounds and his "impulsive" behavior ultimately led to his demise.
Now, players like Amari Cooper, Keyshawn Johnson, and Derek Carr have to process the news about the man who was supposed to be leading them.
Like Sportscasting on Facebook. Follow us on Twitter @sportscasting19.
RELATED: Ex-Raiders HC Jack Del Rio Rips Apart Jon Gruden After Disturbing Emails: 'I Don't Have Much Respect For Him'