The Cowboys Are in Grave Danger of Losing a Pair of Major Offensive Weapons This Offseason That Could Derail Dak Prescott's Ascending Stardom
The Dallas Cowboys are coming off a much-needed bounce-back victory in Week 13. They knocked off Taysom Hill and the New Orleans Saints 27-17, firmly establishing themselves back atop the NFC East.
While the win is great news for the Cowboys, a nationally televised Thursday Night Football game comes with national attention — sometimes not always beneficial attention for the teams playing.
While the national media spent much of Friday morning bashing the Saints for their continued use of Hill at quarterback, the Cowboys got a far different reaction. A pair of their players (who are impending free agents) had strong performances when the lights were at their brightest.
Cowboys WR Michael Gallup is positioning himself to land a massive contract in free agency
The first player that needs to be discussed is Cowboys wide receiver Michael Gallup. After missing Week 2-8 due to injury, the 25-year-old WR has returned to the Dallas offense in a massive way.
Since returning, he's racked up 18 catches for 228 yards and one touchdown. He hauled in five catches for 106 yards against the Las Vegas Raiders when asked to slot in as the team's No. 1 wide receiver, and caught a mind-boggling TD against the Saints this past Thursday.
Gallup was drafted by the Cowboys in 2018 and has somewhat been overshadowed by his WR counterparts. Amari Cooper is the established veteran WR1 in Dallas, and CeeDee Lamb has displayed all the skills of a future superstar since being drafted in 2019.
However, this shouldn't take away from Gallup's elite skills. He's logged 180 career catches for 2,721 yards and 14 touchdowns over 51 games with the Cowboys. Most NFL teams would kill to have that type of production on their roster. It's even more impressive that Gallup did all this while operating as the Cowboys' second or third receiving option.
Set to be a free agent at season's end, rival teams will be lining up to pay Gallup.
The Cowboys are also in danger of losing TE Dalton Schultz
Another pass-catcher who is slowly but surely establishing himself as a crucial piece to the Cowboys' offense, tight end Dalton Schultz is having the best year of his career thus far.
Schultz is averaging a career-high 43.8 receiving yards per game and has already matched his season-best in touchdowns (4). With Cooper, Lamb, and Gallup sporadically missing time this season, Schultz has stepped up as a reliable safety blanket for Dak Prescott and the Dallas offense.
Schultz won't get a massive deal in the offseason like Gallup. However, teams will be interested in his services. He's only 25 years old and is seemingly entering the prime of his NFL career.
Losing either one of these players could hurt Dak Prescott in 2022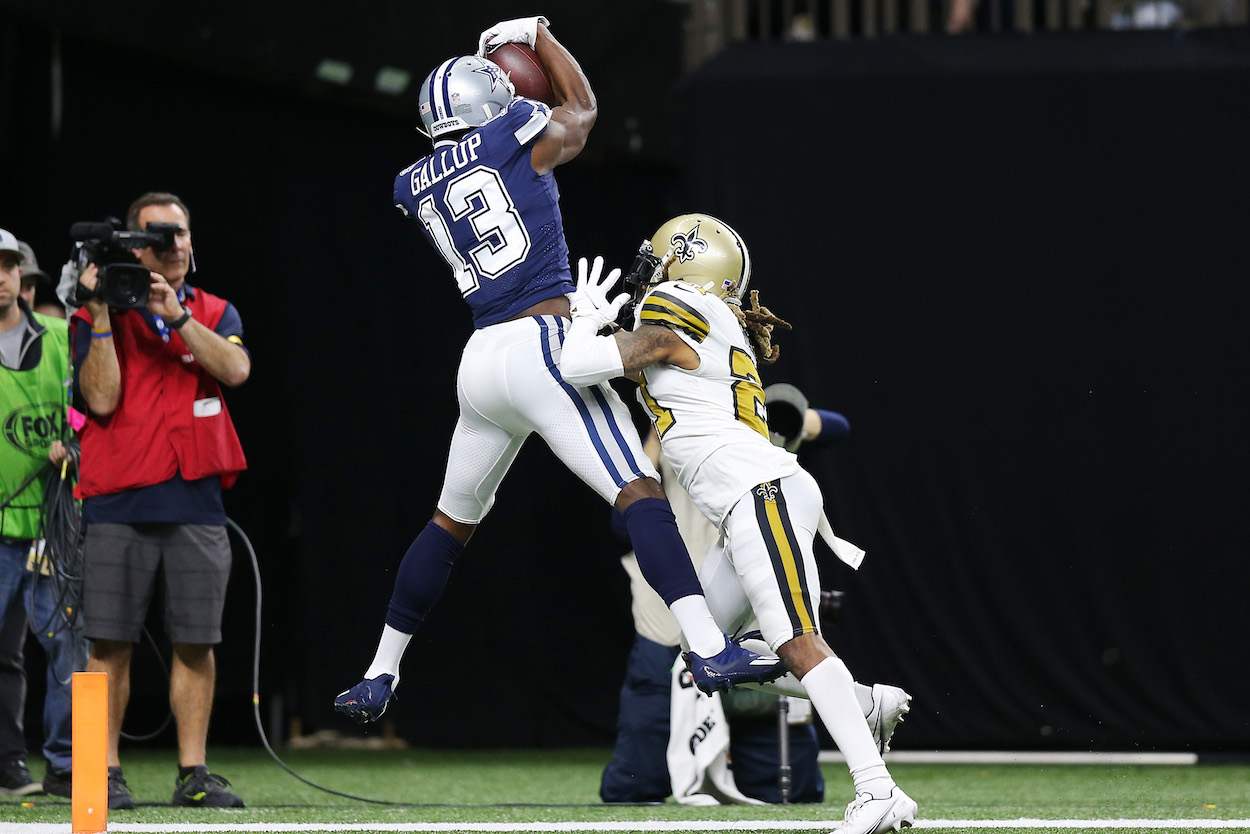 There's still a ways to go before the Cowboys need to start thinking about the 2022 season. However, it's worth pointing out that Dallas likely won't be able to retain both Gallup and Schultz.
The Cowboys are already paying Amari Cooper like one of the league's best, and CeeDee Lamb will have a rightful claim to make similar money in a few years. This puts the team in a tricky position regarding re-signing Gallup and Schultz.
The Cowboys could also turn to the draft to replace one or both players (they're pretty good at drafting pass-catchers). However, the loss of either one could significantly impact Prescott and the Cowboys' offense moving forward.
How much? Only time will tell.
All stats courtesy of Pro Football Reference.