The Cowboys Came Dangerously Close to Drafting Eagles QB Jalen Hurts: 'We Certainly Had Interest in Him'
For the past few years, the Dallas Cowboys/Philadelphia Eagles rivalry has been dominated by the Dak Prescott versus Carson Wentz debate. Both players were ascending young quarterbacks, and both fan bases wanted to believe their QB was superior.
Fast forward to 2021, and the new debate that's set to be held is Prescott versus Jalen Hurts. It's far too early to realistically compare Hurts to Prescott from a career perspective (Hurts hasn't even played a full season yet). However, it wasn't that long that the Cowboys were considering adding Hurts to their own respective roster.
The Cowboys had major pre-draft interest in Jalen Hurts
During a radio appearance post-draft, Cowboys' COO Stephen Jones (the son of Jerry Jones) delivered some revealing comments about Dallas' interest in Hurts. Similar to the Eagles, the Cowboys thought Hurts had the make-up of a high ceiling backup QB.
"We looked really hard. Certainly, obviously, our guy is Dak, but at the same time, Mike is a big proponent of continuing to look at quarterbacks. He went off the board as he should of there in the second round," said Jones. "We certainly had interest in him…"
According to Jones' comments, the Cowboys' plan regarding a potential Hurts selection was to name him Prescott's backup. However, there was still some uncertainty regarding Prescott's long-term status in Dallas at the time. Maybe they were thinking about bringing him in as Prescott's replacement? We know now that it didn't take Hurts long to take the job from former Eagles quarterback Carson Wentz in Philly.
Ultimately, the Cowboys passed on the opportunity to draft Hurts in the second round. They instead selected his former Alabama teammate Trevon Diggs, who's establishing himself as a solid starting corner.
Stephen Jones also compared Hurts to Prescott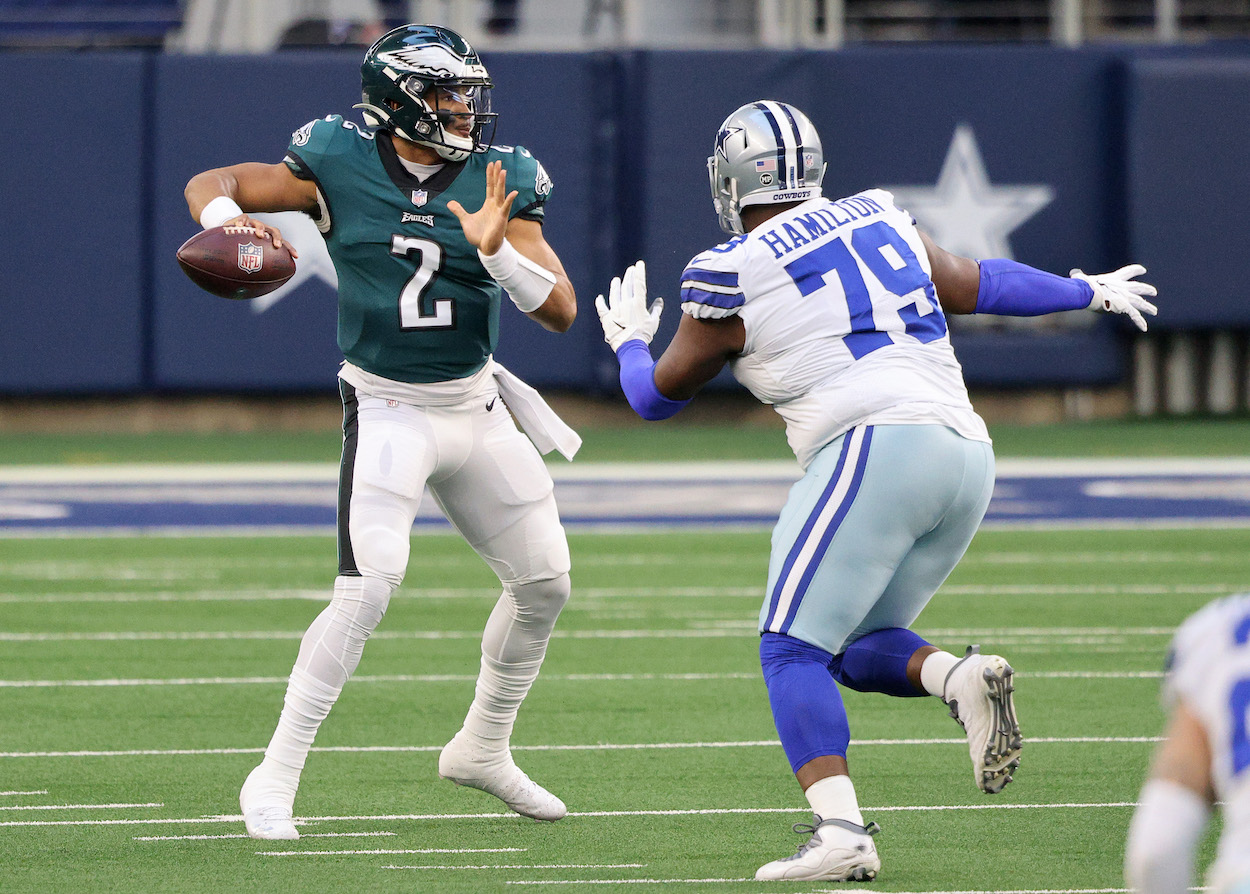 During the same radio appearance, Jones went a step further, and full-on compared Hurts to Prescott.
He's a hard worker. To some degree he reminds you — I'm not going to go as far as to say all the details of the skills — his leadership, competitiveness, and the success he is having quickly reminds of our guy Dak [Prescott]. And this is just what I'm seeing from afar. It's unfair for me to judge

Stephen Jones via 103.5 The Fan
The Cowboys conducted pre-draft research on Hurts, and they've gone on record saying he's similar to Prescott. Clearly, there was some serious interest at work here.
Things ultimately worked out for Hurts, the Cowboys, and the Eagles
Ultimately speaking, things worked out for all parties involved. Hurts got drafted to an organization looking to make a change at quarterback while the Cowboys and Prescott agreed on a massive multi-year extension.
Prescott missed most of 2020 due to a nasty ankle injury, but he's back in action and looks like his old self. The Eagles, on the other hand, are coming off an ugly Week 2 loss. However, there's growing optimism that Hurts will only get better as the season progresses. If he does, he could easily be the team's starter again in 2022.
It's an interesting alternate universe to look at, one where Hurts ends up in Dallas. However, the reality is that Hurts is now quarterbacking the Cowboys' biggest rival. He's public enemy No. 1 in central Texas.
Like Sportscasting on Facebook. Follow us on Twitter @sportscasting19.
RELATED: The Cowboys Just Sent a Stern Message to the Eagles in Response to Their Recent T-Shirt Antics: 'We Stay in Our Lane'