Cowboys Cornerback Trevon Diggs Overcame His Roller Coaster Rookie Season and Is Playing Lights Out
Trevon Diggs looked like a deer in headlights early in his rookie season with the Dallas Cowboys.
The young cornerback took his licks and learned from them. Now, the Cowboys have a potential star in the making playing in their secondary. His performance through two weeks of the 2021 NFL season is proof.
Inside Trevon Diggs' roller coaster rookie season in Dallas
The Dallas Cowboys selected Trevon Diggs with the No. 51 overall pick in the second round of the 2020 NFL Draft. Diggs was a standout wide receiver at the Avalon School in Gaithersburg, Maryland. Touted as a four-star high school prospect, he garnered several major college football offers.
Diggs committed to Alabama to play for Nick Saban. He'd eventually make the transition to full-time cornerback. The Gaithersburg native had ups and downs during his four-year career with the Crimson Tide.
Diggs' elite athleticism and ball skills helped his draft stock, despite inconsistent play against opposing SEC receivers. Some scouts believed he had "the best ball skills in the draft," per NFL Network's Bucky Brooks.
The expectations for Diggs were high heading into the NFL. The Alabama product started 11 games for the Cowboys in the 2020 season. As with many first-year players, he experienced some growing pains.
Opposing quarterbacks picked on the young corner early on in the season, capitalizing on his inexperience. As the season progressed, though, he appeared to be more comfortable. He began to flash his potential.
Diggs finished his rookie season with 58 tackles, 14 pass defenses, and three interceptions. Pro Football Focus gave him a grade of 62.7 in 2020.
Diggs has played lights out for the Cowboys so far in 2021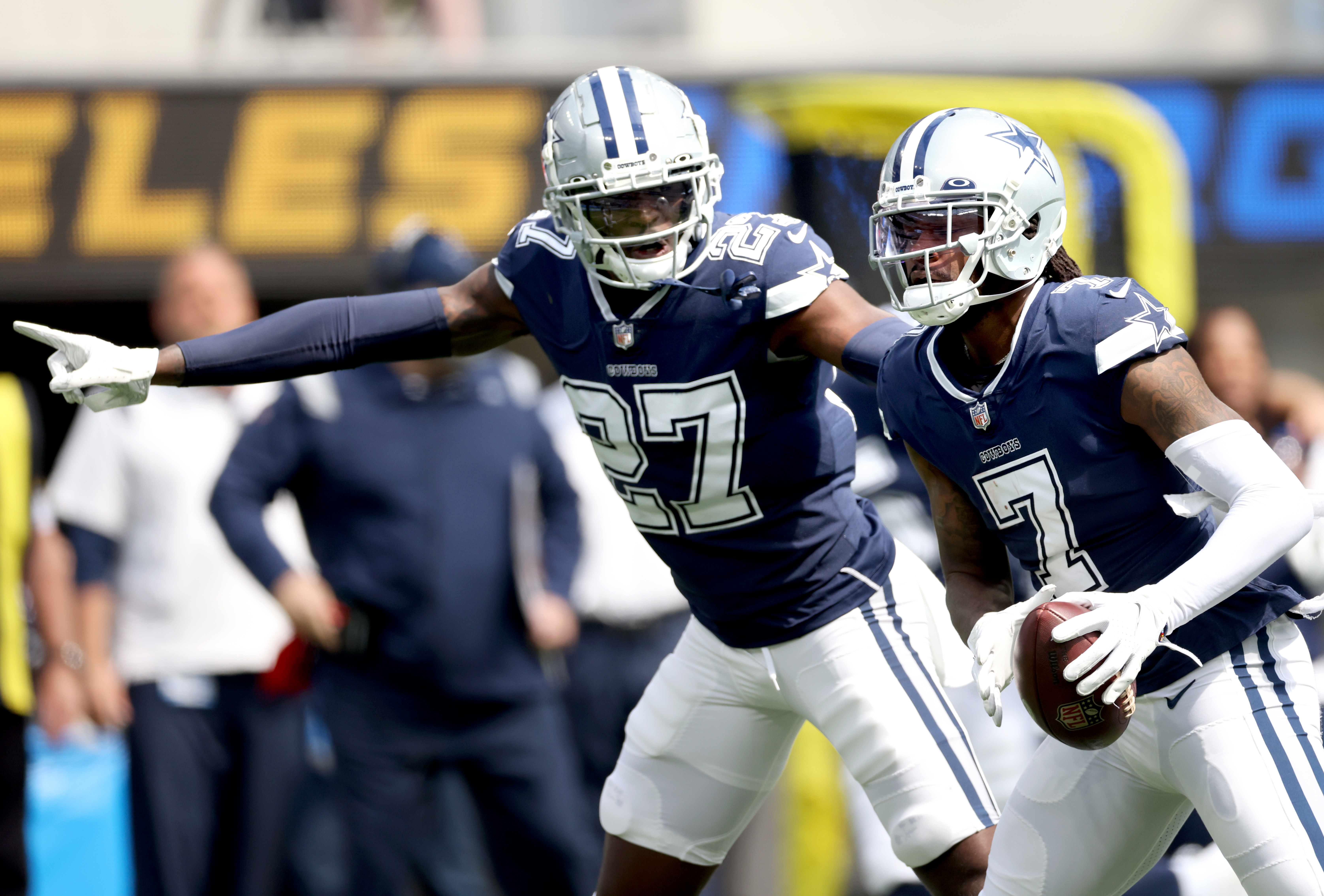 The Cowboys defense was porous in 2020. The unit ranked No. 23 in the NFL in total defense and allowed 29.6 points per game to opposing teams.
So far in 2021, the defense looks improved under new defensive coordinator Dan Quinn. One of the biggest standouts through Dallas' first two games is Trevon Diggs.
The 23-year-old defensive back took Pro Bowl wide receiver Mike Evans out of the game in the Week 1 loss to the Tampa Bay Buccaneers. He shadowed the Bucs wide receiver on 83% of his routes, per Next Gen Stats. Diggs allowed Evans just one catch for 10 yards on three targets.
While Antonio Brown and Chris Godwin had monster games, Diggs eliminated one of the best wide receivers in the league from relevancy in their matchup.
He continued his stellar play in Week 2 against the Los Angeles Chargers. He recorded six solo tackles, one interception, and one pass defense. Diggs became the first Cowboys player to record an interception in the first two games of the season since Lee Roy Jordan in 1975.
The 6-foot-1 cover man has already picked off Tom Brady and Justin Herbert in 2021. He's proven himself as Dallas' best defensive back, and he's displaying why he can be a true No. 1 corner in the NFL.
The Cowboys defense looks much improved from the 2020 season, and Diggs's big-play ability has a lot to do with the turnaround.
Trevon Diggs' 1-on-1's with his brother Stefon Diggs prepared him for the NFL
Trevon Diggs was destined to play in the NFL. He grew up in a football household, learning from his older brothers, including Buffalo Bills wide receiver Stefon Diggs.
Their father died in 2008, and Stefon Diggs became a father figure for his younger brothers and sister. He taught the Cowboys many lessons on and off the field. The younger Diggs had high praise for his big brother, given his success at the next level.
"Other people watch him and act like they're surprised," he told ESPN. "I saw him do everything. Saw him play running back, corner, receiver. I know his talent level and that nobody in the NFL can guard him."
Trevon Diggs knows that he can compete with his brother, too. There's nothing like a good sibling rivalry. Although, the brothers are nearly five years apart, they have battled each other on the field throughout the years.
"I'm gonna try to dominate him," he said of his first chance to play against Stefon Diggs in the NFL. "He thinks he can beat me in everything, but I'm gonna show him."
Trevon Diggs said that he learned an important lesson from the Bills star receiver. "He looks at everything like, 'All right. Let's get to work.' Adversity or anything like that, he tells me to just push through it and go get it," he said.
Adversity met Diggs at the front door in his rookie season with the Cowboys. Still, he pushed through it as his brother told him.
All stats courtesy of Pro Football Reference and NextGen Stats
RELATED: The Cowboys Made a Foolish Mistake By Not Drafting Chargers WR Keenan Allen 8 Years Ago