Cowboys QB Dak Prescott Earned Skip Bayless' Failing Grade: 'The $75 Million Man Played Like He's Worth 75 Cents'
The Dallas Cowboys suffered an embarrassing loss at the hands of the Kansas City Chiefs, falling to 7-3 in the process. Overall it was an uninspiring performance from the Cowboys, especially coming off their 43-3 win over the Atlanta Falcons just a week before.
Quarterback Dak Prescott, in particular, had a terrible performance. It was so bad that noted Cowboys apologist Skip Bayless tore into his favorite's teams starting quarterback.
Skip Bayless gives Dallas Cowboys quarterback Dak Prescott a failing grade
It was not an inspiring performance from Dallas on offense, and that's putting it lightly.
The Cowboys scored only nine points against what is generally considered a rather pedestrian Chiefs' defense. Dallas put up only 276 yards of total offense. Prescott was 28-of-43 passing for just 216 yards, no touchdowns, and two interceptions.
Prescott was so bad that Bayless gave the Cowboys quarterback a failing grade when looking back on the loss.
"The big picture takeaway from what I saw yesterday from my Dallas Cowboys was this game hit me like a LeBron James sucker punch right in the face. It cut my eye and bloodied my nose. It opened up my lips," Bayless lamented.
Of course, Bayless was referencing Sunday's bench-clearing scuffle between the Los Angeles Lakers and Detroit Pistons that saw Pistons' big man Isiah Stewart bloodied up and LeBron James ejected. That made a little bit of news.
"If only my quarterback could have played like my rookie defensive end. If only my quarterback could have played like Micah [Parsons] did, maybe we could have stolen this game," Bayless went on to say.
Micah Parsons, Dallas' rookie linebacker/defensive end hybrid, was a lone bright spot in the loss. He came away with four tackles, two sacks, two tackles for loss, and three quarterback hits. Not just a rookie-of-the-year candidate, he very well could be in the running for defensive player of the year.
"The 75 million dollar man, for the second time in the last three games, played like he's worth 75 cents," Bayless said. "I was dumbfounded, blindsided by it because I didn't see it coming."
Patrick Mahomes played average for the Chiefs. Prescott was worse for Dallas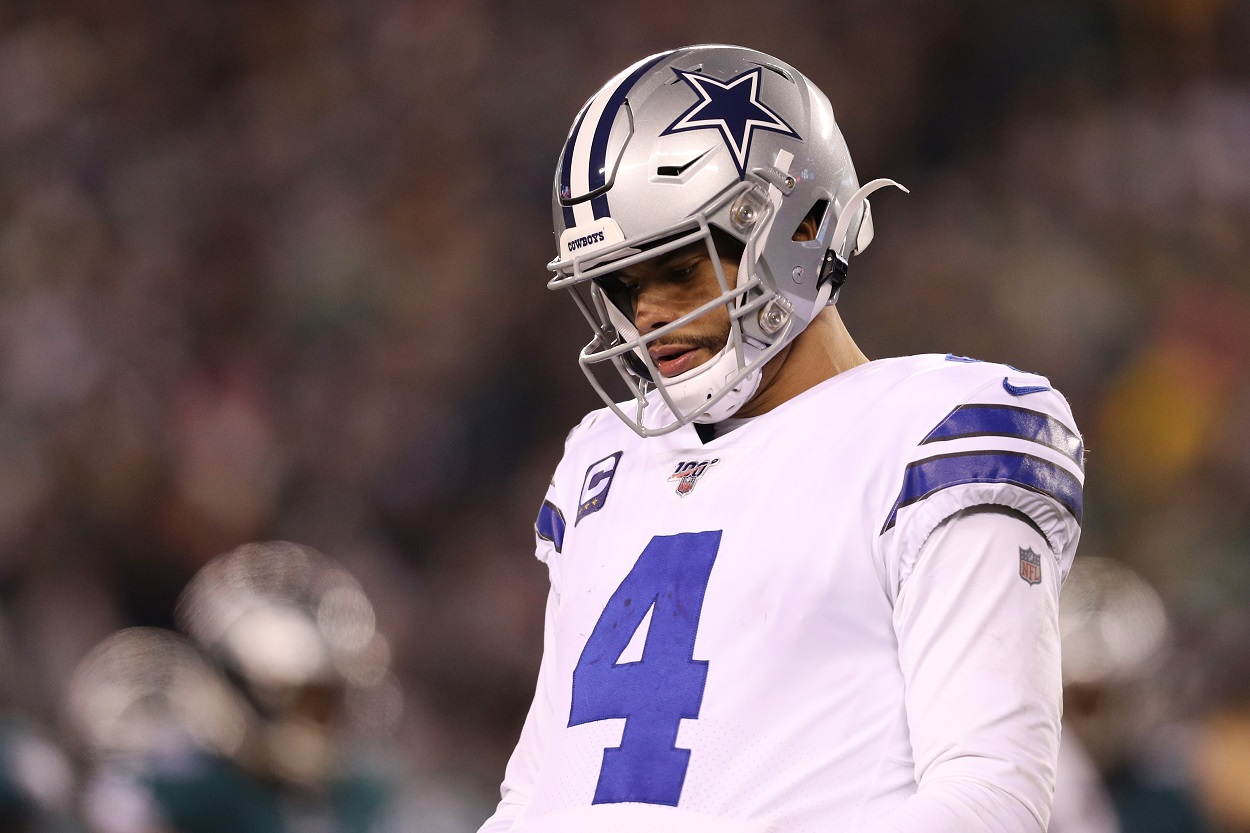 The particularly frustrating part for Dallas had to be the fact that the Cowboys actually did a pretty decent job of slowing down Patrick Mahomes and Kansas City's offense.
Just a week before, Mahomes had gone off for 406 yards and five touchdowns against the Las Vegas Raiders. Even in a loss, Dallas held him to just 23-of-37 passing for 260 yards, no touchdowns, and an interception.
It was far from a vintage game from Mahomes, but the Cowboys offense couldn't capitalize.
"All I heard all week is this could be a hallmark win for my team. Sure, it would be a hallmark win, if Dak went up and outplayed Mahomes as I thought he would,' Bayless said. "I predicted he would have a better QBR than Mahomes, which is now laughable."
To Bayless' point, Mahomes had a pedestrian quarterback rating of 71.9. Prescott was even worse at 57.9.
The Cowboys are riding a troubling trend
Though they still have a solid 7-3 record and a commanding lead in the NFC East, the Cowboys are trending in a somewhat troubling direction.
Dallas has now lost two of its last three games, and the worrying part about this stretch is how the Cowboys, and specifically Prescott, have looked in the two losses.
They put up only 290 offensive yards and 16 points in the loss to the Broncos. They couldn't even find the end zone against Kansas City. Third downs have been most troubling for Dallas in both losses. The Cowboys went a combined 10-of-28 on third down against the Broncos and Chiefs.
Prescott's combined passing stats in both losses were putrid. He went 47-of-82 between both games for just 448 yards, two touchdowns, and three interceptions. To Bayless' point, he's looked far from the franchise quarterback Dallas entrusted with a massive contract.
At the very least, Prescott did own up to his failures.
"The offense didn't get the job done, and it starts with me and it starts with the way we communicated and executed," Prescott said after the loss to the Chiefs, according to the team website.
"I mean, all of us can take part in this loss and be accountable for everything that happened out there."
Stats courtesy of ESPN and Pro Football Reference.