Cowboys: Dak Prescott, Ezekiel Elliott, and Mike McCarthy All Face Huge Offseasons
The Dallas Cowboys ended their 2021 campaign in disappointment. Jerry Jones said it. Mike McCarthy acknowledged it, and word around the league is that the Cowboys may never have a shot to win a Super Bowl quite like the one they did this past season.
Regarding both the salary cap and free agency, this is a crucial offseason for the Cowboys. They have 21 unrestricted free agents to consider, and as of this writing, they are roughly $21 million over the salary cap.
That will be the offseason story in Dallas until the NFL draft, but there are several people in the organization who need to utilize this offseason to get right and get prepared to step up in 2022.
Those stories deserve some spotlight as well. Luckily enough, these three people are used to the spotlight.
Dak Prescott needs to stay healthy for the Dallas Cowboys
Nobody questions Dak Prescott as a leader, and in terms of talent, he has enough to be considered a top 10 to 15 quarterback…depending on the week.
The problem for Prescott over the past two seasons is that he's had to battle injuries, and they've severely hampered his ability to be both available and produce at an elite level.
Prescott missed all but five games in 2020 due to a gruesome ankle injury, and he was hindered in 2021. He missed most of the preseason with a strained shoulder and then was hampered in-season with a calf injury that caused him to miss a game.
Credit to Prescott. It would have been easy for him to blame being banged up for some of his and the team's mid-season struggles, but he instead blamed himself.
"Obviously it went on for a couple of weeks going on to that bye week," he told Rich Eisen, via the team website. "I was able to rest it then, missed the next week out in Minnesota. But I wouldn't say it lingered as long as people gave me the excuse of it.
"I went through a period in the time right there in the season and just didn't play my best ball, and people tried to say it was it the calf. The calf got better. I did everything that I needed to do for it to heal."
This offseason is huge for Prescott.
Not only does he need to stay healthy while training and preparing, but it seems like he needs to figure out a way to remain healthy in 2022 and beyond. Quarterback is a tough position in that regard, but there are ways that Prescott can tailor his game to keep himself safer in the pocket. Just look at how Tom Brady's game evolved over the years. Prescott doesn't need to become a statue, but considering his injury history, he might want to consider becoming more of a pocket passer.
No matter how he approaches this offseason, Prescott needs to step up his game in 2022. He's among the highest-paid players in the league, so there should be no question that he deserves his contract at the end of the day.
Unfortunately, in 2021, those questions haunted the Cowboys.
Can Ezekiel Elliott carry the load for Dallas?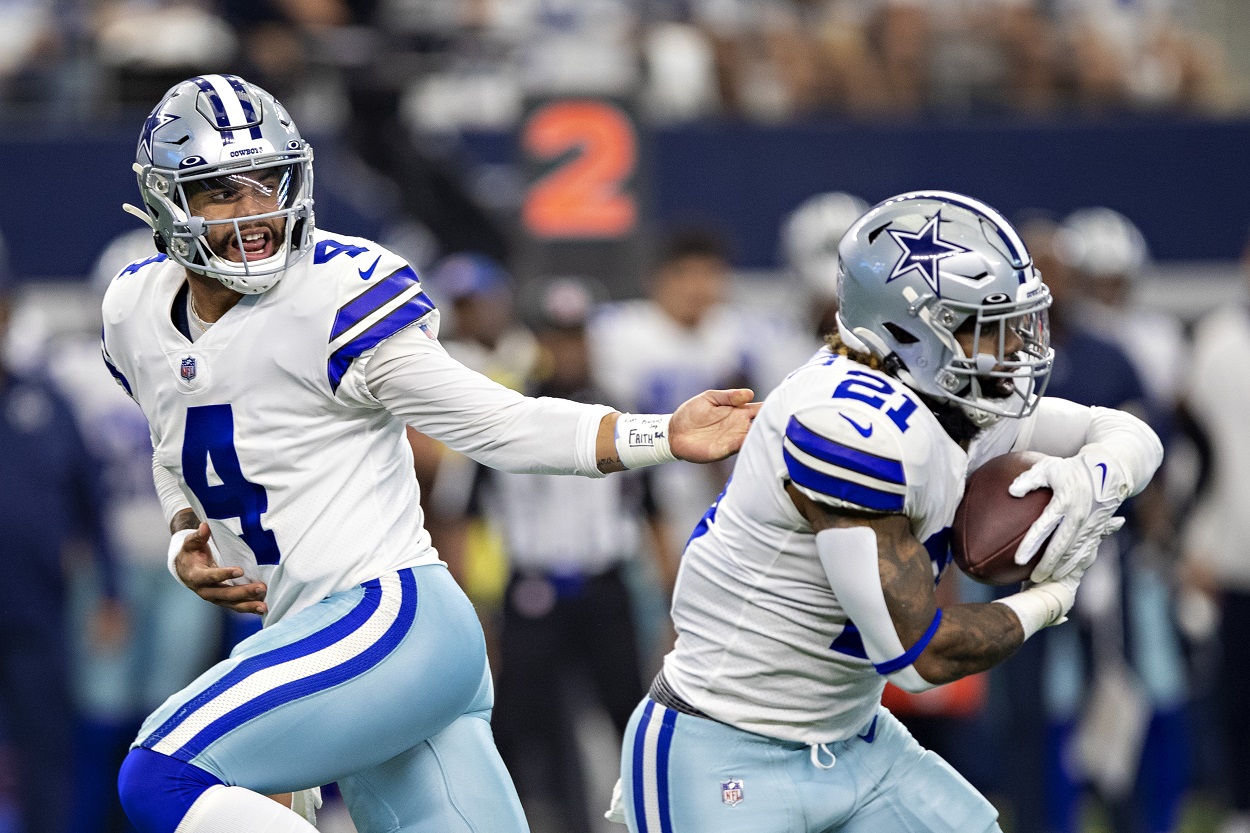 Believe it or not, Ezekiel Elliott is heading into his seventh NFL season. 
He'll be 27 at the start of the new season and considering his history of being banged up, questions might start creeping in about his ability to hold up as the No. 1 back in Dallas.
To be fair to Elliott, when McCarthy dialed down his touches and gave Tony Pollard more of a share, the former No. 4 overall pick did start the show flashes of his old self. He was beginning to look more explosive and powerful the more rest he was able to give his body.
When he's healthy and close to 100%, there's no doubt that Elliott can still be one of the best running backs in the league. The problem is, it's starting to look like he'd be better off splitting reps and saving his body, especially since the Cowboys have him under contract through 2026.
No matter how Dallas approaches his touches in 2022, this is a vital offseason for Elliott.
He won't have any contract problems to worry about. He'll also have a whole offseason to rest and get healthy, so there's no reason that he shouldn't enter training camp in the best shape of his life.
Mike McCarthy needs to figure it out before its too late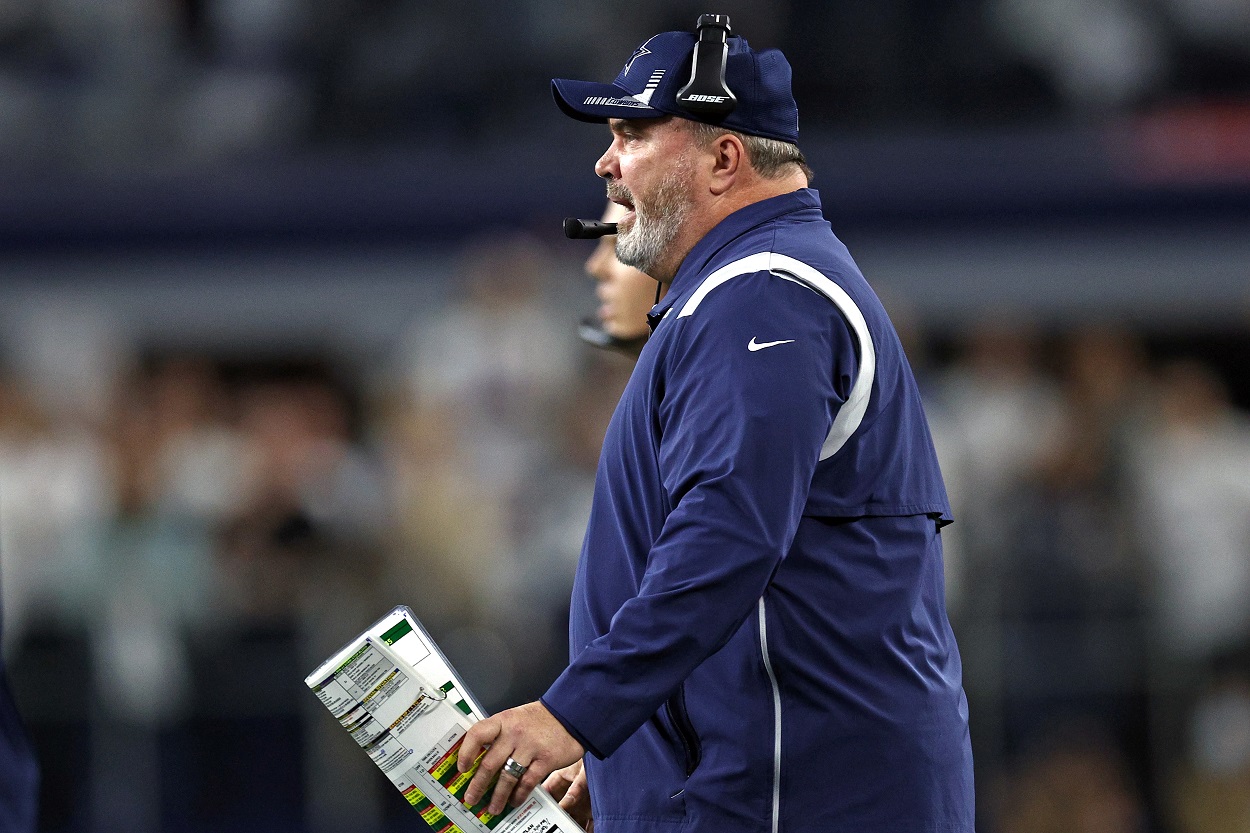 Mike McCarthy will be on the hottest of hot seats in 2022.
If the Cowboys start out slow or McCarthy proves unable to adapt, it wouldn't be shocking to hear that Jones pulled the carpet out from under him and turned the reins over to Dan Quinn. In fact, Jones recently said that McCarthy knows that he won't always be the coach in Dallas. This wasn't just an offhand random comment, mind you. This was something he said while discussing potential other candidates for McCarthy's job.
"Are these narratives unusual? Absolutely. I've never dealt with anything like this," McCarthy told Rich Eisen in the wake of Jones' comments (h/t The Dallas Morning News). "Do I wish I didn't have to come on here and answer questions about it? Yeah, no doubt about it. I wish we were talking about something else, but it's part of our landscape."
McCarthy has to know that he's on a short leash in Dallas, which means that if there was ever a time to figure out how to adjust, this offseason would be it.
He undoubtedly has to address a few things, but first and foremost is discipline. The Cowboys were the most penalized team in the league last season. They also had no issue complaining about the refs, which ultimately is an indictment on him. He himself even whined from time to time, which is not a good look from the leader of an organization. 
Quinn or offensive coordinator Kellen Moore could very well be waiting in the wings for McCarthy's job, and there's always the option for Jones to give Sean Payton a call now that he's no longer with the New Orleans Saints.
If McCarthy has some tricks up his sleeve or a few coaching clinics that he wants to attend, he better do it this offseason because he may not get another chance. 
Stats courtesy of ESPN and Pro Football Reference. Contract information via Spotrac
RELATED: Dallas Cowboys: 3 Players Jerry Jones Should Let Walk in Free Agency