The Cowboys Executed a Shocking Roster Move Which Puts Immense Pressure on Rookie Micah Parsons to Play Like a Superstar
The Dallas Cowboys are off to a promising start this season, and one of the biggest reasons is due to a much-improved defense.
The Cowboys have struggled to field a respectable defense for quite some time now, which is slowly changing following the hiring of Dan Quinn as defensive coordinator and the acquisition of a few young stars via the draft. Second-year cornerback Trevon Diggs and rookie linebacker Micah Parsons, in particular, have played like budding superstars this year.
However, with a new guard seemingly taking over, members of the old guard are being sent to the chopping block.
The Cowboys released LB Jaylon Smith
Once upon a time, the Cowboys viewed Jaylon Smith as a core piece on their defense. Not only did Dallas make him a second-round pick during the 2016 NFL Draft, but they also handed him a rather large extension just a few years later.
Smith agreed to a five-year/$64 million extension in 2019, seemingly locking him into a starting role with the Cowboys for most of his NFL career. The extension contained $35.5 million in guaranteed money and kept Smith in Dallas through 2024.
Alas, regression started hitting Smith sooner than Jerry Jones and the Cowboys expected. His coverage grades began plummetting in 2020, and he was often caught committing silly fouls and mental miscues. Opposing offenses would frequently target Smith over the middle of the field to expose his quickly diminishing skills.
The Cowboys flat-out releasing Smith just four games into the regular season is surprising (especially considering how much money they still owe him). However, the writing was on the wall dating back to spring.
Micah Parsons is the unquestioned leader of the defense
When the Cowboys drafted Penn State linebacker Micah Parsons, No. 12 overall, during the 2021 NFL Draft, questions emerged regarding the logic.
The Cowboys undoubtedly needed to improve their defense, but they were seemingly set at linebacker with Smith and fellow veteran Leighton Vander Esch. No more than four games into Parson's rookie season, and it's pretty clear why they (actually) drafted him.
Dallas wants Parsons to replace Smith and Vander Esch, not supplement alongside them.
It's early, but Parsons looks like a franchise linebacker. He's already racked up 2.5 sacks, 17 tackles, three tackles for a loss, and seven QB hits, and he's showcased the ability to thrive at multiple positions within the Cowboys' defense. Parsons is currently filling in for injured defensive end Demarcus Lawrence as a go-to pass-rusher for Dan Quinn, something Smith could never do.
The Cowboys are putting the pressure on Parsons to continue his elite trajectory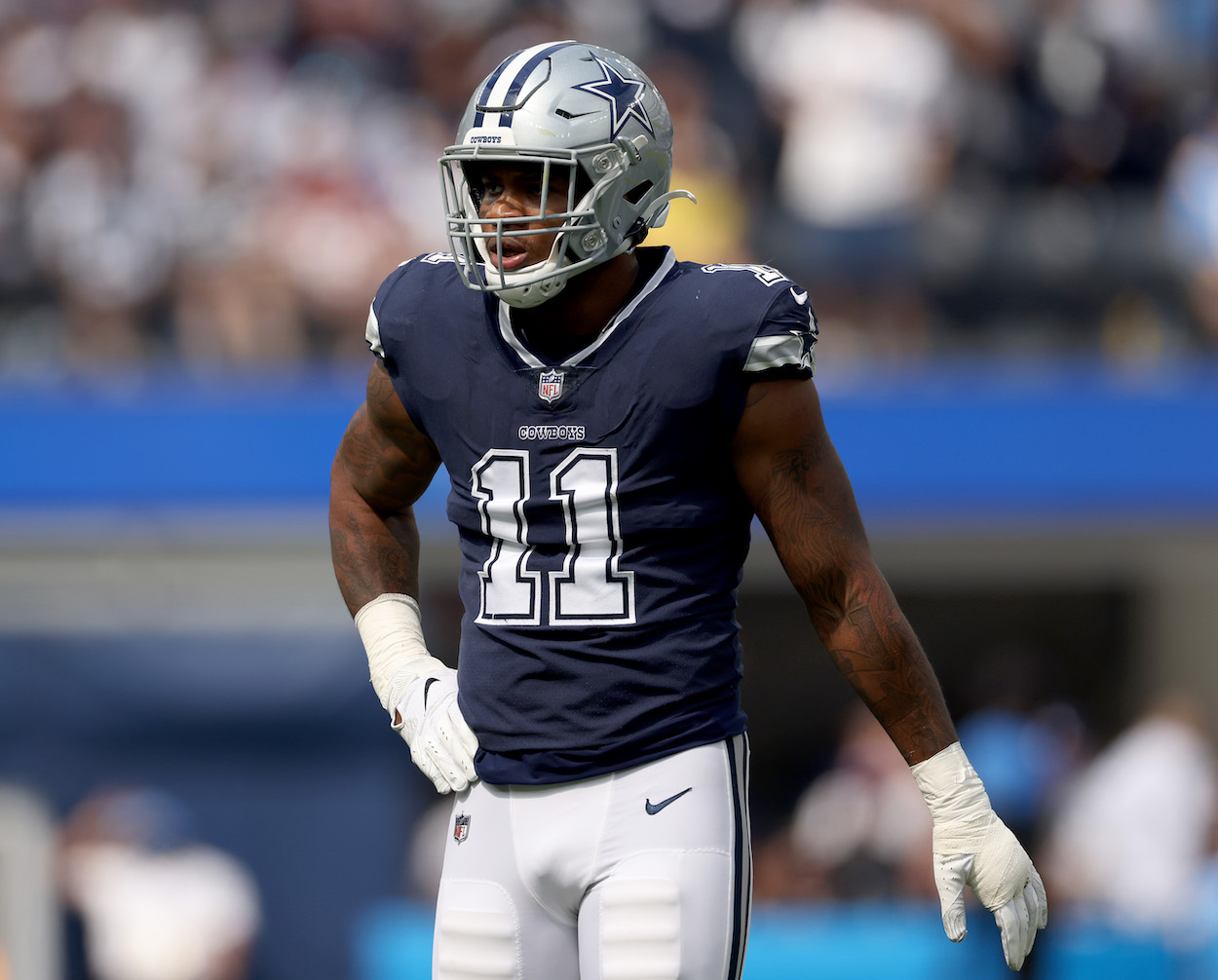 Cutting a veteran to make way for a blossoming rookie isn't unheard of. However, one does have to wonder if the Cowboys jumped the gun just a tad here.
Parsons is playing exceptionally well, but now the pressure rests on his shoulders to carry the Dallas defense.
With Dak Prescott healthy again, anything but winning the NFC East would feel like a catastrophic failure in Dallas. The Cowboys are throwing all their eggs in the "Micah Parsons basket" on defense, hoping he's good enough to keep the team heading in the right direction.
All stats courtesy of Pro Football Reference.
RELATED: The Cowboys Came Dangerously Close to Drafting Eagles QB Jalen Hurts: 'We Certainly Had Interest in Him'