Cowboys Fans Don't Really Blame Ezekiel Elliott for Struggling This Season
There's no way to avoid the fact that the Dallas Cowboys are having a catastrophically bad season. They've seen a rash of devastating injuries, including star quarterback Dak Prescott's season-ending compound ankle fracture in Week 5. The defense has fallen apart. New coach Mike McCarthy has failed to win the trust and respect of his new team.
On top of it all, three-time Pro Bowl running back Ezekiel Elliott hasn't been putting up the numbers fans and analysts expect. Yet those who have been following the Cowboys closely know that Elliott himself isn't really to blame. Let's look at Elliott's NFL career, his numbers this year, and the real reason he's struggling this season.
Ezekiel Elliott's NFL career so far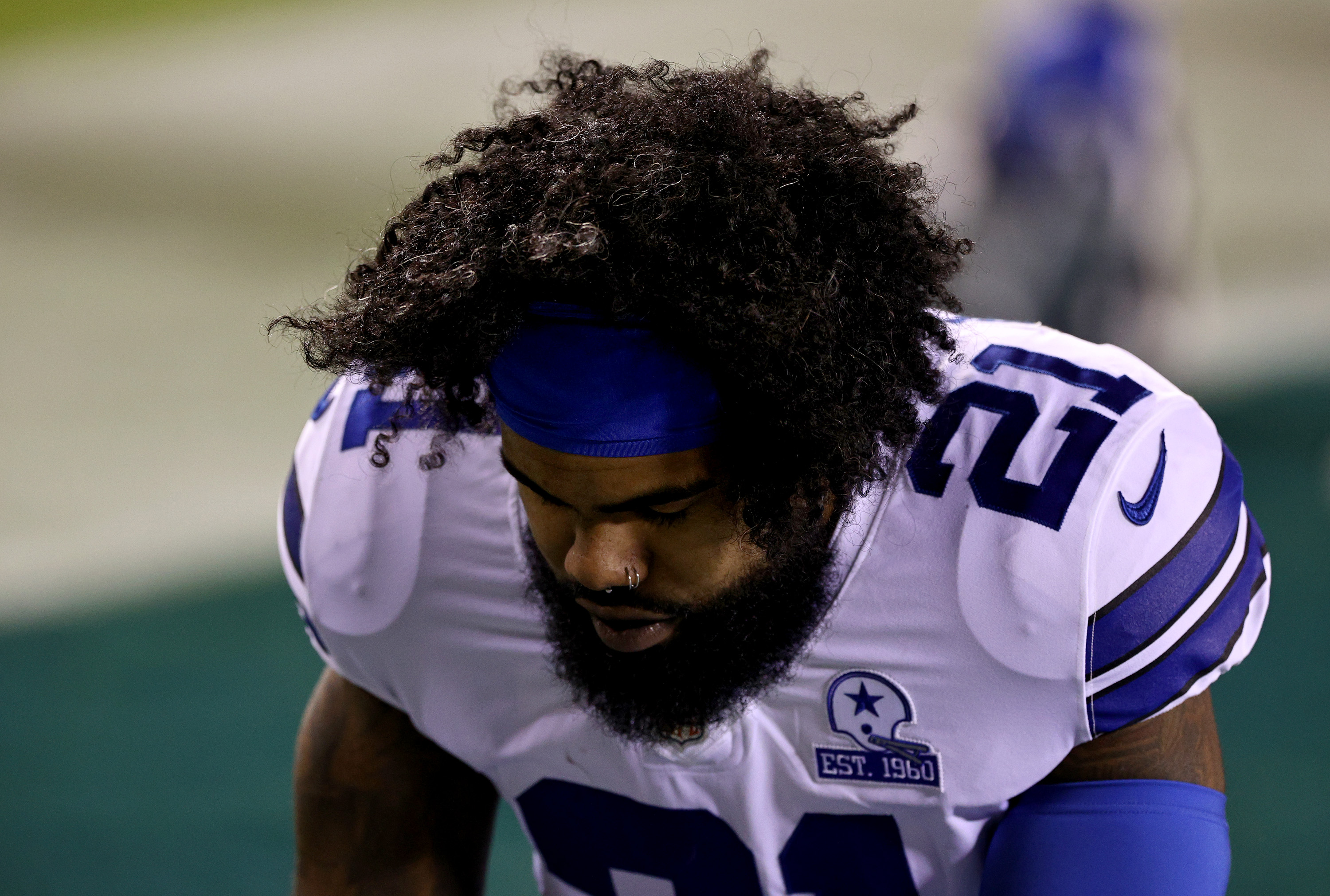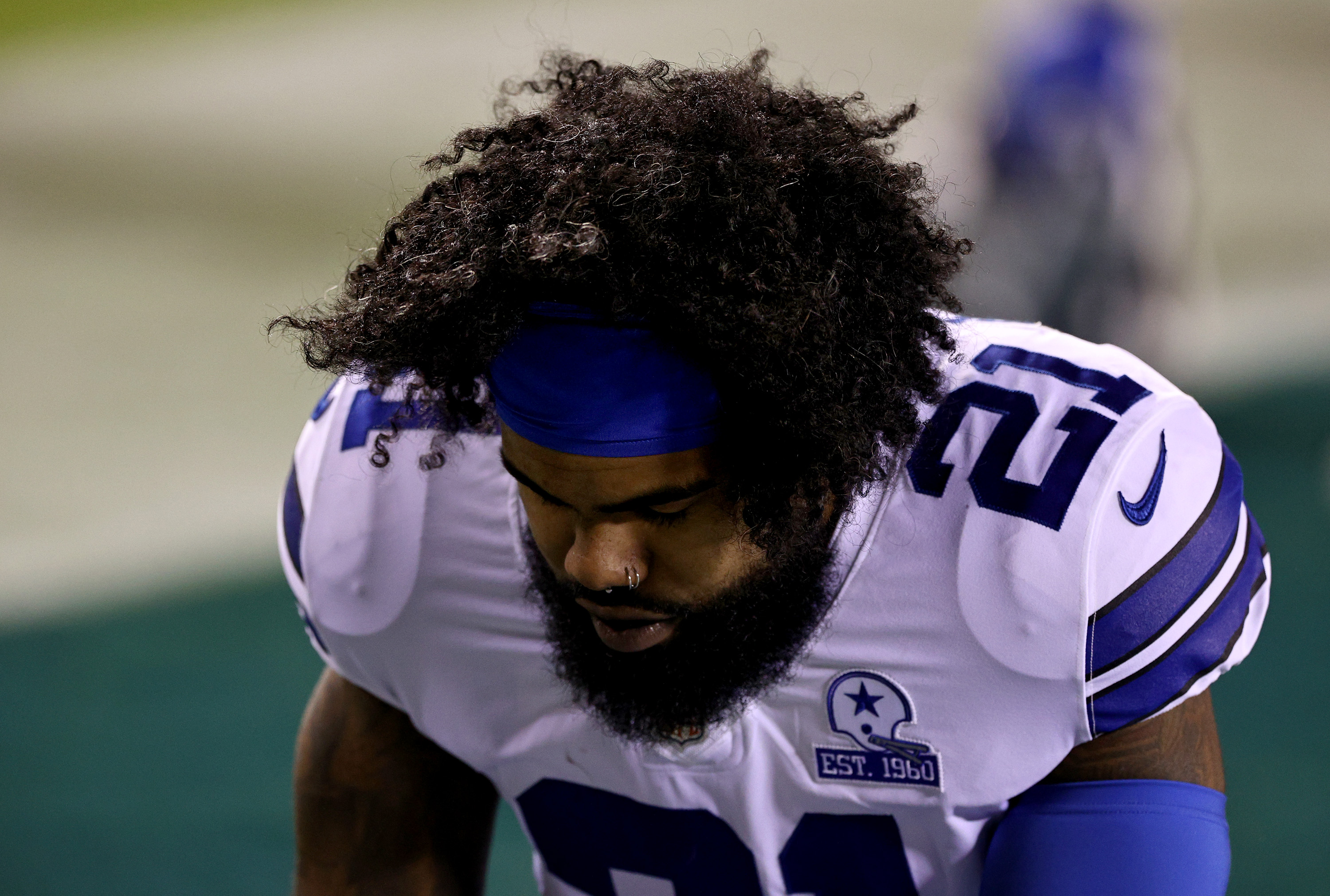 Elliott generated huge amounts of interest during his three-year college career at Ohio State, with scouts praising him as one of the most talented running back prospects since Adrian Peterson. The Cowboys selected him with the fourth pick of the 2016 NFL Draft. Elliott had a sensational rookie season, leading the entire league with 1,631 rushing yards, and earning himself both Pro Bowl and First-team All-Pro selections.
Elliott's second year was marred by ugly domestic violence accusations, which led the NFL to suspend him for the first six games of the season. He bounced back with strong third and fourth seasons, earning two more Pro Bowl selections, and again leading the league in rushing yards in 2018. Elliott's career average of 92 rushing yards per game currently puts him in fourth place of all time, behind only Jim Brown, Barry Sanders, and Terrell Davis.
A look at Elliott's numbers this year
By pretty much any standard, Elliott has been having a down season in 2020. Through nine games, he has rushed for just 572 yards. To be fair, he's also being used somewhat less frequently. Last season, he made 18.8 rush attempts per game; this year, that number is down to 16.7. Yet that drop in usage still doesn't account for all of his poor production.
For a better idea of how Elliott's season is going, consider his rushing yards. This year, he's sitting at 63.6 yards per game — nearly thirty yards below his career average. At that rate, assuming he plays in all 16 games, he'll barely end up cracking 1,000 yards on the season. To make things worse, Elliott has fumbled the ball five times already this season — one shy of the career-high six fumbles he racked up through 15 games in 2018.
Why fans don't really blame Ezekiel Elliott for his struggles
On the surface, Elliott's numbers might suggest that he's lost a step, or is dealing with nagging injuries. Yet look a little closer and the real explanation for his slump should come into focus: the Cowboy's offensive line has been completely decimated by injuries this season. At the start of the season, the Cowboys had arguably the best offensive line in the game.
At this point, however, all but one of the starting offensive lineman have been lost to injury. Things reached their low point in October when All-Pro right guard Zack Martin suffered a concussion in a game against the Arizona Cardinals. While Martin was able to return after a couple of weeks, the Cowboys' O-line remains an absolute train wreck.
As a running back, Elliott is dependent on the offensive line to create the space he needs to run the ball, and the Cowboys' backup lineman just aren't getting the job done. Yet that isn't the only factor that's been dragging his production down. Dallas' defense has been even worse than their offense this year.
As a result, the Cowboys frequently find themselves losing by multiple touchdowns. To try and catch up, they end up leaning on a pass-heavy offensive game, leaving Elliott without the touches he needs to ensure the kind of production that Cowboys fans are used to. While this season is basically a wash for Dallas, the good news is that Elliott should be ready to prove himself a high-impact player again next year.