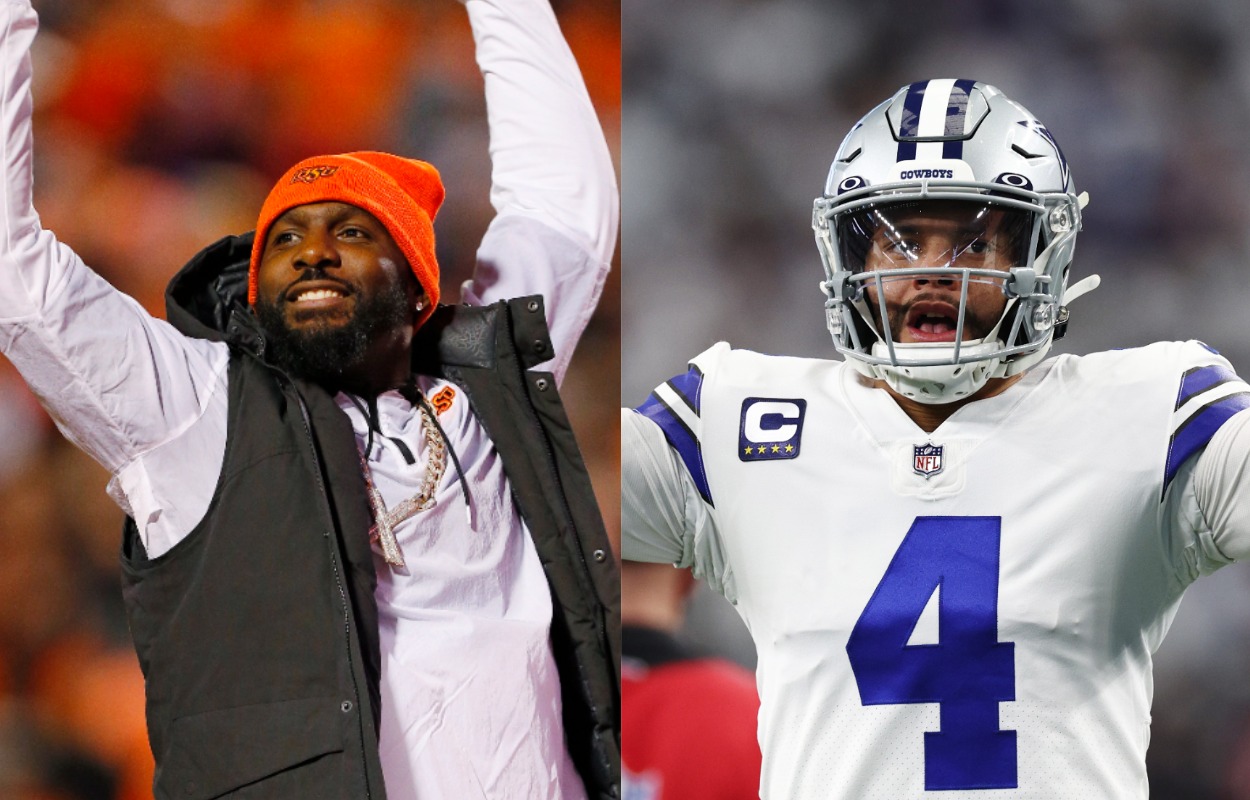 Cowboys Great Dez Bryant Ripped His Former Team's Effort Following Heartbreaking Playoff Loss: 'I Don't Know How You Don't Perform with All the Talent on Offense'
Dez Bryant is far from pleased with the Dallas Cowboys, and he made his frustration clear in a Twitter post following his former team's Wild Card Round loss.
Article Highlights:
Dallas Cowboys legend Dez Bryant ripped his former team after a loss in the Wild Card Round
The three-time Pro Bowler openly questioned an offense that underperformed in key moments
Don't expect Cowboys owner Jerry Jones to even consider listening to Bryant's complaints
Dallas Cowboys legend Dez Bryant tried applying the 24-hour rule before he shared his final thoughts regarding his former team's loss on Super Wild Card Weekend.
He lasted roughly 20 hours.
After tweeting his thoughts throughout the Cowboys' crushing 23-17 loss to Jimmy Garoppolo and the San Francisco 49ers, Bryant wisely waited nearly another day before sharing his final opinion — and it's one Dak Prescott and Dallas' offense likely wishes their former teammate hadn't posted.
Dez Bryant didn't hold back in ripping the Cowboys after the Wild Card Round loss
Like the rest of the Cowboys' fan base, Bryant loudly tweeted when Prescott fired a second-quarter touchdown to veteran receiver Amari Cooper. He stewed in frustration and complained about running back Tony Pollard's lack of touches.
Then came the final drive. After tweeting positively and expressing how fast his heart was beating, the 2014 first-team All-Pro selection offered no commentary about the final few seconds, outside of two posts quote-tweeting New Orleans Saints receiver Michael Thomas and former Indianapolis Colts punter Pat McAfee's comments regarding the officiating. 
On Monday, Jan. 18, Bryant finally shared his most significant takeaway regarding the Cowboys' performance — and in true Dez fashion, he didn't hold back. 
"I knew if Dallas offense didn't come ready to play we was going to be in trouble…..I feel sorry for Dallas defense because they gave the Offense multiple chances to win the the Game… I don't know how you don't perform with all the talent on Offense smh"
The Cowboys totaled less than 300 yards of total offense before the final drive and committed 14 penalties. A Twitter user cited the lack of discipline in response to Bryant's tweet.
"When it came down to it, they had a chance to win this one," Bryant shot back. "If the [Cowboys] would have won, the 14 penalties would be a non-topic."
Bryant's question is one that Jerry Jones apparently refuses to ask himself
The 2021 Cowboys featured a quarterback (Prescott) who threw for over 4,400 yards, a running back (Ezekiel Elliott) who ended the year with over 1,000 rushing yards, a 1,000-yard receiver (CeeDee Lamb), a rookie linebacker (Micah Parsons) who totaled 13 sacks, and a cornerback (Trevon Diggs) who had an NFL-high 11 interceptions.
In the end, it was for nothing. A loaded Cowboys roster couldn't even make it out of the NFC Wild Card Round.
Bryant openly asked how a team with so much offensive talent can't perform up to form, and it's a question owner Jerry Jones apparently refuses to ask himself. Is this a Prescott issue? He's only won one playoff game in five full seasons and underwhelmed in the recent Wild Card Round loss. Should offensive coordinator Kellen Moore bear the brunt of the blame?
For what it's worth, Bryant doesn't believe the issue is head coach Mike McCarthy. The veteran receiver instead defended the man who led the Cowboys to an NFC East title.
"Ya'll should kill the McCarthy slander. He took the boys to the playoffs his second year. Don't forget about what we had a few years ago."

Dez Bryant
Cowboys vice president Stephen Jones, Jerry's son, told 105.3 The Fan in Dallas on Monday that he is "very confident" about McCarthy's future in Dallas. The Super Bowl 45 champion is 18-16 (counting Sunday's loss) in two seasons with the Cowboys.
If the 79-year-old Jones cared about adding a fourth Super Bowl ring to his collection, he'd ask himself the questions Bryant is clearly pondering.
The Cowboys' crushing loss only highlights the need to finally press the 'restart' button
Pick whatever metric you want to prove how mediocre the Cowboys have been over the last few decades. The Cowboys haven't played in an NFC Championship Game since January 1996 and own only three postseason victories in the 21st century. That's it. America's Team has spent most of this century joining America in watching the playoffs from home.
The Cowboys committed themselves to Prescott in the form of a four-year, $160 million contract last year, so he'll be the starting quarterback going forward. Not even another frustrating loss to the season will send the Mississippi State product packing.
As for the rest of the Cowboys offense, the time is rapidly approaching for McCarthy and Jones to hit the reset button where applicable. Although left tackle Tyron Smith and right guard Zack Martin had stellar regular seasons, both turned 31 near the end of the 2021 calendar year and have plenty of mileage on their tracks. Left guard Connor Williams underwhelmed in the final year of his contract.
Don't let Elliott's 1,002-rushing yard season fool you. He only had one game with over 70 rushing yards (87 in a Week 18 victory over the Philadelphia Eagles) from Week 6 on and averaged a career-low 58.9 yards per game. Unfortunately for the Cowboys, Elliott's $12.4 salary is already fully guaranteed for next season.
At this stage in the game, the Cowboys have established themselves as a team that will either miss the playoffs entirely or lose early despite boasting a loaded offense. For Bryant's sake, maybe he'll be better off if the team doesn't qualify for the 2022 NFL postseason.
Like Sportscasting on Facebook. Follow us on Twitter @sportscasting19.