Cowboys Insider Claims 2 Big-Time Star Players Are Likely to Be Cut This Offseason
The Dallas Cowboys are coming off another frustrating season, and it's only going to get worse for them moving forward. Several of their contracts balloon up in value in 2022, meaning tough financial decisions will have to be made at some point.
Dallas is currently $21.7 million over the league-mandated salary cap, according to Over The Cap. Not only do the Cowboys need to find a way to get their payroll below the cap, but they'd also presumably like to free up extra cap space as well for free agency purposes.
As we all saw during the Wild Card Round, this Cowboys team isn't as talented as everyone initially perceived. Losing at home to Jimmy Garroppolo was embarrassing. The roster needs to improve.
The Cowboys have several huge contracts on the books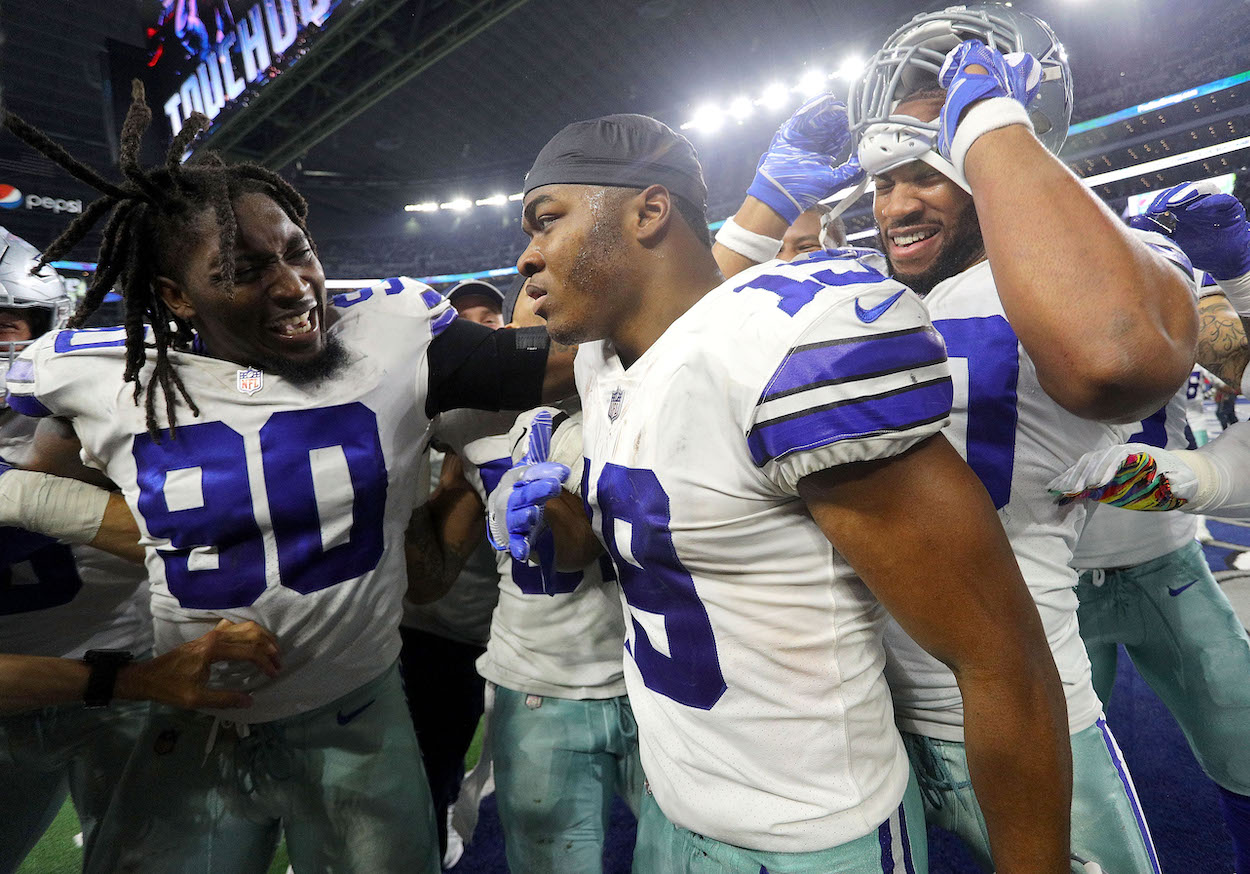 Cowboys owner Jerry Jones has never shied away from spending the big bucks to retain talent. However, his free-spending ways are finally starting to catch up to him.
The Cowboys are rostering seven players with cap hits of $15 million or higher in 2022. Four of those seven players have cap hits over $20 million, and one of them over $30 million.
The easiest way for Dallas to resolve their financial struggles this offseason would be by identifying which of these players can be justifiably released. This saves the franchise from having to artificially create cap space by way of restructuring and punting money down the line.
The Cowboys will not release starting quarterback Dak Prescott or key offensive linemen Zack Martin, Tyron Smith, and La'el Collins. It's a safe bet these players will be on the roster in 2022. However, the same can't be said about veterans Amari Cooper and Demarcus Lawrence.
Cowboys insider believes Amari Cooper and Demarcus Lawrence will be released
According to 105.3 The Fan's Dallas Cowboys insider Bobby Belt, the most likely cap-saving moves for the Cowboys to make this offseason involves Amari Cooper and Demarcus Lawrence.
Cooper is coming off a down season where CeeDee Lamb noticeably outperformed him. Lawrence only recorded 3.0 sacks across seven games as he missed significant time due to injury. Cutting either one of these players certainly makes sense when considering their sluggish 2021 campaigns.
Additionally, cutting these two players would all but solve the Cowboys' impending cap nightmare. Cooper has a "potential out" in his contract, saving Dallas $16 million toward the cap (Spotrac). Lawrence has a potential out which would save Dallas $8 million toward the cap.
That's $22 million of cap space created by simply releasing two aging veterans.
Dallas needs to continue drafting well
Dallas can justify these massive cuts due to their strong drafting over the past two seasons. They've landed key contributors like CeeDee Lamb, Micah Parsons, and Trevon Diggs. Lamb is a better, younger version of Amari Cooper and Parsons proved he could replace Lawrence at DE if need be.
If the Cowboys want to make it further in the postseason moving forward, they need to replicate their recent draft success. They still have a ton of money tied up into Dak Prescott, Ezekiel Elliott, and the offensive line. Building around them is going to require good rookies on small contracts.
Getting rid of Cooper's and Lawrence's high cap numbers would be a step in the right direction, but further work certainly needs to be done in Dallas.
All stats courtesy of Pro Football Reference.
RELATED: Packers CEO Gives Gloomy Update on Possible Aaron Rodgers Return: 'We Are Significantly Over the Salary Cap'