Cowboys Insider Reveals Micah Parsons' Immediate Rise to Stardom Could Force Jerry Jones to Cut Ties with DeMarcus Lawrence
Compared to the 2020 NFL season, the 2021 Dallas Cowboys' defense is like night and day. The current unit is playing with a renewed sense of energy and camaraderie. Micah Parsons' arrival deserves plenty of credit. The rookie is playing out of his mind right now. His emergence could help Jerry Jones and the front office save money on DeMarcus Lawrence in the offseason.
Cowboys linebacker Micah Parsons has exceeded expectations as a rookie
When Micah Parsons played at Penn State, it was easy to see that the kid had talent. However, not many could've predicted that he would be this dominant in the NFL, at least not this quickly.
Jerry Jones and company selected Parsons with the No. 12 overall pick in the 2021 NFL Draft, and the rookie hasn't missed a beat.
Parsons is just 22 years old, but he continues to swiftly rise the ranks as one of the league's most dominant defensive players.
The Harrisburg, Pennsylvania native has recorded 75 tackles, 17 tackles for loss, 12 sacks, and three forced fumbles. He's also notched an impressive 27 quarterback hits.
In such a short amount of time, the first-year linebacker is proving there's not much on the football field that he can't do. His elite athleticism has turned him into a fierce pass rusher no matter where defensive coordinator Dan Quinn lines him up.
Parsons has also grown tremendously in pass coverage. Early in the season, he looked lost (like most rookies). Since then, he's grown increasingly comfortable in the scheme, and the coaches are letting him fly around with reckless abandon.
The sky is the limit for Micah Parsons, which could mean the end of the road for DeMarcus Lawrence.
Jerry Jones could have a tough decision on DeMarcus Lawrence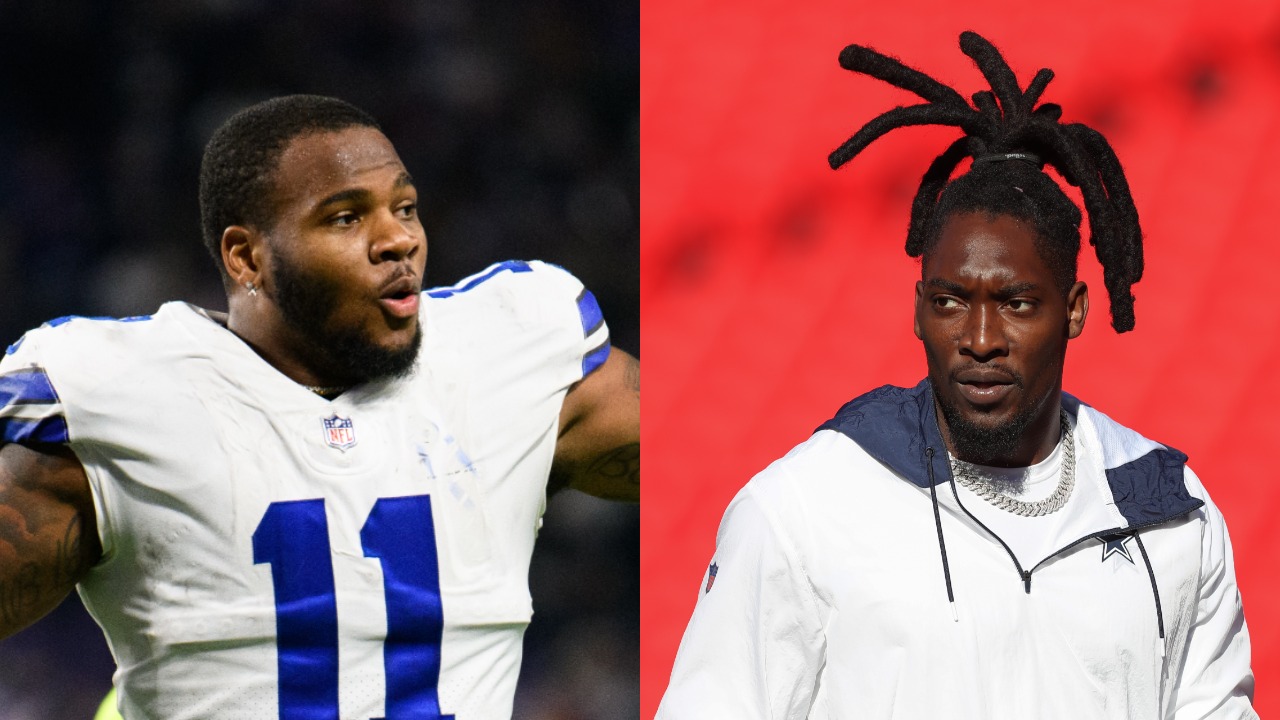 The Cowboys' defense has enjoyed a significant turnaround in the 2021 season. However, with so many talented pieces in the mix, the front office will have the unenviable job of deciding which pieces to keep for the future.
According to Cowboys Wire's K.D. Drummond, Dallas projects to be about $12 million over the salary cap heading into 2022. This means Jerry Jones and the front office will need to make some difficult decisions.
Drummond mentioned several players whose contracts the Cowboys could restructure or move on from via a release or trade scenario. DeMarcus Lawrence is one of the more prominent names on the list.
The Cowboys insider detailed why Dallas could potentially part ways with the 2-time Pro Bowl defensive end.
"It's hard to imagine Dallas restructuring Lawrence after not doing so last year and him missing nine games with a broken foot," said Drummond. "Lawrence has been incredible in his two games this year. But with Micah Parsons looking like a sky-high trajectory and Randy Gregory in need of a new contract, it has to be at least considered the Cowboys could release Lawrence."
The 29-year-old edge rusher is still under contract through 2023. He would make $19 million in 2022 and $21 million in 2023. There's a void year in 2024, and Lawrence will become an unrestricted free agent.
By releasing Lawrence, the Cowboys could help free up some cap space and give themselves a little more flexibility to make other moves.
When fully healthy, DeMarcus Lawrence can be a difference-maker on defense. Still, Micah Parsons' emergence would make the pill easier to swallow.
Dallas' defense is in good hands
Don't look now, but the Dallas Cowboys are playing some outstanding defense. The defense was below average just a season ago, and now this unit is on the cusp of cracking the top 10.
Opposing offenses licked their chops when they saw the Cowboys on their schedule, but not anymore. Dan Quinn's unit currently ranks No. 11 in the NFL in team defense.
The biggest strength of this defense is its identity of being bend-but-don't-break. Teams have been able to move the ball against Dallas. The Cowboys are allowing just over 361 yards per game. However, the unit is opportunistic.
Cornerback Trevon Diggs has cooled down a bit, but he's still leading the NFL in interceptions (9) and passes defended (17). He's a ballhawk who happens to be in the right place more often than not.
Diggs and Micah Parsons have given the Cowboys a confident swagger and attitude on defense. The mentality has completely shifted from a year ago.
Parsons is on pace to easily win the Defensive Rookie of the Year Award. After each performance, he's even putting himself in the Defensive Player of the Year conversation.
Randy Gregory and Jayron Kearse have taken steps forward in 2021 as well.
The Cowboys rely heavily on their defense, which has drastically improved under Dan Quinn.
All stats courtesy of Pro Football Reference