Cowboys LB Jaylon Smith Doesn't Seem Too Worried About His Haters: 'Michael Jordan Had Criticism'
The 2020 NFL season was a nightmare of a year for the Dallas Cowboys, as they not only lost quarterback Dak Prescott, but their defense was among the worst in the NFL. Their struggles on that side of the ball have led to the team's top defensive players receiving significant criticism throughout all of last year and into this current offseason — including linebacker Jaylon Smith.
Smith, though, doesn't appear to be too worried about his haters. In fact, while preparing for the 2021 campaign, he recently had a strong message about the criticism he has received.
Jaylon Smith and the Dallas Cowboys' defense have received significant criticism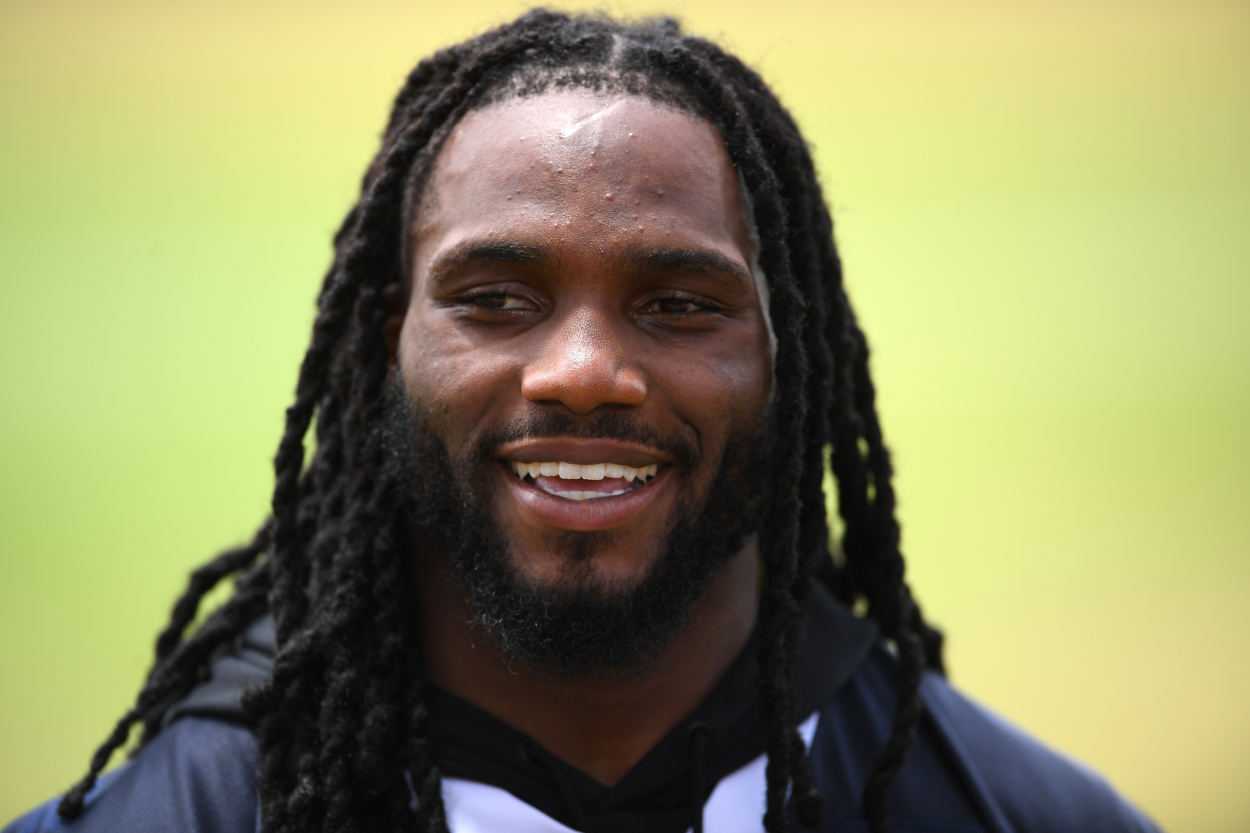 Statistically, Jaylon Smith had a solid year for the Cowboys in 2020. He followed up his 2019 Pro Bowl season with a career-high 154 total tackles.
However, the defense he played on was atrocious, which led to him receiving his fair share of criticism, especially since he's on a six-year, $68 million contract extension that he signed in 2019. Dallas ultimately ranked 28th in points allowed per game in 2020, giving up 29.6 per contest. The defense also allowed the second-most rushing yards in the league with 2,541 and ended up playing a significant role in the team going 6-10 last year.
Stephen Jones, the team's executive vice president, though, said in January that he thought fans were being too hard on Smith.
"I think anytime you have a season like we had, whether it's [Ezekiel Elliott], whether it's Jaylon, whether it's Leighton [Vander Esch], whether it's a lot of guys, the fingers start to say, 'Hey, are these guys playing at a high enough level for this team?'" Jones said on 105.3 The Fan, per The Dallas Morning News. "And I think that's unfortunate because they're the guys that are coming to work every day competing and Jaylon is right at the top of the list in terms of working hard and playing hard in what turns out to be a tough situation."
Now, Smith has a strong message about all the criticism.
The Cowboys' linebacker had a strong message about all the criticism
Smith and the Cowboys' defense are preparing to play at a much higher level in 2021. So, when asked about the criticism that has come his way thanks to the unit's play in 2020, Smith had a strong message.
"I mean, I don't care who you are, you're going to have criticism," Smith said, per the Cowboys' team site. "Michael Jordan had criticism. LeBron James, some of the best players in the world have criticism. That's just a part of the game. But you got to control what you can control. And for me it's just focused on my development and becoming a better player."
No, Smith isn't comparing himself to MJ or The King; he just knows that criticism comes with playing at the highest of levels. That, however, doesn't mean he is lacking any motivation to have a better year this upcoming season.
"Always got something to prove. Always got something to prove," Smith said, per the Cowboys' team site. "People thought I'd never play the game again and I'm here. Really, it's about reaching my maximum potential. That's what I'm focused on. Just doing whatever it takes to help the team win."
Can Jaylon Smith and the Cowboys' defense have a better year in 2021?
Dallas may not have one of the top defenses in the league in 2021, but it should still be a much-improved unit.
In addition to hiring Dan Quinn as the team's new defensive coordinator, the Cowboys signed Keanu Neal and Damontae Kazee this offseason to hopefully help the secondary. They also drafted linebacker Micah Parsons in the first round of the 2021 NFL draft, which could prove to be a massive addition in more ways than one, as it has potentially made Smith work harder in recent months. 
Sports Illustrated reported that Smith believes the team's decision to select Parsons, as well as Jabril Cox, should be a message to the linebackers already on the team. So, because of this, Smith has reportedly watched more film and lifted more weights this offseason.
That report alone should be music to Cowboys fans' ears, whether they believe in Smith or not.
Sure, Smith has received a ton of criticism ever since last year. But, maybe, the additions of guys like Parsons, Neal, and Kazee, combined with the extra work Smith has put in, will lead to him and his squad receiving much less of it in 2021.
Stats courtesy of Pro Football Reference