The Cowboys' Latest Crushing Injury Update Opens the Door for Micah Parsons to Channel 'The Terminator'
The Denver Broncos served the Dallas Cowboys a nice slice of humble pie in Week 9. The Cowboys were 6-1, heading into that game, but did not appear prepared. Dallas fell victim to the trap game. Not only did they lose the game, but they also lost one of their best defensive players in Randy Gregory. His absence puts added pressure on Micah Parsons to live up to his 'Terminator' nickname.
The Cowboys placed Randy Gregory on injured reserve
The Dallas Cowboys' defense has shown a vast improvement year over year after a rough 2020 campaign. Defensive end Randy Gregory is an important reason for that.
Gregory looked like a bust in his first couple of NFL seasons after battling off-field issues. Character concerns caused his draft stock to slide to the second round, where Jerry Jones and the Cowboys took him at No. 60 overall in 2015.
The Nebraska product has established himself as a legitimate edge-rushing threat in the NFL, and he was on pace to enjoy the most productive season of his career. He's recorded 12 quarterback hits and five sacks in seven games.
Dan Quinn's defense took a major hit when Gregory suffered a calf injury against the Broncos. Head coach Mike McCarthy announced that the team was placing the fifth-year defensive end on injured reserve. He will miss multiple weeks, per USA TODAY Sports.
"It's unfortunate," said McCarthy. "You could clearly make the argument he's one of our best players on defense. Yeah, very disruptive. Our team and our defensive players feed off his activity."
Dallas may rely more on Micah Parsons as an edge rusher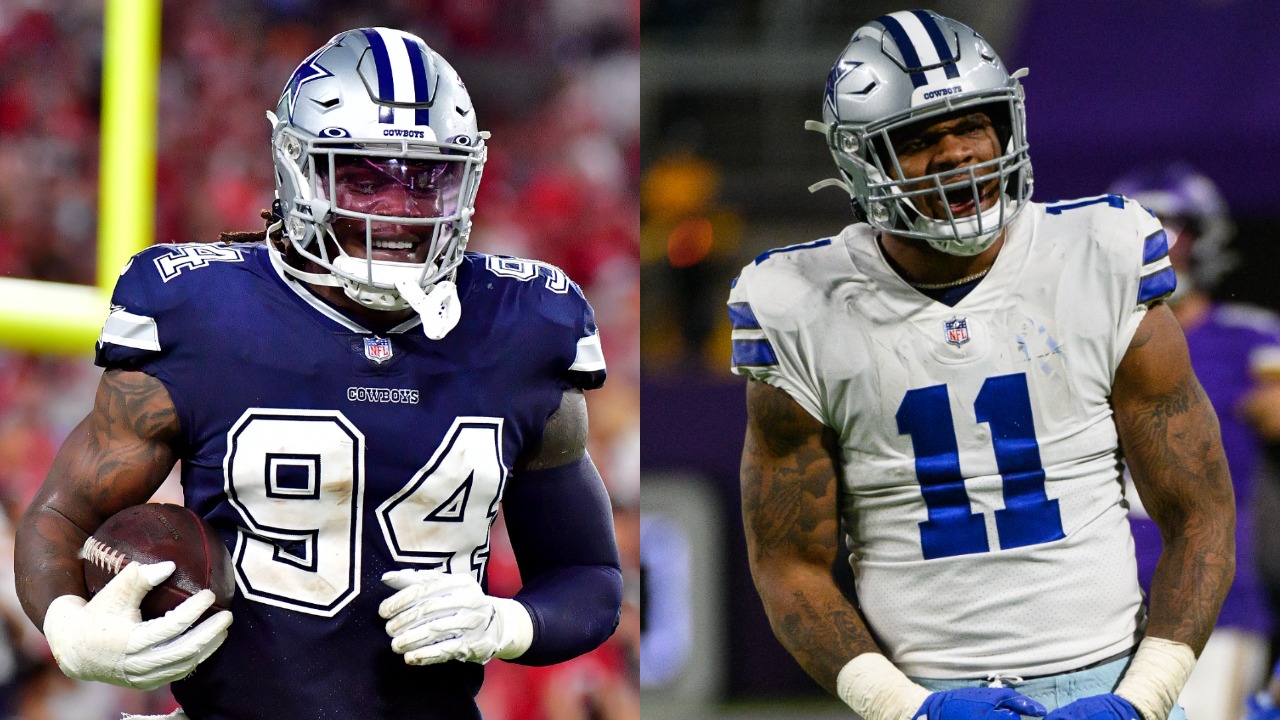 With Randy Gregory sidelined for at least three weeks, the Dallas Cowboys' defense must get creative and find ways to make up for the lost production.
Fourth-year defensive end Dorance Armstrong and veteran Tarell Basham are likely replacements for Gregory. Both are talented guys, but it's unclear if either can be a game-changing pass-rusher for the Dallas defense.
The Cowboys previously experimented with lining up rookie linebacker Micah Parsons at defensive end, and he thrived in that role. The Penn State product is the ultimate competitor and appears willing to help this team in any way he can. He put every opposing quarterback on his hit list.
"You got to look at it like you're trying to be like The Terminator out there," Parsons told The Athletic.
Parsons is running away with the Defensive Rookie of the Year Award at the season's halfway point. He's recorded 52 tackles, 10 tackles for loss, 14 quarterback hits, and five sacks.
The 22-year-old Harrisburg, Pennsylvania native possesses an elite combination of size, speed, and instincts from his linebacker position. He's excelled at linebacker, but he's already proving he can wreak havoc rushing the passer as well.
Parson's versatility makes him a focal point for opposing offenses no matter where he lines up.
Dan Quinn's defense must rebound from an embarrassing performance
Offenses licked their chops when playing against the Dallas Cowboys in 2020. Under Mike Nolan, the defense finished near the bottom of the league. Dallas fired Nolan and brought in former Atlanta Falcons head coach Dan Quinn.
Quinn has seemingly done wonders for the Cowboys' defense in 2021. His unit currently ranks No. 13 in team defense, allowing 24 points and 371.5 yards per game.
It was surprising to see the Denver Broncos' offense have its way against the opportunistic Dallas defense.
Cornerback Trevon Diggs recorded seven interceptions through the first six games, but hasn't recorded one in the past two games. The defense desperately needs his playmaking ability.
On the front end, Dallas has to generate a better pass rush than it did against Denver. That's where the Cowboys will miss Randy Gregory.
Micah Parsons is more than capable of filling that void, and this team will need him to produce more now than ever before. The rookie is not lacking in the confidence department.
For the Cowboys to re-establish themselves as a threat in the NFC, Parsons will need to help this defense get its swagger back.
All stats courtesy of Pro Football Reference.