Cowboys LB Jaylon Smith Has a Strong Message About His Uncertain Future in Dallas
Jaylon Smith's play in his career so far has already earned him a pretty big deal with the Dallas Cowboys. It appears as if they plan for him to be a staple of the team's defensive unit for years to come. However, the Cowboys' entire defense struggled in 2020, which has led to questions recently surfacing about Smith's future in Dallas. Well, with the season now being over for the Cowboys, Smith has a strong message about his future with the team.
Jaylon Smith and the Dallas Cowboys' defense struggled in 2020
RELATED: The Cowboys Just Made a Move To Help Dak Prescott Continue His Success in Dallas
The Dallas Cowboys selected Jaylon Smith in the second round of the 2016 NFL draft. A brutal knee injury caused Smith's draft stock to plummet and kept him out for his rookie season, but he proved to still have a ton of talent once he finally started playing for Dallas in 2017.
Smith recorded 81 total tackles and one sack in 2017, but he became a tackling machine in 2018. He recorded 121 total tackles and four sacks that season, and the Cowboys' defense was excellent. It only allowed 20.3 points per game that year, which helped Dallas go 10-6 and reach the playoffs. 
During the 2019 season, though, Smith earned his first Pro Bowl selection, as he recorded 142 total tackles, 2.5 sacks, one interception, and he defended nine passes. Even though the team missed the playoffs in 2019, the Cowboys' defense was still pretty successful again. It only allowed 20.1 points per game.
However, in 2020, while Smith put up some good stats, he received criticism for most of the year, and the Cowboys' defense was really, really bad. Smith recorded a career-high 154 total tackles but only had 1.5 sacks, his fewest since 2017, and didn't force any fumbles for the first time in his career. The Dallas defense was atrocious as a unit, too. It allowed 29.6 points per game, and 473 total points, which was the most in franchise history, according to 247Sports. This was ultimately a big reason why Dallas only went 6-10.
Because of the Cowboys' struggles this year, there has been some speculation about Smith's future, despite there being five years left on his six-year, $68.4 million deal, according to Spotrac.
Jaylon Smith addressed his future with Dallas
RELATED: Ezekiel Elliott Failed Miserably When Shooting His Shot With Taylor Swift
After the Cowboys' Week 17 loss to the New York Giants, which knocked them out of playoff contention, Smith was asked about his future with the Cowboys.
His message was clear, too.
"I mean, watch the film," Smith said, according to The Dallas Morning News. "But for me, it's a blessing to be able to play this game. So many people thought I'd never play ever again. So for me, I'm my worst critic and I'm my biggest fan. I'm gonna keep at it, keep grinding, but the guys that know football and know our scheme and watch film. I don't have to speak for myself. It's all there."
Well, it appears that he is confident in his abilities and thinks he should stay in Dallas. How easy would it be for the Cowboys to part ways with Smith, though?
How easy would it be for the Cowboys to cut him?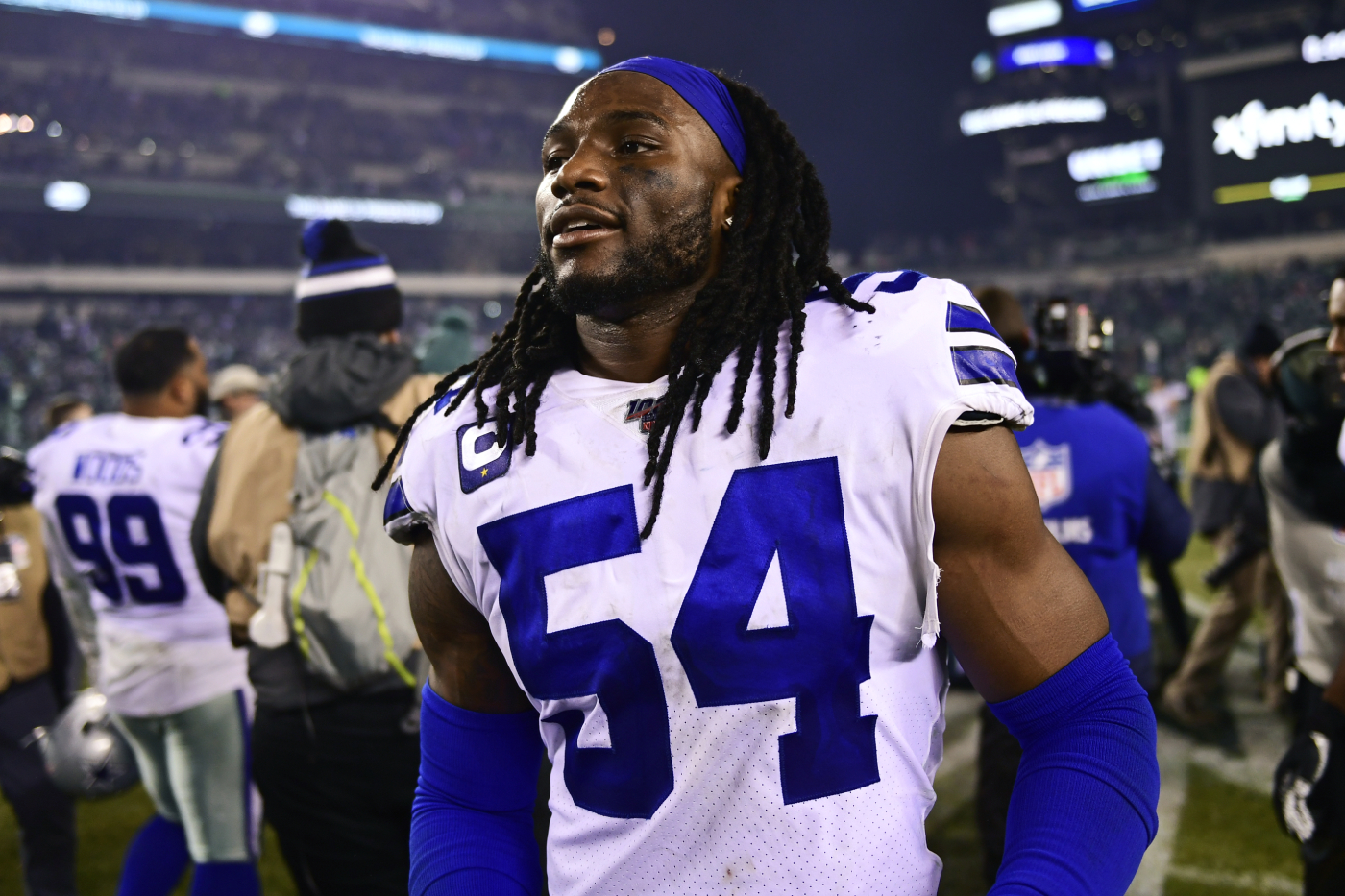 RELATED: Former Dallas Cowboys Coach Jimmy Johnson Credits a TV Show For Saving His Life
Smith's contract lasts through the 2025 season. He will earn $7.2 million in 2021, and his cap hit for next season is $9.8 million, per Spotrac. So, can the Cowboys really get rid of him?
According to The Dallas Morning News, if the Cowboys make Smith a post-June 1 cut, they'd save $7.2 million against their salary cap. They would have $2.6 million in dead money, though.
So, is cutting Smith realistic? Yes. Will they do it? It's hard to know for sure, but Smith appears to think he should be safe. After a very underwhelming season for the Cowboys, though, it should be a very busy offseason for America's team.
Stats courtesy of Pro Football Reference