Cowboys LB Jaylon Smith Was Just Ridiculously Disrespected by His Peers
Since first playing in the NFL during the 2017 season, Jaylon Smith has become one of the best linebackers in the entire league. He seems to continuously get better season by season too, as he just earned his first Pro Bowl selection in 2019. However, despite his steady improvement with the Dallas Cowboys, Smith just got ridiculously disrespected by his peers.
Jaylon Smith became a star at Notre Dame
RELATED: Ezekiel Elliott Is in an Exclusive Club With Hall of Fame RB LaDainian Tomlinson
In college at Notre Dame, Smith was one of the best linebackers in the country.
During the 2013 season, Smith racked up 58 total tackles and one interception. He then, however, became elite in 2014 as he had 111 total tackles and 3.5 sacks.
Notre Dame was just decent in 2013 and 2014 as the Fighting Irish went 9-4 and 8-5. However, Smith helped them become one of the top teams in the country in 2015. They went 10-3 and ranked as high as fourth in the AP Poll. Smith ultimately racked up 115 total tackles in 2015, and he defended five passes. Notre Dame went to the Fiesta Bowl too, but they lost to Ohio State.
It was in that game, though, where Smith's future completely changed. Smith had become a top prospect for the 2016 NFL draft. He was expected to go very early in the first round. However, Smith suffered a knee injury, which caused him to drop to the Dallas Cowboys in the second round of the draft.
Jaylon Smith is now a top NFL linebacker for the Dallas Cowboys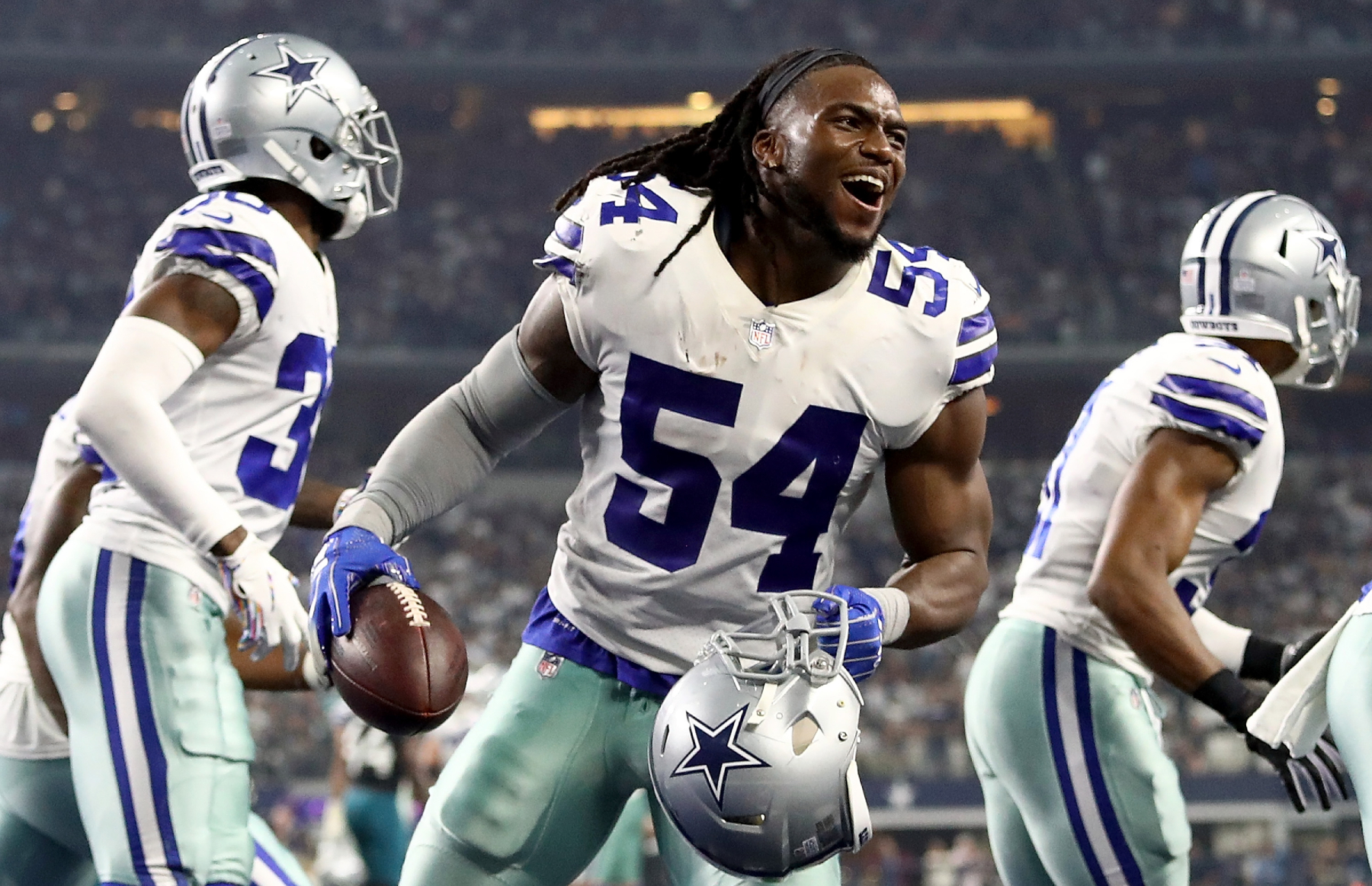 RELATED: Ezekiel Elliott Is in Awe of a QB Not Named Dak Prescott
After the injury, Smith missed the entire 2016 season with the Cowboys. He, however, has played in every regular-season game since the 2017 season.
Smith had a really good first year in 2017 as he recorded 81 total tackles. However, in 2018, he improved tremendously as he had 121 total tackles and four sacks.
The Cowboys were pretty good that season too as they went 10-6 and won a playoff game against the Seattle Seahawks. Smith also played really well in the playoffs, recording 16 total tackles in the two playoff games.
During the 2019 season, Smith then earned his first Pro Bowl selection. He recorded 142 total tackles, 2.5 sacks, and he defended nine passes.
He was just completely disrespected by his peers on the NFL Top 100 list
RELATED: The Controversial NFL Top 100 Has the Most Ridiculous Voting Process
After the 2018 season, Smith received high praise from his peers as he ranked No. 61 on the 2019 NFL Top 100 list. The NFL Top 100 is a list that ranks the top 100 players in the league based on votes from NFL players.
However, even though he earned his first Pro Bowl selection in 2019, and even though he recorded more tackles in 2019 compared to 2018, Smith dropped pretty far in the rankings for the 2020 list. Heading into the new season, he is the 88th-ranked player in the league.
It is pretty confusing why his peers ranked him so low. He not only increased his total tackles in 2019, but Smith was also better in pass defense. He defended nine passes in 2019, compared to four in 2018. Smith was also targeted much more in the passing game (70 times in 2019 compared to 58 in 2018), and the percentage of passes that were completed on those targets decreased from 79.3% to 77.1%.
Additionally, Smith allowed fewer yards per completion, fewer yards per target, and the pass rating against him whenever he was targeted went from 107.8 in 2018 to 102.1 in 2019.
The only area he did not improve in was getting to the quarterback. He only had 2.5 sacks in 2019 compared to four in 2018. However, he blitzed 22 more times in 2018 than he did in 2019. So, Smith simply had more opportunities to sack the quarterback the previous year.
Through his first three years in the NFL (not including his 2016 season), Smith has become one of the best players in the NFL, and certainly one of the best linebackers in the league. He has improved every season. It is unclear, though, why his peers' perception of him is not as high this season as it was heading into last season. He definitely has some extra motivation now.
Stats courtesy of Sports Reference and Pro Football Reference