Cowboys Legend Troy Aikman Argues That Super Teams Like the Rams Have No Place in the NFL: 'It Usually Unravels'
Los Angeles Rams general manager Les Snead is betting the house on his football team in 2021. After a busy offseason and several high-profile moves during the season, Sean McVay now has a stacked roster at his disposal. However, things haven't been smooth sailing for LA. Dallas Cowboys Hall of Fame quarterback Troy Aikman has some strong feelings about the idea of super teams in the NFL.
The star-studded Rams are struggling
The LA Rams entered the 2021 NFL season with lofty expectations. Sean McVay and company finished the 2020 season with a 10-6 record, losing in the divisional round of the playoffs.
The front office decided to move on from Jared Goff, trading up for veteran quarterback Matthew Stafford. The narrative was that Stafford never had a good team around him with the Detroit Lions, so heading west would bring a sunnier outlook.
Before the trade deadline, the Rams acquired All-Pro defensive end Von Miller from the Denver Broncos. They later signed 3-time Pro Bowl wide receiver Odell Beckham Jr. after he fell out with the Cleveland Browns.
Even with a star-studded roster, LA hasn't been able to find its rhythm of late. The team has lost three consecutive games since the Miller trade and the last two with OBJ on the field. Stafford looked like a legitimate MVP candidate early on but has since come up small against noteworthy opponents.
The offense has stalled at times, and the Rams have scored less than 20 points in two of the last three games. LA's defense has been anything but stout, giving up 28 or more points in three straight contests.
The Rams have endless talent on the roster but have yet to prove they can put it all together.
Troy Aikman rips the idea of super teams in the NFL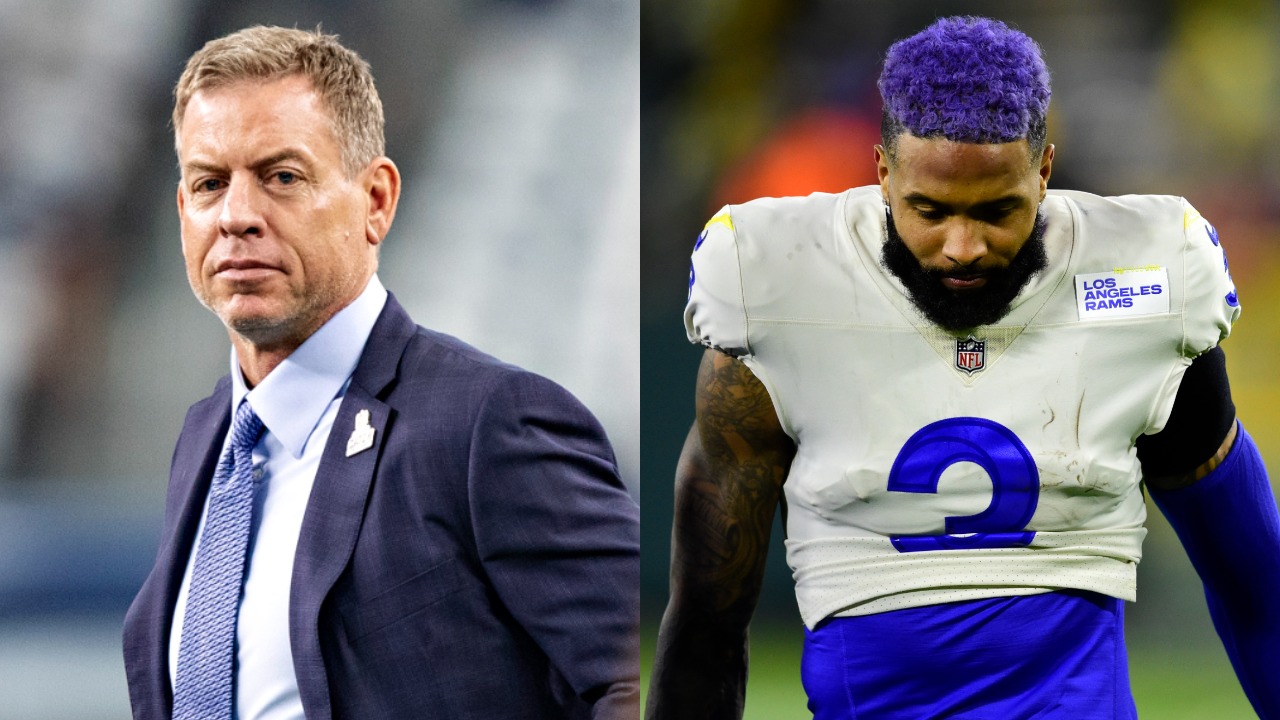 When a team puts together an all-star roster as the LA Rams have in 2021, people start to take notice. There's a proverbial target on the team's back, and expectations skyrocket.
It's Super Bowl or bust for Les Snead and Sean McVay. Still, questions are emerging about whether the Rams are utilizing a viable strategy. Fox Sports NFL analyst and former Cowboys quarterback Troy Aikman has his doubts.
Aikman weighed in on LA's recent struggles on 1310 The Ticket.
"We've talked about it — the all-star team just — I've never seen it work in the NFL," he said per Yahoo Sports. "I know Washington tried it back in, I think, '99. I've just never seen a team that goes out and tries to put together this all-star team that can win a Super Bowl, much less success."
The Hall of Famer believes adding too many outside variables into the mix can be a recipe for disaster.
"It usually unravels," said Aikman. "And right now, that's kind of what's happening to the Rams. They've just not been very consistent."
Based on the team's recent performances, the three-time Super Bowl champion questions whether or not LA is a true playoff contender.
"I don't know if they're going to be able to pull it together or not," Aikman said. "It just does not have a good feel.  I think they're going to have some moments where they climb back into it, but I don't know if they're going to have enough to get over the hump."
The Cowboys built a super team through the draft
Troy Aikman knows a thing or two about playing on a team full of stars. The Dallas Cowboys, affectionately known as "America's Team," have a storied history. You don't win five Super Bowls without putting together a talented football team.
Even though the 6-time Pro Bowler played with other Hall of Famers, his team's situation was very different than what the LA Rams are doing.
Instead of trying to make random pieces fit, Jerry Jones and the Cowboys' front office built a strong team primarily through the NFL draft.
Dallas drafted Aikman with the No. 1 overall pick in the 1989 NFL Draft. The front office drafted wide receiver Michael Irvin (No. 11 overall) the year before. The year after, the Cowboys grabbed running back Emmitt Smith (No. 17 overall).
Aikman, Irvin, and Smith served as the core nucleus of the Dallas Super Bowl teams in 1992, 1993, and 1995.
Other integral players like Daryl Johnston, Ken Norton Jr., Darren Woodson, and Russell Maryland were also Cowboys draft picks.
Jerry Jones proved that building a roster with homegrown talent can be successful. Super teams have worked in the NBA and MLB but not in the NFL (at least, yet).
It's too early to tell with the Rams. The jury is still out, but things don't look good at the moment.
All stats courtesy of Pro Football Reference