Cowboys News: Amari Cooper's Potential Exit Makes Michael Gallup's Return a Must
The Dallas Cowboys have a dilemma heading into the offseason. They are currently $21.1 million over the salary cap. To make room, Jerry Jones and the front office must restructure the contracts of some players and part ways with others. Wide receivers Amari Cooper and Michael Gallup could end up on opposite sides of the coin.
It appears that Cooper is on his way out. He's still under contract, but the Cowboys could consider him a cap casualty given his salary. Meanwhile, Gallup is an unrestricted free agent, and he's ready to step into a larger role in Kellen Moore's offense.
Cooper's exit means bringing back Gallup should be a high priority for the front office.
Amari Cooper could be playing elsewhere in 2022
Amari Cooper has been a consistent weapon in the Cowboys' offense since the team acquired him from the Oakland Raiders in 2018. He's recorded 292 receptions, 3,893 receiving yards, and 27 touchdowns in 56 games.
Despite his prominent role, it appears that Cooper could be on his way out of Dallas. According to ESPN's Adam Schefter, sources say the Cowboys are likely to release the four-time Pro Bowler by the start of the new league year, Mar. 16.
Cooper is under contract with the team through the 2024 season. However, Dallas would owe him $20 million in guaranteed money if it keeps him on for the 2022 season.
If the Cowboys cut the Alabama product, his contract would only count $6 million against the salary cap. The move would free up a good chunk of change. Even though the front office would still have a lot of work to do, parting ways with that contract could be a step in the right direction.
Amari Cooper's departure would leave a void, prompting the Cowboys to turn to Michael Gallup.
If the Cowboys move on from Cooper, they must re-sign Michael Gallup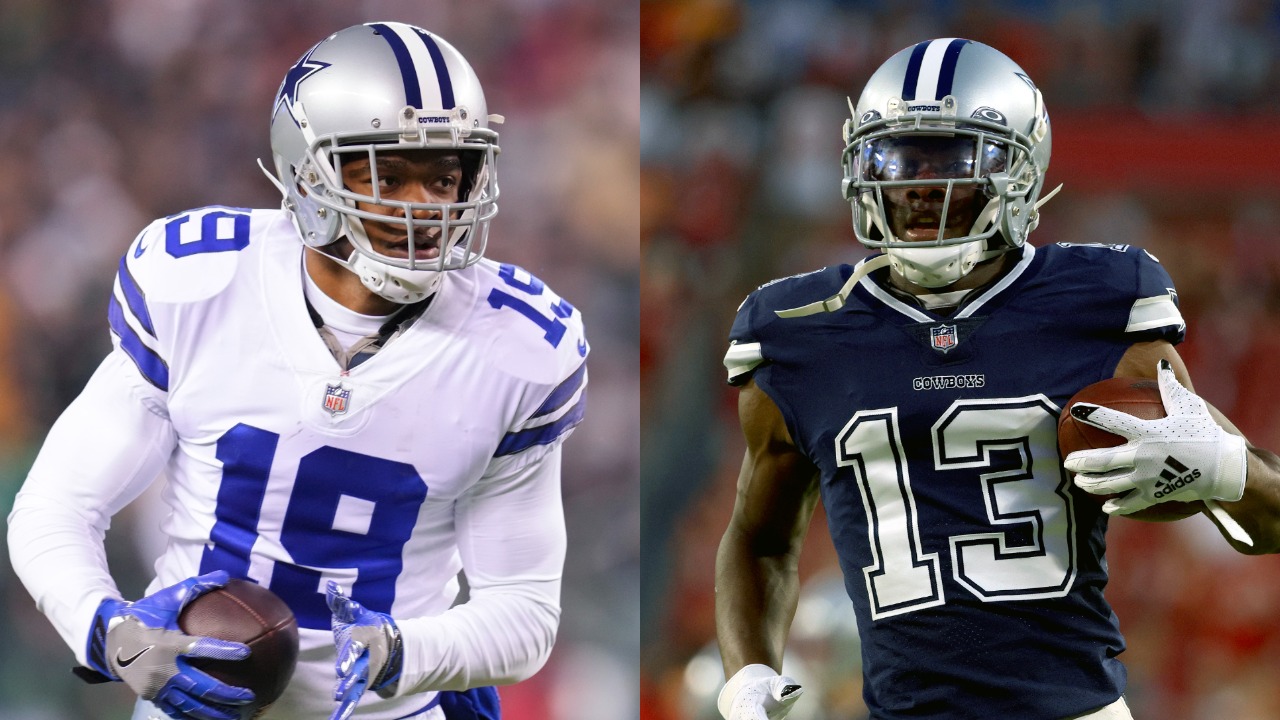 Should the Cowboys move on from Amari Cooper, there should be a decent market for his services. Teams like the Philadelphia Eagles, Indianapolis Colts, New York Jets, and Cleveland Browns need wide receiver help and have a reasonable amount of cap space to get a deal done.
With Cooper "likely" on the way out, it's imperative that the front office secure Michael Gallup's future. Gallup just finished the fourth and final year of his rookie contract and will become an unrestricted free agent.
The Cowboys have reportedly been working on a deal, and the two sides are "close."
The Colorado State product has seen his production go up and down in his four seasons in Dallas. He's recorded 193 receptions for 2,902 yards and 15 touchdowns in 55 games. His best individual season came in 2019 when he caught 66 passes for 1,107 yards and six scores.
Gallup missed eight games due to injury in 2021, but that does not appear to be an issue heading into the offseason. If the Cowboys cut Cooper, he would slide into the No. 2 receiver role behind CeeDee Lamb. Gallup thrived as the No. 2 in 2019, and Dallas must be hoping he could do similar things in 2022.
Other options for Dallas at wide receiver
You can't underestimate the impact the loss of Amari Cooper would have on the Cowboys' offense. He had somewhat of a down year in 2021, but he missed a couple of games. The 27-year-old wideout is one of the best route-runners in the NFL, and his presence opens up opportunities for the other weapons on the field.
CeeDee Lamb should take full control of the No. 1 receiver role, and Michael Gallup could be ready to be the second option again. However, Dallas must add more talent to the position to finish with the league's top-ranked offense again.
Cedrick Wilson is also an unrestricted free agent, and the Cowboys may be able to retain him at a reasonable price. The Boise State product enjoyed a breakout in 2021. He caught 45 passes for 602 yards and six touchdowns. If the front office can afford to bring him back, it should. Otherwise, Dallas could turn to the draft to add depth.
The 2022 NFL Draft class is deep at the wide receiver position. Several players could step into an offense and contribute in year one. Alabama's John Metchie, Purdue's David Bell, Georgia's George Pickens, and Penn State's Jahan Dotson are solid options that could be available on Day 2.
Amari Cooper will likely land on his feet wherever he goes. The Cowboys better be ready to replace his production.
All stats courtesy of Pro Football Reference and contract figures courtesy of Spotrac.
RELATED: Amari Cooper: 3 Best Landing Spots for Star WR if Dallas Cowboys Do Cut Him