Cowboys Owner Jerry Jones Proves Once Again He's an Evil Genius
Say what you want about Jerry Jones. He's certainly been a controversial figure for the Dallas Cowboys during his run as owner. But two things are for sure: he's an exceedingly cunning businessman, and he often gets what he wants. 
COVID-19 has forced every team around the league to adapt its in-game presentation. All teams are either limiting fans or prohibiting them altogether. Teams have had to make changes and sacrifices and changes to the way they operate. There's one change Jones made in response to a league-wide mandate that proves he truly is an "evil genius." 
Jerry Jones history as owner of the Dallas Cowboys
Jones purchased the team in the late '80s and quickly made his presence felt. He fired legendary coach Tom Landry and hired University of Miami coach Jimmy Johnson. The results spoke for themselves.
After trading Herschel Walker for multiple draft picks, Johnson was able to replenish the team with elite talent. Using a talented offensive line, a loaded defense, and Hall of Famers like Troy Aikman, Michael Irvin, and Emmitt Smith, the team won three Super Bowls in the '90s. 
Only two of the Super Bowls came under Johnson, however. Jones and Johnson, while former teammates at the University of Arkansas, also both had massive egos. They clashed over who should have control of the team and Johnson departed.
A running theme throughout Jones' time as owner is his inability to be told no. He's run football operations for the team despite the fact that their historic run in the '90s represents their last Super Bowl.
In fact, the team hasn't even appeared in a conference championship game since then. Simply put: Jones likes things done his way, no matter what anyone tells him. 
How the Dallas Cowboys have responded to COVID-19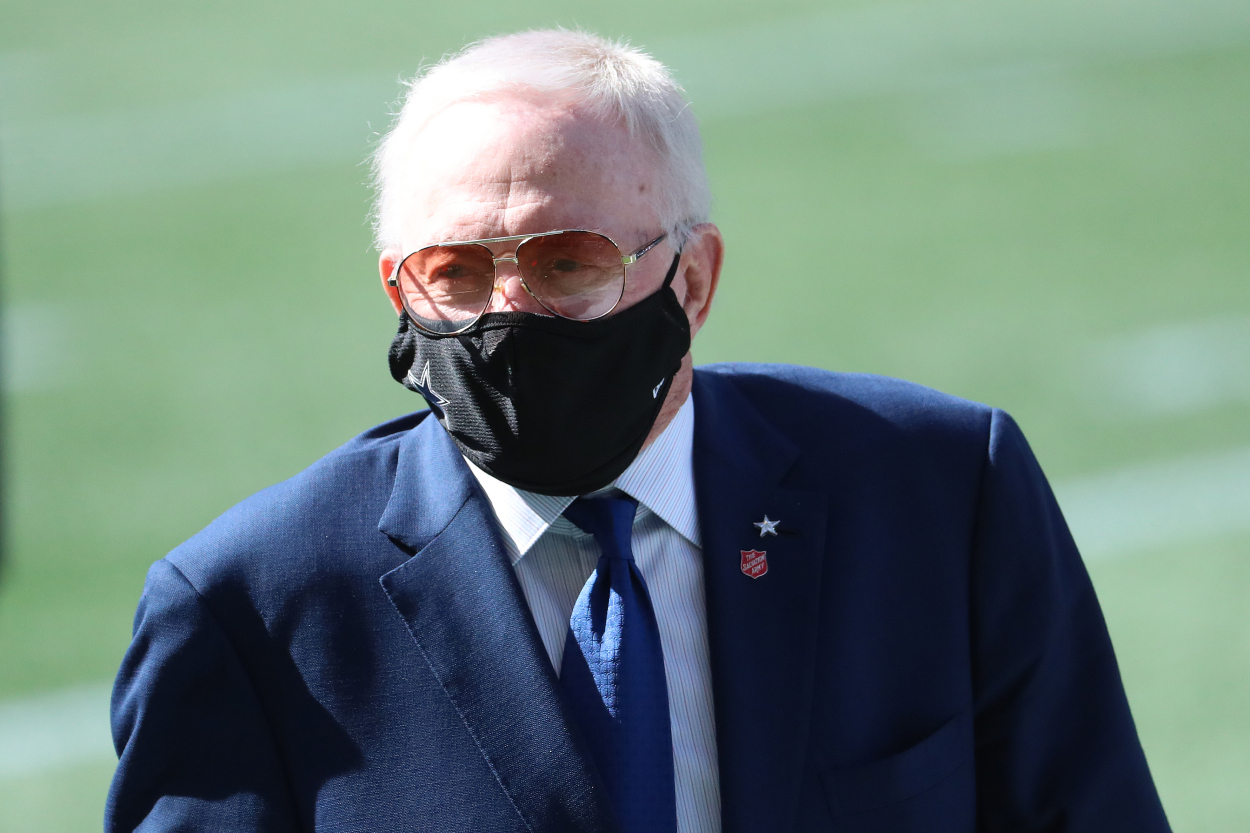 This past summer, as NFL teams were preparing for an unusual season thanks to COVID-19 restrictions, Jones was still looking for a workaround.
Jones was one of the first NFL owners to insist his team planned to have fans in the stands for games. While multiple teams have fans in the stands currently due to the easing of lockdown restrictions in various states, at the time Jones' comments were outlandish. 
It should come as no surprise that the Cowboys have fans in the seats for games, even if it is a limited number. Jones has a habit of doing exactly what he wants when he wants to do it. This was just another example of that.
Of course, COVID restrictions have forced him to adapt the Cowboys' viewing experience in other ways. He's found methods of getting around some of those other restrictions as well. 
Proof positive that Jerry Jones is an "evil genius"
According to the Dallas-Forth Worth CBS affiliate, the NFL decided not to allow cheerleaders and mascots on the sidelines this season. This isn't shocking, of course — a person wearing a giant foam head and a team of dancers can hardly be considered essential personnel.
But Jones even found a way around this pretty reasonable rule from the league. Jones' daughter and fellow team executive, Charlotte Jones Anderson, discussed how the team would still incorporate them into the game. Per the aforementioned article: 
"There is no game day entertainment personnel allowed on the field this season. However, the Dallas Cowboys Cheerleaders will be permitted to perform on the end zone touchdown decks during the game." 
You have to hand it to Jones: like a truly great Bond villain, he finds a way to get what he wants even when the odds are stacked against him. He may be Jerry to Cowboys' fans, but to the rest of the league, he'll always stand out as an evil genius.