Cowboys Pro Bowl Cornerback Trevon Diggs Gets the Seal of Approval From Deion Sanders: 'He's Phenomenal'
The Dallas Cowboys may have found their next great defensive back. Trevon Diggs has enjoyed a true breakout campaign in 2021 and continues to turn heads around the NFL. Hall of Fame cornerback and Cowboys legend Deion Sanders is among those who's noticed Diggs' potential in Dallas.
Sanders has already seen enough of the young corner to know that he's the real deal.
Trevon Diggs made the Pro Bowl in his second NFL season
Trevon Diggs had a roller-coaster rookie season after the Dallas Cowboys selected him with the No. 51 overall pick in the second round of the 2020 NFL Draft.
The Alabama product struggled early in the 2020 season. Opposing offenses targeted Diggs and the Cowboys' secondary often over the first few weeks. As the season progressed, he started to come into his own and make significant strides in his development.
The rookie learning curve taught Diggs some important lessons about being a professional. As a result, he entered 2021 as a new player.
The Gaithersburg, Maryland native has been a breakout star for Dallas' defense. He's recorded 47 tackles, 10 interceptions, and 19 passes defended.
Diggs leads the NFL in interceptions, and he's returned two of those for touchdowns. His play has earned him his first Pro Bowl appearance in 2021.
Cowboys legend Deion Sanders is a huge fan of the young corner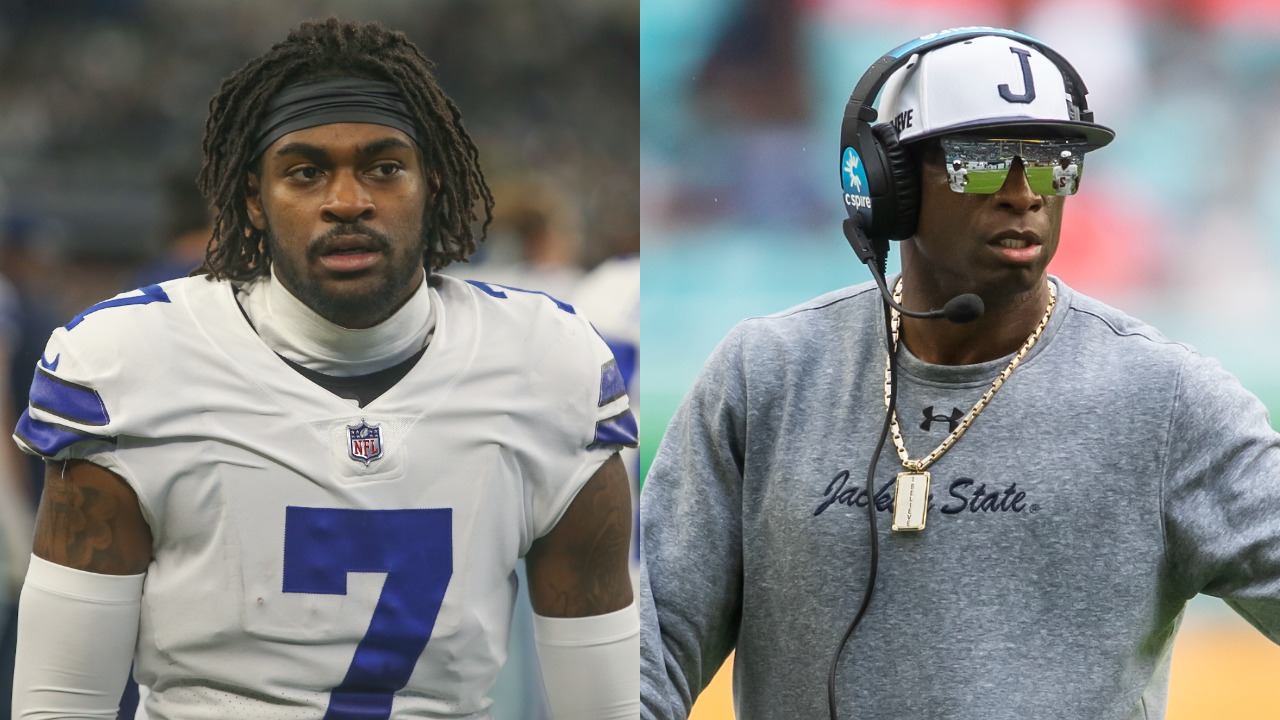 Trevon Diggs has been a pleasant surprise for the Cowboys thus far. He's turned into a legitimate playmaker for Dan Quinn's defense. He's already drawing comparisons to Deion Sanders.
The Prime Time comparisons appear to be a little premature, but it speaks to the impact Diggs is having on the success of Mike McCarthy's squad.
Sanders recently joined The Rich Eisen Show to discuss his impression of the young cornerback in his second pro season.
"I think he's phenomenal, man," said Sanders. "I really haven't had a chance to really study him. You know, I used to be into the pro game totally, but now I'm into the college game. But what he's accomplished is phenomenal. Of course, the next phase is going man-to-man against the best every week."
Sanders suggests that with a little more time, Diggs could turn into an exceptional player for years to come.
"Then you start to get the accolades and the talk of the guys that's been doing it for years," said Sanders. "A guy like Patrick Peterson came out of the womb playing man-to-man against the opponent's best receiver. Jalen Ramsey, the same way. You're going to get balls. They're not going to go away because you're going to be on the best. That kid can play the game."
The Hall of Famer believes Dallas is in great hands with Diggs and Micah Parsons
Deion Sanders enjoyed some of his best NFL years as a member of the Dallas Cowboys. He's hoping that the current team can return to greatness. Prime believes Trevon Diggs and Micah Parsons are major components of what Dallas wants to do moving forward.
"I'm proud of him," Sanders said on Diggs. "What he's doing out there on the field, four cornerbacks."
The Jackson State head coach also loves what he's seeing out of Parsons.
"Parsons is a freak, man," he said. "He's a darn freak. Parsons was an inside guy. Now he's outside, he's everywhere. Parsons is a freak of nature. He or Diggs could possibly be the defensive MVP depending on how they finish up this season."
Diggs and Parsons have helped completely transform this Cowboys' defense. The unit was a laughing stock in 2020, but not anymore. The two young studs play with their hair on fire and possess a confident swagger that Prime Time had when he played.
When asked if the 2021 Cowboys' defense compares to the unit Sanders played on, he responded as expected.
"Can't compare that," he said. "I don't know how good they are statistically. I don't know if they rank like that. Slow your roll."
This defense hasn't done enough to be mentioned with the greats yet, but Trevon Diggs and Micah Parsons are doing some special things in Big D.
All stats courtesy of Pro Football Reference