Cowboys QB Will Grier Has $850K in the Bank Thanks to His Job Backing Up Dak Prescott's Backup
Being a backup quarterback in the NFL might seem like a disappointing job, suiting up every week and knowing the only way you will get to play is if the starter gets injured or tanks. But for some quarterbacks, like Will Grier, a Dallas Cowboys backup, it might just be a dream job. And depending on who you are backing up, it could be quite lucrative.
Ryan Griffin, the backup for Tom Brady's backup's backup, has made $6.5 million with the Tampa Bay Buccaneers, even though he is currently only on the practice squad.
Who is quarterback Will Grier and how long has he been in the NFL?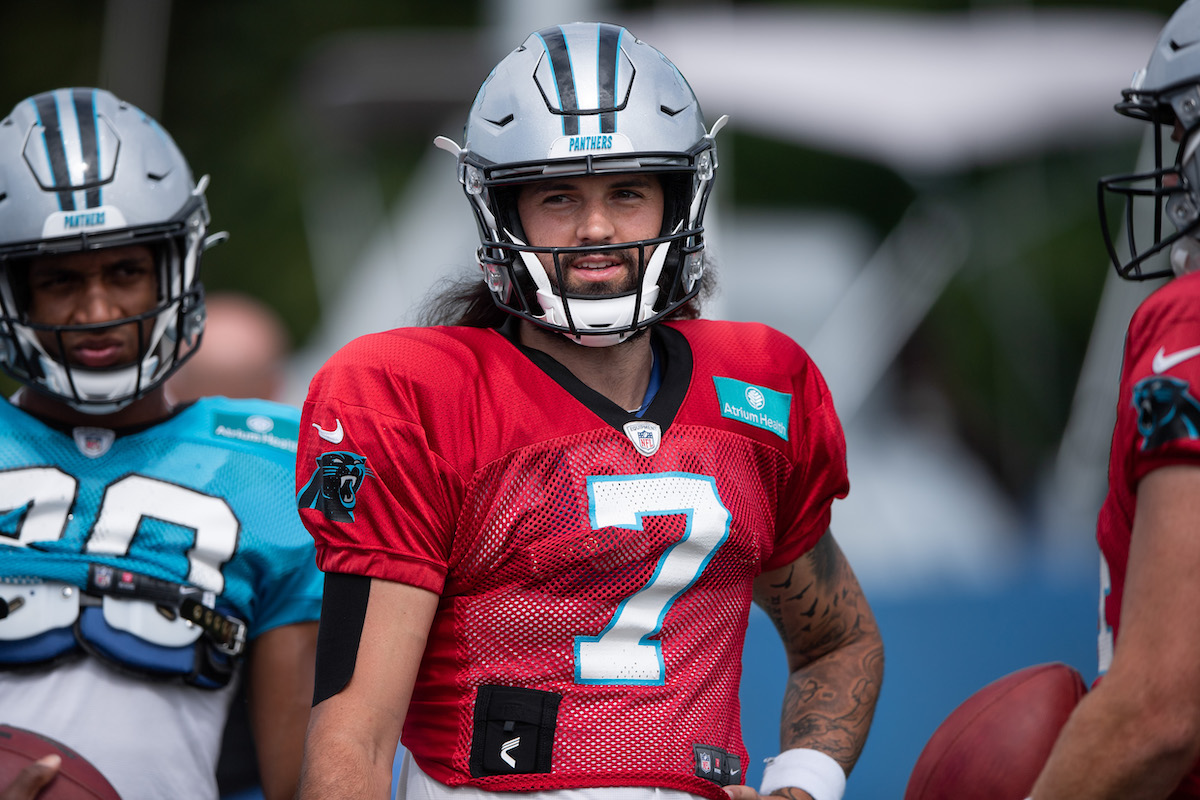 The Carolina Panthers drafted Will Grier in 2019, and he played his first and only two games during that season. The West Virginia alum started in Week 16 and Week 17, throwing a total of four interceptions — one of which was a pick-six — and being sacked six times. He threw for a total of 228 yards, with 28 completions in 52 attempts. The Panthers released him in August of 2021, and he was claimed by the Dallas Cowboys off waivers.
According to Spotrac, Grier signed a four-year, $3.8 million contract with the Panthers in his rookie season. His contract included a signing bonus of $822,180, an average annual salary of $963,249, and $822,180 guaranteed. Carolina released him after two seasons and earned just under $2 million.
With the Cowboys claiming him off waivers, he stands to earn $850,000 this season and $1,020,408 next season. He also lost the last half of his signing bonus.
What is the Cowboys' quarterback situation?
Dak Prescott has made a remarkable comeback from his gruesome ankle injury in Week 5 of the 2020 season. Heading into Week 4, he ranked second behind Tom Brady on NFL.com's quarterback index. While Prescott seems to be holding up well after his injury, things change fast in the NFL. Unfortunately for the Cowboys, they don't have much depth behind Prescott.
According to ESPN, Cooper Rush is currently second on the Cowboys' depth chart at quarterback. This doesn't bode very well since the 27-year-old has never started a single NFL game. He's only attempted three passes, with one completion, since he was picked up as an undrafted free agent in 2017.
Behind Rush is Grier, who's been active for the first three weeks of the 2021 season but has not had any playing time. The 26-year-old was listed as inactive for Week 4 against the Panthers.
A dream job backing up the backup?
Most people would probably agree that being a third-string quarterback warming the bench and making six figures, sometimes more, is a pretty good deal.
Not only are you avoiding taking the big hits, but you have the opportunity to learn from more experienced quarterbacks and potentially be the savior for your team if your quarterback goes down. And if your team wins the Super Bowl, even if you are on the practice squad, you still get that coveted Super Bowl ring. But for seemingly perennial backup quarterbacks like Grier and Rush, is it really a dream job?
It seems like most football players actually want to play, not just warm the bench. Provided Prescott stays healthy, as we're sure Cowboys fans hopes he will, these two backups will likely never play outside of preseason games. Then again, they are signed with a team and make a huge amount of money, many would-be players can't even say that. And, addressing the elephant in the room, if they had the drive and talent, they probably wouldn't be backup quarterbacks.
RELATED: The Cowboys Came Dangerously Close to Drafting Eagles QB Jalen Hurts: 'We Certainly Had Interest in Him'