NFL: Cowboys Quarterback Dak Prescott Should Hire Michael Irvin as his Agent
Since taking over for Tony Romo several seasons ago, Dak Prescott has been something of a hot button issue among Dallas Cowboys fans. He's been successful for them, but there's also some debate over whether the team should commit to him long term. One former Cowboys' great, Hall of Fame wide receiver Michael Irvin, is firmly in Prescott's camp. Based on his recent comments, Prescott may want to hire Irvin as his agent.

Dak Prescott's career accomplishments
To start, let's take a look at Prescott's career accomplishments for context. The Cowboys drafted him in the fourth round out of Mississippi State in 2016. Prescott took over the Cowboys' starting QB job during the following training camp after an injury to incumbent Tony Romo. Though it was initially looked at as a temporary measure, Prescott never gave the job back. He led the Cowboys to the playoffs, and Romo retired to join the CBS Sunday football broadcast booth.

Prescott enters his fourth year as the Cowboys' starter, and so far here's what he's achieved:

Two playoff appearances (2016 and 2018), both of which saw the Cowboys winning the NFC East with records of 13-3 and 10-6, respectively
Two Pro Bowl selections
A 32-16 career record
2016 AP NFL Offensive Rookie of the Year
2016 All-Rookie Team
67 career passing touchdowns
10,876 career passing yards
To put it bluntly, Dak Prescott has been nothing short of top-notch during his career as a starter.

Prescott's 2018 statistics
Prescott put together a solid 2018 campaign. As noted above, he led the Cowboys to the NFC East title, the second of his career. Take a look at his numbers from last season:
22 touchdowns
3,885 yards passing
Only eight interceptions
67.7% completion percentage
A QB rating of 96.9
A playoff win over the Seattle Seahawks
Prescott and the Cowboys' stellar 2018 came to an end in the NFC Division round after a 30-22 loss to the eventual NFC champion L.A. Rams.

What Michael Irvin thinks of Dak Prescott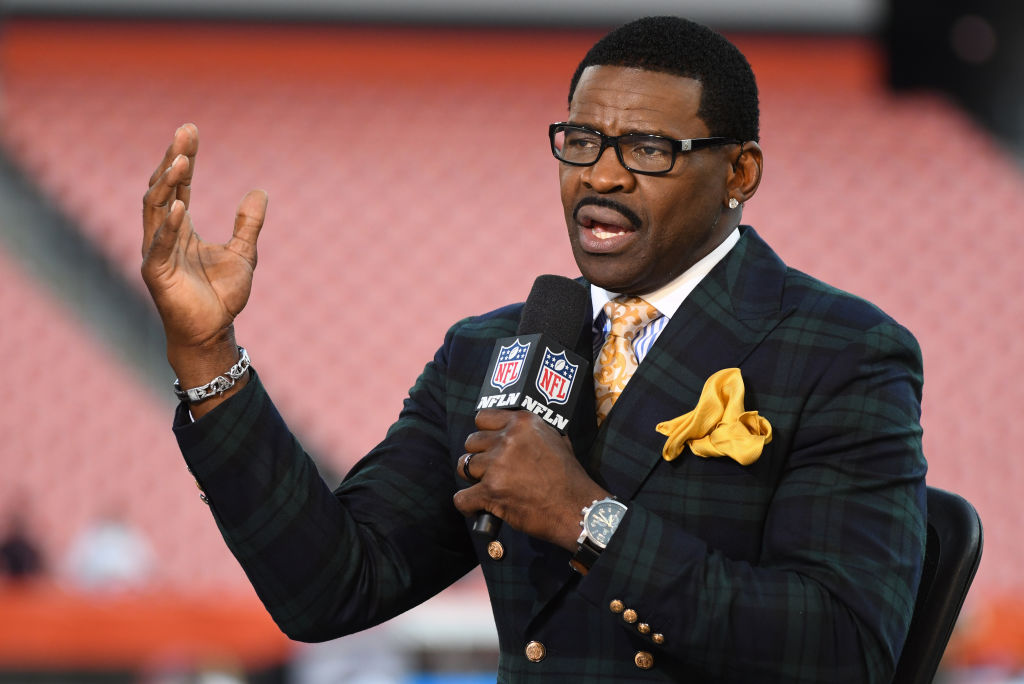 Michael Irvin is currently an NFL analyst, but fans from the 1990s may remember him as a Hall of Fame receiver for the Cowboys dynasty from 1993-1996.

Irvin is incredibly bullish on Prescott's ability as the Cowboys QB. ProFootballTalk reported that Irvin said the following on whether the Cowboys should give him a hefty long-term extension:

"This is an asset that's trending in the right direction. You got to pay him this money. Dak's agents aren't gonna let you come in under Carson Wentz. If they don't pay Dak, we can all pack it up and go home. It's over. How are you going to get anything out of the other guys if they're seeing that you aren't taking care of the top guy? Why should I give you all I got? You got to be smart about this, and this is a no-brainer."

Irvin's position is clear: the Cowboys need to pay Prescott now. It will look bad to the rest of the team if the QB isn't taken care of properly.
What type of deal should the Cowboys give him?
As Irvin noted, Prescott's representation will not be likely to accept a deal less than the one Carson Wentz received from the Eagles. Wentz received a four-year extension worth $128 million, making it a six-year deal overall (when added to his rookie contract). That includes $66.4 million guaranteed, with an opt-out for the team in 2023.

It's true that Prescott hasn't won a Super Bowl whereas Wentz was on a team that did (though Nick Foles led the Eagles through the playoffs). Prescott has won two NFC East titles, however. Wentz's deal reset the market, and it's fair to say Prescott will look to surpass it. Based on Jerry Jones' ability to make a big splash, the prediction is that he'll keep Prescott for a big amount – possibly north of $200 million.