Cowboys Star Micah Parsons Reveals He Doesn't Talk Much With Mike McCarthy
Dallas Cowboys linebacker quickly rose to stardom in his first season in the NFL. He took the league by storm, terrorizing opposing offenses throughout the 2021 season. Unfortunately, Mike McCarthy's squad suffered an early exit from the playoffs at the hands of the San Francisco 49ers.
Despite the disappointment, a lot of good came from Parsons' rookie campaign. He credits defensive coordinator Dan Quinn for helping him navigate his transition to the next level. While those two build a strong rapport, Parsons admits that he doesn't have a similar relationship with head coach McCarthy.
Micah Parsons says he's doesn't have much of a football relationship with Mike McCarthy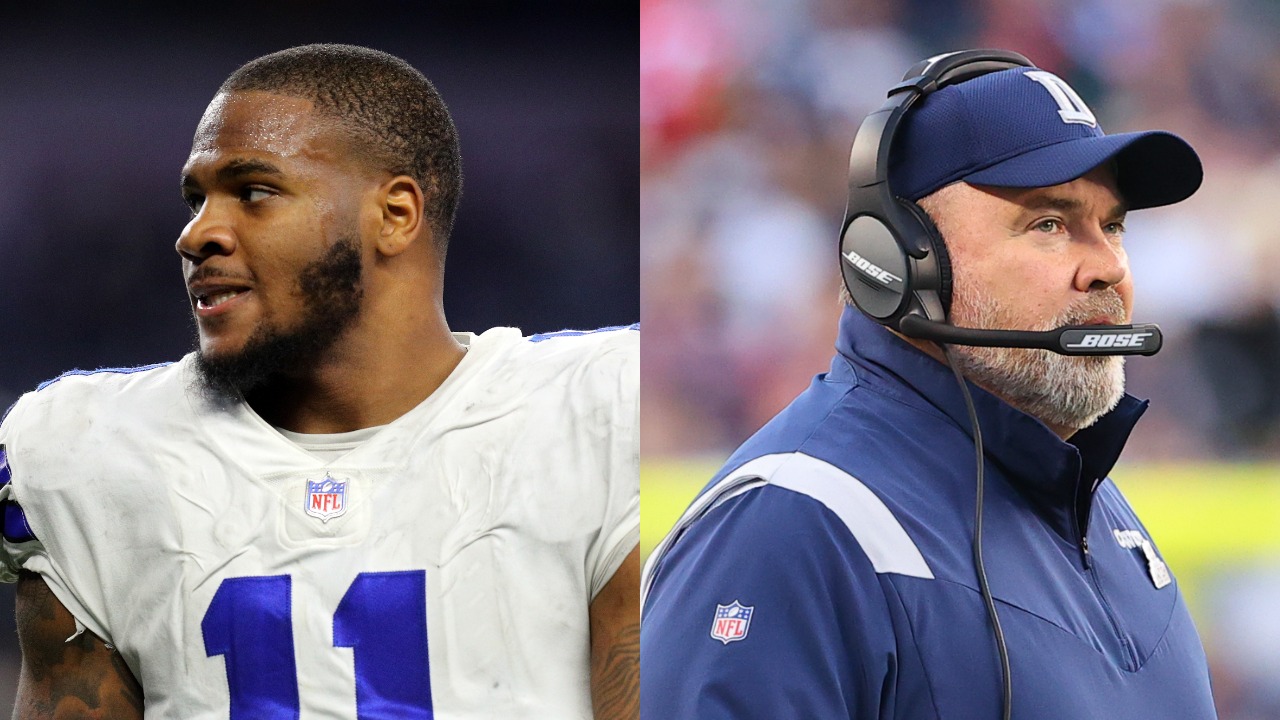 Mike McCarthy has been the head coach of the Dallas Cowboys since 2020. During his brief tenure, he developed close relationships with some of his players, including quarterback Dak Prescott. However, he and rookie sensation Micah Parsons don't seem to have that same connection.
The 2021 NFL Defensive Rookie of the Year recently appeared on The Rich Eisen Show and discussed his rapport with the Cowboys coaching staff. Eisen asked Parsons about his conversations with McCarthy throughout the season.
"Me and coach Mike don't really talk," he said. "Like, he's more of an offensive coach. But when coach Mike talks, we kind of talk about how I'm doing off the field mentally, things like that, what I see out there. But it's never like, you know, [Dan Quinn]. He was like my hand to hand."
Parsons' body language suggested that he's not very close with Mike McCarthy. That's somewhat strange, given that the Penn State product is the future of Dallas' defense. Still, that could be more a testament to Dan Quinn for taking the 22-year-old under his wing.
The Cowboys star praises defensive coordinator Dan Quinn
While Micah Parsons doesn't talk much to Mike McCarthy, he revealed that he has a great relationship with defensive coordinator Dan Quinn.
Quinn joined the Cowboys coaching staff in 2021 after spending seven seasons as the head coach of the Atlanta Falcons. He helped transform the defense in his first year in Big D. Parsons' immediate emergence certainly helped make his job easier.
Parsons opened up on connection with Quinn and the impact the coach had on him in year one.
"He brings the juice," said Parsons. "He actually brings fighting videos to the defensive meeting rooms. Do you know how many times I've watched Tommy Hearns this year? He plays boxing videos for us to get hype. Q got the juice, man."
The Harrisburg, Pennsylvania native elaborated on why Quinn is so likable.
"He just puts it in a way that makes you want to play for him," Parsons added. "He's like, 'You're either gonna ball out, or we'll find someone else to ball for you.' He's giving you the opportunity and a chance."
The front office retained Quinn for the 2022 season. Rich Eisen asked Micah Parsons if he was glad to have his defensive coordinator back.
"Yes," he exclaimed. "Super excited."
Can Dallas win it all with McCarthy at head coach?
Jerry Jones and the Dallas Cowboys' front office decided to bring the entire coaching staff back for the 2022 season. Many people looked at Dan Quinn and offensive coordinator Kellen Moore as potential candidates to fill one of several head coaching vacancies in the offseason. Instead, they will return to Mike McCarthy's coaching staff.
After the Cowboys collapsed in the Wild Card Round loss to the San Francisco 49ers, it was unclear if McCarthy would be back for a third season. However, Jerry Jones didn't view the head coach as the reason why things went south down the stretch.
According to CBS Sports' Patrik Walker, Jones assured McCarthy that his job was safe and never in jeopardy. Still, that doesn't mean the pressure isn't on heading into 2022.
The entire organization will face a tremendous amount of scrutiny if it drops the ball again, from Jones to McCarthy to Micah Parsons.
The Cowboys have posted an 18-15 record in the two seasons under McCarthy. After going 12-5 in 2021, the expectations were heading high entering the postseason. The team failed to deliver, though. Mike McCarthy's game management has long been questionable, but the loss wasn't all his fault. The players still have to show up, and they didn't.
Dallas wasted a prime opportunity for a Super Bowl run. It's unclear if McCarthy can get the Cowboys there. However, the window could be closing soon.
Like Sportscasting on Facebook. Follow us on Twitter @sportscasting19
RELATED: NBA Legend Endorses Deion Sanders as Next Dallas Cowboys Head Coach