Cowboys Star Micah Parsons Snubs Joe Burrow on His Controversial Top 5 NFL QB List: 'Some Games, He's Not There'
Micah Parsons put together a phenomenal rookie season with the Dallas Cowboys. The do-it-all linebacker made it his business to make life difficult for opposing quarterbacks all season. His 13 sacks ranked sixth in the NFL in 2021.
The Penn State product recently revealed his list of the top five quarterbacks in the league today. While each of the players he mentioned makes a convincing case for consideration, Parsons' list did have a notable omission — Super Bowl-bound Cincinnati Bengals signal-caller Joe Burrow.
Micah Parsons reveals his top 5 quarterbacks right now
Dallas Cowboys rookie sensation Micah Parsons makes his living terrorizing unsuspecting quarterbacks. Still, he has a great deal of respect for the guys who play that position.
In a recent interview with Bleacher Report's Taylor Rooks, Parsons rattled off his list of the top signal-callers in the NFL right now.
In no particular order, the Pro Bowl linebacker named Patrick Mahomes (Chiefs), Josh Allen (Bills), Aaron Rodgers (Packers), and Kyler Murray (Cardinals) as his top four quarterbacks. Parsons came down to two quarterbacks for the fifth slot — Lamar Jackson of the Ravens and his Cowboys teammate, Dak Prescott.
Parsons ultimately decided on a tie between Jackson and Prescott. "Tied at fifth because they've been through a lot this past year," he said.
Mahomes, Allen, and Rodgers should be virtual locks on just about any listing of the top passers in the league today. Tom Brady's retirement opens the door for some new faces. The Murray nod likely ruffled some feathers, though, considering how the season ended for Arizona.
The Cowboys rookie snubbed Bengals QB Joe Burrow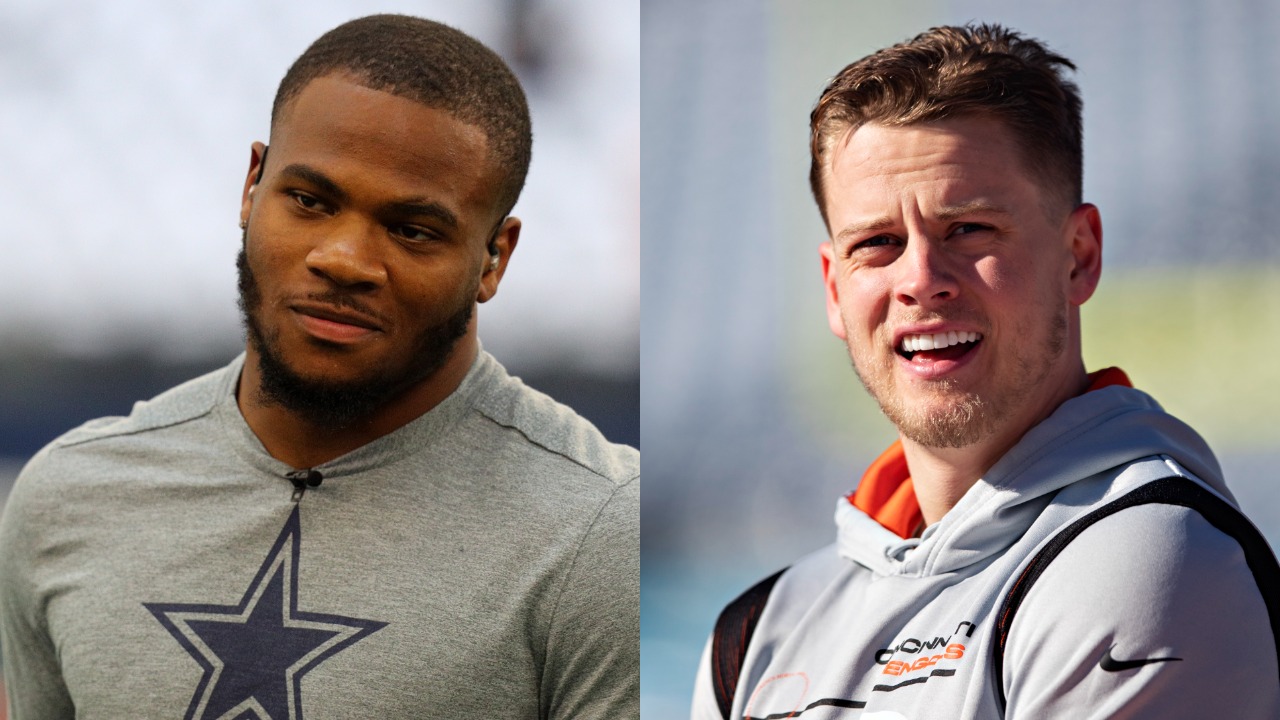 It's undeniable that all of the quarterbacks on Micah Parsons' list are immensely talented football players. However, the Cowboys star failed to mention Joe Burrow, who's arguably the hottest signal-caller in the league at the moment.
Parsons admitted he respects the second-year Bengals QB, but he's not buying that Burrow is in the top five or six right now.
"Joe's extremely good," said Parsons. "But some games, Joe would have a day. And some games, he's not there. There were a few games early on. He kind of said it was the confidence in his knee, which I believe. You kind of saw he wasn't trying to run. He's kind of over that hump, so I'm going to look for it next year. But he's a top-10 quarterback for sure, and he's climbing the ranks."
Parsons thinks Burrow has the potential to get there but that it's too early to lump him with the other guys on his list.
"To just throw him in the top five already is kind of crazy," he added.
The Cowboys first-rounder didn't back down from his comments, but he also knows that Joe Burrow can make him pay.
"I wouldn't say it's easy to get in his head because I haven't played him," Parsons said. "I play him next year, so I don't want this to get to him, and he comes out here to AT&T Stadium and throws for 400. I don't want to say nothing crazy."
Best believe, Burrow will have the Cowboys game circled on his calendar for the 2022 season.
Both players have bright futures in the NFL
Both Micah Parsons and Joe Burrow have taken the NFL by storm in the 2021 season. They play completely different sides of the ball, but the young studs have garnered great respect from their peers.
Parsons is a lock for the Defensive Rookie of the Year Award. The former Penn State standout registered 84 tackles, 20 tackles for loss, 13 sacks, and three forced fumbles in 16 games. He was a swiss-army knife on Dan Quinn's defense, proving his ability to rush the passer and drop back in coverage.
Burrow bounced back from a significant knee injury that derailed his rookie season. He finished the regular season with 4,611 passing yards, 34 touchdowns, and 14 interceptions while completing 70.4% of passes (league-high). The 2020 No. 1 overall pick's emergence has the Bengals in the Super Bowl.
Micah Parsons is already a good player with the potential to be an all-time great on the defensive side of the ball. He should put some more respect on Joe Burrow's name, though. It took him just two seasons to get to the big game.
Still, it's safe to say the league is in great hands with these two young superstars.
All stats courtesy of Pro Football Reference.
RELATED: Cowboys Insider Claims 2 Big-Time Star Players Are Likely to Be Cut This Offseason