Cowboys WR CeeDee Lamb Shockingly Accused a Vikings Defender of Viciously Attacking Him During Sunday Night Football: 'Man Was Choking the F*** out of Me'
Wide receiver CeeDee Lamb is continuing his ascension to superstar status with the Dallas Cowboys here in 2021. The team's first-round pick in 2020 (No. 17 overall), Lamb wasted little time establishing himself as a legitimate WR1-type talent upon debuting in the NFL.
Despite spending most of his rookie season catching passes from backup quarterbacks Andy Dalton, Ben DeNucci, and Garrett Gilbert, Lamb still finished the year with 74 receptions, 935 yards, and five touchdowns. Despite the presence of fellow wide receivers Amari Cooper and Michael Gallup, he did a fantastic job earning himself targets.
Fast forward to 2021, and Lamb is taking his production to a whole new level.
CeeDee Lamb is quickly becoming the Cowboys' best WR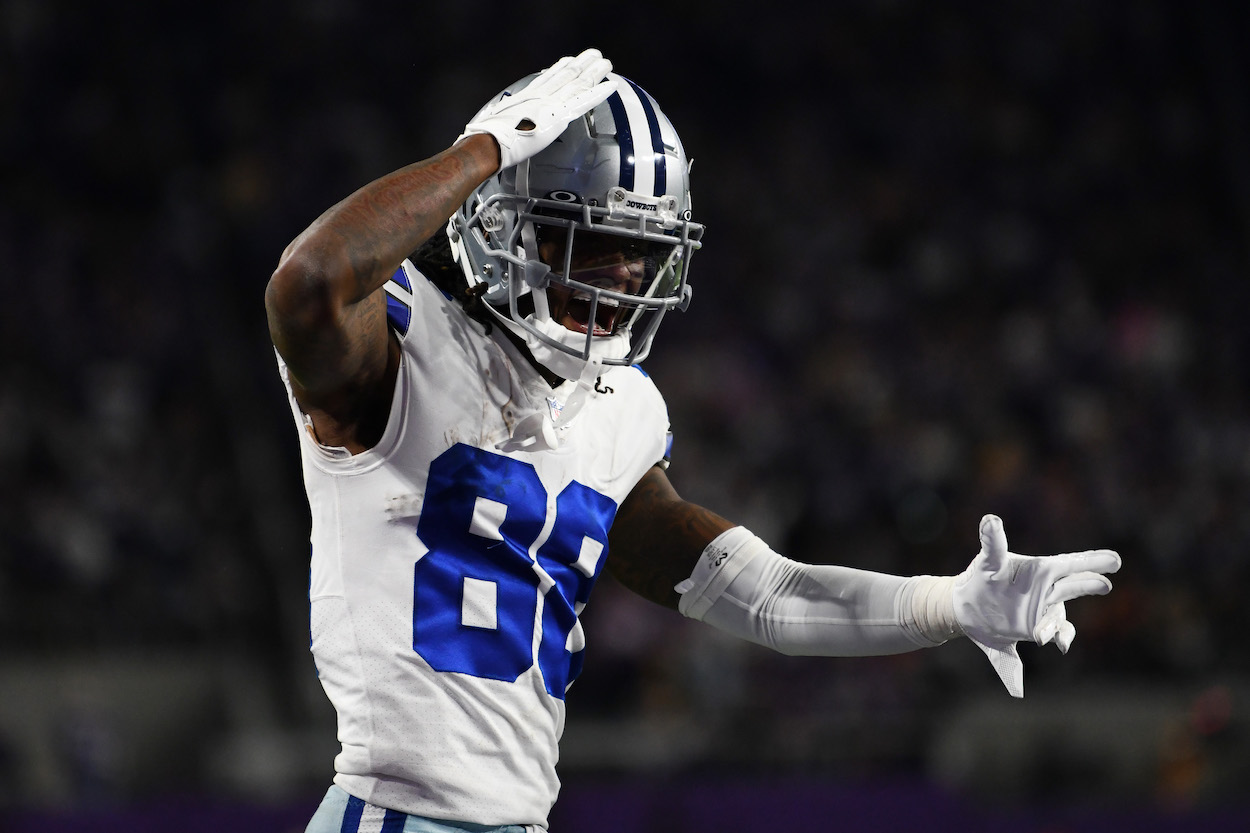 With Dak Prescott back under center for the start of 2021, Lamb's production quickly skyrocketed. He's already racked up 609 receiving yards and four touchdowns and is well on his way to setting career highs in both markers.
Lamb's yards per catch has also jumped from 12.6 to 15.6 — a testament to the connection he and Prescott have formed on targets deep down the field.
The second-year wideout currently leads the Cowboys offense in targets, catches, and receiving yards through seven weeks of action. He's quickly becoming Prescott's favorite target on offense. The argument for Lamb being the Cowboys' WR1 is growing by the game.
However, with the hype of being "America's Team's" top receiver comes disdain from rival opponents. Lamb learned that harsh reality during the Cowboys' Week 8 victory over the Minnesota Vikings.
Lamb claims he was choked out by a Vikings defender
In a Sounds from the Sideline video on the Dallas Cowboys' official Youtube channel, there's a point at which Lamb is recorded loudly criticizing one of the Vikings' defenders (3:26).
"Man was choking the f*** out of me on the sideline," Lamb said.
The Cowboys' team website actually highlighted the issue during its weekly mailbag segment. Cowboys reporter Nick Eatman went as far as to say he believes a fine or notice is in order for Harrison Smith.
I can't say I saw it at all Sunday night. I'm sure the refs just missed it. But if you saw it, the NFL has seen it. And since CeeDee has been fined himself for wearing the wrong socks or having his jersey untucked, it seems like a safe bet Harrison Smith will be getting a notice from the NFL this.

Nick Eatman, dallascowboys.com
The Cowboys are top dogs again
This isn't to say anyone deserves to be choked out during an NFL game. If Lamb's allegations are true (it definitely looks like Lamb was choked), Smith deserves to be fined. However, being one of the top dogs in the NFL comes with perks — both good and bad.
The Cowboys are always in the spotlight year after year. However, this is the first time in a long time they've walked the walk. They're 6-1 and firmly control the NFC East at the midway point of the season. They undoubtedly have a target on their back moving forward.
Whether it's extra hits here or there, trash talk at the line of scrimmage, or just general nastiness on the field, the Cowboys should get used to this type of treatment moving forward, though Smith still crossed a line if what Lamb alleges is true.
A rising star in CeeDee Lamb (who isn't exactly humble) is presumably at the top of defensive backs' hit list these days as well.
All stats courtesy of Pro Football Reference.
RELATED: The Minnesota Vikings Suffered a Completely Devastating Injury That Kills Kirk Cousins' Chances of Silencing the Haters