Cris Collinsworth Hits Bengals Rookie Ja'Marr Chase With Massive Praise Ahead of the 2022 Super Bowl
The Cincinnati Bengals are gearing up for Super Bowl 56 against the Los Angeles Rams. While Joe Burrow is the center of attention for Cincinnati, rookie wide receiver Ja'Marr Chase isn't just another player on the team.
In his first NFL campaign, Chase exploded onto the scene following an extraordinary career at LSU. As Chase and Burrow prepare for the Super Bowl, Cris Collinsworth delivered a massive compliment to the Bengals stud wide receiver.
Cris Collinsworth calls Ja'Marr Chase the best WR in Bengals history already
Collinsworth will be calling Super Bowl 56 and has the luxury to witness Chase and this red-hot Bengals team on the biggest stage. In the days leading up to the game, Collinsworth quickly gave Chase some praise, calling him the best receiver he's even seen rock a Bengals uniform.
Now, there is no denying the talent that Chase has. Collinsworth should know, after all, he played for the Bengals for his entire NFL career as a wide receiver.
In Collinsworth's time in the NFL, he finished with 417 catches, 6,698 yards and 36 touchdowns, along with three Pro Bowl nominations.
That alone is quite an impressive career for Collinsworth, especially with how the game was played during the 1980s.
Still, Collinsworth was quick to name Chase as the best Bengals receiver.
The Bengals rookie has tough competition but is off to a terrific start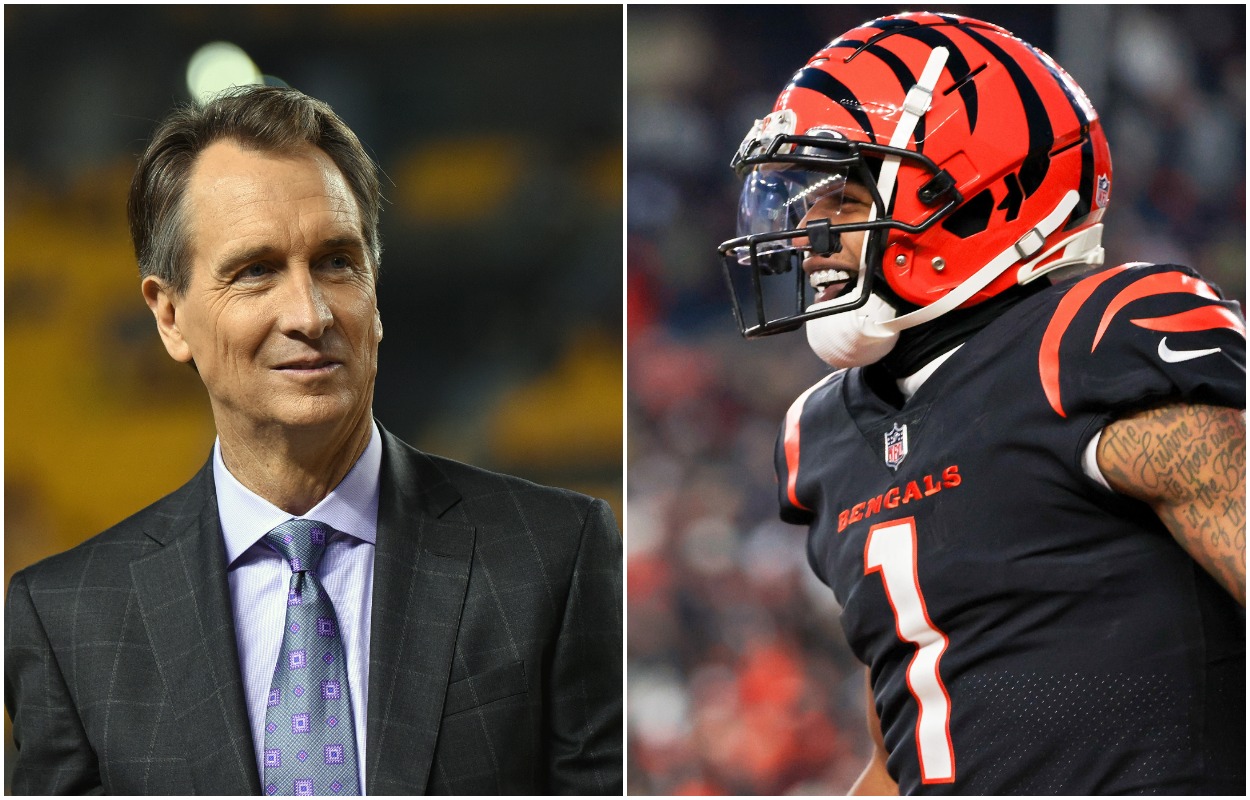 Collinsworth's comments aren't too difficult to believe. Chase has been marvelous this season and should only get better as he gets more comfortable with the NFL game.
However, he does have other players to compete again — including Chad Johnson and A.J. Green, among others. That alone is tough competition.
Now, it has just been one year, but Chase is on pace to shatter Johnson and Green's numbers with the Bengals. Johnson had seven 1,000-yard seasons and nine Pro Bowl appearances. Green posted six 1,000-yard seasons and made the Pro Bowl seven times during his Cincinnati tenure.
Those are impressive enough, and we haven't even discussed others such as Peter Warrick, Isaac Curtis, and T.J. Houshmandzadeh, to name a few. However, Collinsworth made the bold claim that Chase is already the best Bengals receiver in franchise history.
However, this isn't surprising to Chase, who set out to break Green and Johnson's records shortly after being drafted.
Chase aimed to break those records and he did exactly that
After Chase was selected at No. 5 overall in the 2021 NFL Draft, he wasted no time making some bold claims about himself.
Well, Chase delivered. He posted unworldly rookie numbers with 81 catches, 1,455 yards, and 13 touchdowns during the regular season. He followed that up with 20 catches for 279 yards and a score during the playoff run en route to setting the postseason record for rookies.
Chase did exactly what he set out to do — he broke Johnson's record.
Sure, there was one extra game, but it is still impressive nonetheless. Chase is a superstar in the NFL already, and the LSU connection with Burrow is a huge reason why he jumped out of the gate so well early on.
Can Chase cap off a historic rookie campaign with a Super Bowl trophy?
We will find out on February 13 at SoFi Stadium.
Stats Courtesy of Pro Football Reference
RELATED: Ja'Marr Chase Sets Rookie Playoff Record as Cincinnati Bengals Shock the World on Their Way to the Super Bowl