Cris Collinsworth Insulted the Intelligence of Football Fans Everywhere With His Recent Comments
Cris Collinsworth has had plenty of success as a broadcaster on NBC's Sunday Night Football and in sports media in general. However, he has also made some regrettable comments over the years. Collinsworth recently added to that list of poor comments, too, when he said something that insulted the intelligence of football fans everywhere.
Cris Collinsworth has had success after a nice career with the Bengals
RELATED: Urban Meyer Could Potentially Be Done on TV
Cris Collinsworth went to the Cincinnati Bengals in the second round of the 1981 NFL draft. He had success in Cincinnati right away, too, as he had 67 catches for 1,009 receiving yards and eight touchdowns in his rookie season. The Bengals were also a great team that year, as they went 12-4 and reached the Super Bowl. Cincinnati lost to the San Francisco 49ers in the Super Bowl, but Collinsworth caught five passes for 107 yards.
Collinsworth ultimately earned three consecutive Pro Bowl selections in his first three NFL seasons. He even gained as many as 1,130 receiving yards in 1983 and gained 1,000 or more receiving yards in four different seasons.
The Bengals then only went to the playoffs one other time with Collinsworth — that was until his final season in 1988, as he helped lead them to another Super Bowl appearance that year. Cincinnati lost to the 49ers again, but Collinsworth led the team in receiving yards in the game.
Overall in his football career, Collinsworth caught 417 passes for 6,698 receiving yards, and 36 touchdown catches.
He has since become a popular sports media personality. Collinsworth has worked in the broadcast booth alongside Al Michaels on NBC's Sunday Night Football for over a decade. He also owns the popular site, Pro Football Focus.
Cris Collinsworth insulted the intelligence of football fans
RELATED: Cris Collinsworth Once Tried Canceling a Media Responsibility Because of a 'Massive Zit'
The Green Bay Packers blew out the Tennessee Titans, 40-14, on Sunday Night Football on Dec. 27, 2020. The game was ultimately huge for both teams' playoff aspirations.
However, Collinsworth made a questionable comment during the game.
"I'm not sure the general football fan understands what pro football is all about," Collinsworth said, according to The Athletic's Steve Berman. "Because September football is completely different than December and January football, it really is."
So, does he think football fans don't really understand the importance of games closer to playoff time compared to games played in Week 1 and Week 2?
Here is what Berman said in response: "Cris Collinsworth apparently thinks everyone watching is an idiot. Who doesn't know this?"
Many other fans on social media weren't too thrilled about Collinsworth's comment, either. He made it seem as if he thinks that fans don't understand the difference between September and December football just because they didn't actually play professionally.
This comment was certainly insulting. It still isn't the worst one he has made this year, though.
Cris Collinsworth made controversial comments about female fans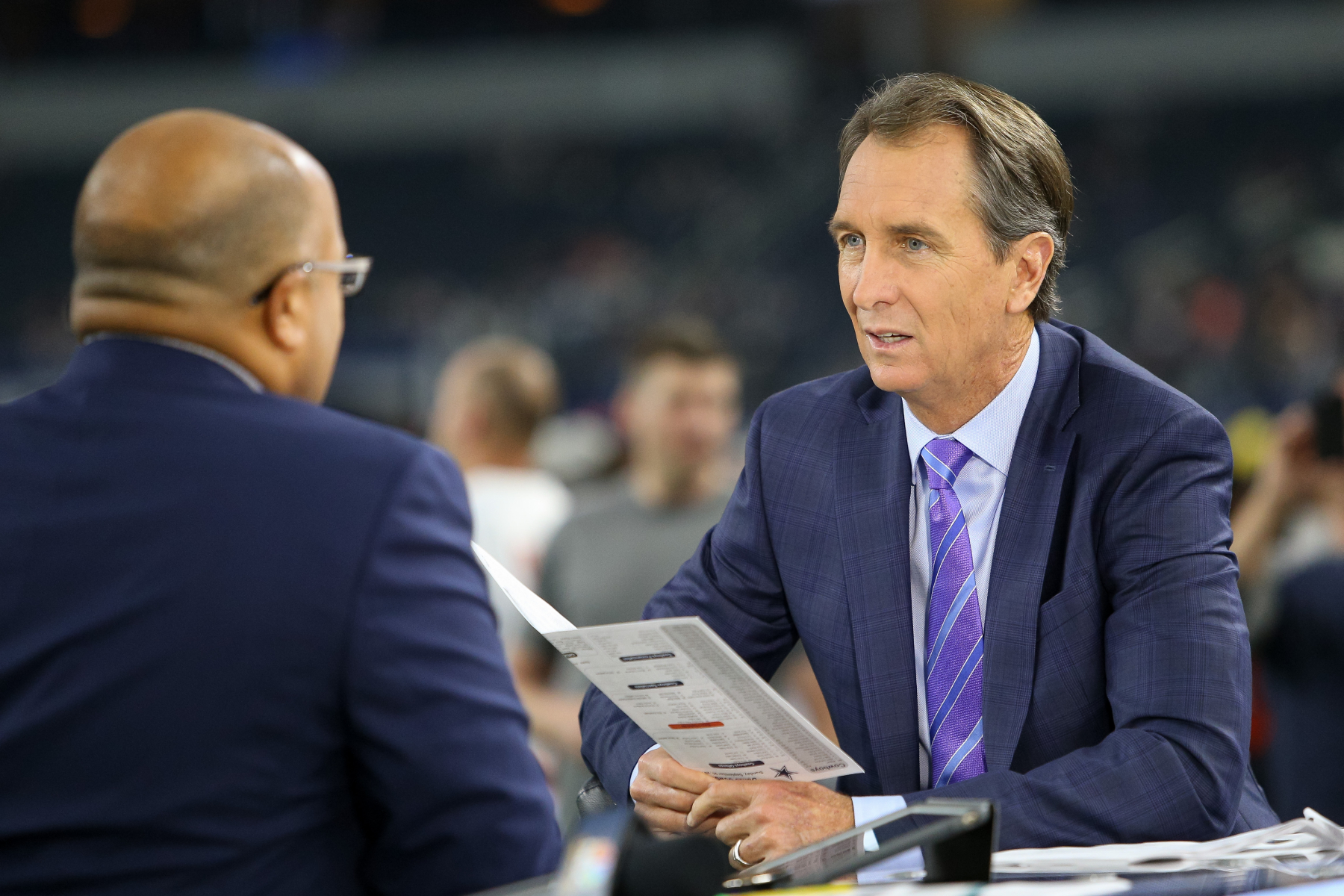 RELATED: Cris Collinsworth's Son Is Following in His Dad's Footsteps
Earlier this season, while calling a game between the Baltimore Ravens and Pittsburgh Steelers, Collinsworth made an insulting comment about female fans.
"Everybody's a fan. In particular, the ladies that I met," Collinsworth said of Pittsburgh, according to USA Today. "They have really specific questions about the game, and I'm like, 'Wow,' you're just blown away by how strong the fans are here in this town."
He later apologized via Twitter.
"Today on our broadcast I made reference to a couple of women I met in Pittsburgh who so impressed me with their football knowledge that I wanted to tell their story on the air," Collinsworth wrote, according to USA Today. "I know the way I phrased it insulted many. I'm so sorry. What I intended as a compliment to the fans of Pittsburgh, became an insult."
He continued: "I'm sick about insulting any fan, but especially female fans and journalists. I know first hand how much harder they have to work than any of us in this industry. I was wrong and deeply apologize."
Cris Collinsworth has certainly had a tough year in the booth. Hopefully, he can learn from his mistakes moving forward.
Stats courtesy of Pro Football Reference