Cris Collinsworth Needed Only 20 Seconds to Offer Matthew Stafford a Brutal Backhanded Compliment and Savagely Rip the Detroit Lions
Love him or hate him, you have to give Cris Collinsworth serious credit for managing to insult Los Angeles Rams quarterback Matthew Stafford and the Detroit Lions while calling a game that involved neither party.
Wait, you mean to tell me that Collinsworth, the former Pro Bowl receiver, offered borderline inane and offensive commentary during an NBC Sports broadcast? Football is officially back!
Cris Collinsworth said he only recently found out how 'good' Matthew Stafford is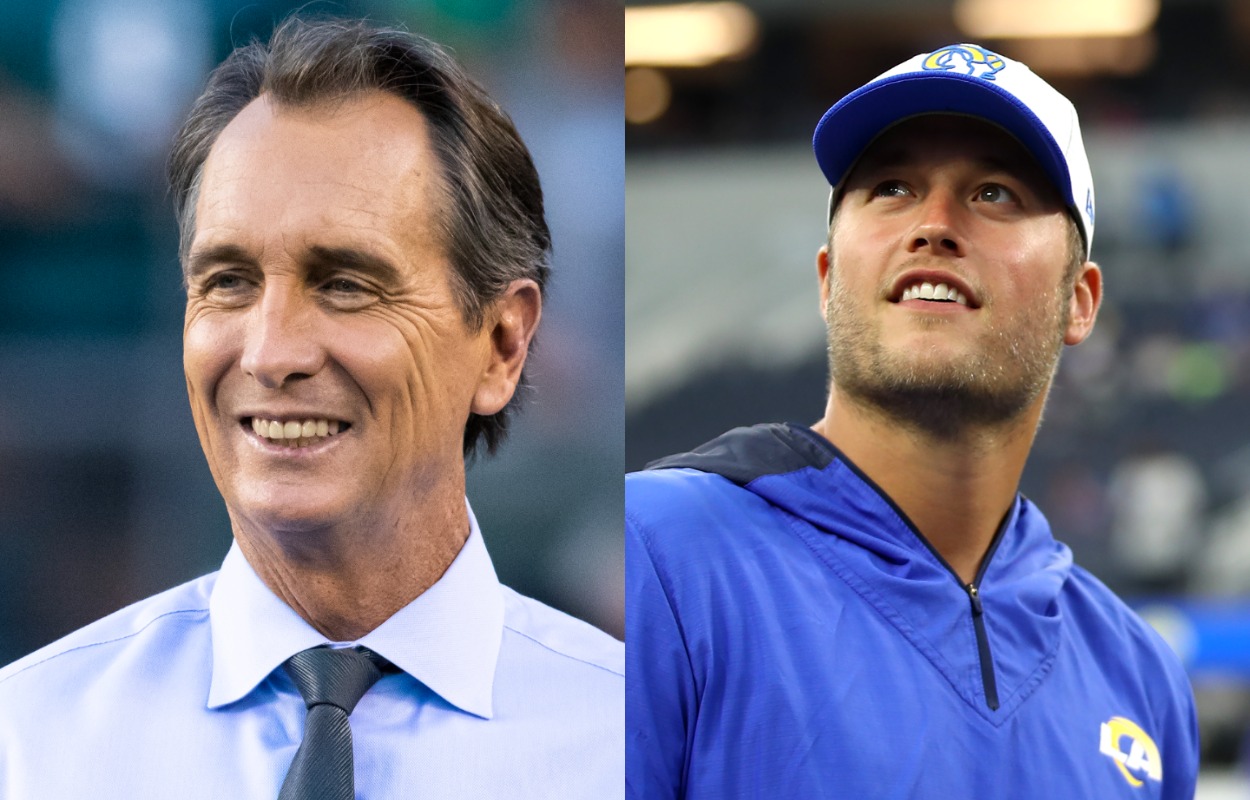 NBC's coverage of the Dallas Cowboys-Tampa Bay Buccaneers opener meant viewers would observe at least two things featuring Collinsworth. He lived up to expectations by showcasing his trademark slide when play-by-play announcer Al Michaels introduced him before kickoff.
The first quarter went without incident unless you were a Dallas Cowboys defender trying to stop Tom Brady. However, those waiting for a viral Collinsworth moment got their gift relatively early in the second quarter.
With just under 10 minutes remaining in the first half, Michaels mentioned he and Collinsworth would be back on Sunday, Sept. 12, to cover the Chicago Bears' road showdown with Stafford and the Los Angeles Rams. The conversation quickly turned to Stafford, who the Rams acquired from the Lions in an offseason trade. The veteran announcer shared his input on the former Pro Bowl quarterback.
"I gotta be honest, Al, I didn't know he was that good. I went back and watched every single one of his throws from this past season. … We haven't done a lot of Detroit games, right, on Sunday Night Football? I did not know he was that good."

Cris Collinsworth
By this point, Lions fans are used to death by a thousand cuts with the occasional jaw punch mixed in. Collinsworth managed to go below the belt with a rusty katana blade in the span of roughly 20 seconds.
Collinsworth's joke looks silly and shortsighted after the fact
You don't need to be a devout student of the game to know the Lions aren't exactly a mainstay on Sunday Night Football. From 2006-20, the franchise only appeared on the primetime event seven times. 
However, NBC also covered the Lions' Wild Card Round losses, games which technically are considered SNF, following the 2011 and 2016 regular seasons. The trio of Michaels, Collinsworth, and sideline reporter Michele Tafoya called both postseason games.
That group saw a fair amount of Stafford in Detroit, even if he didn't appear on NBC as often as the likes of Brady or Drew Brees. It didn't help that the Lions won only one of those nine appearances.
As easy as it is to pick on the Lions, it's also worth noting that those nine games were far from the bottom entering the 2021 season. The Jacksonville Jaguars haven't been on SNF since 2008, the last year before Collinsworth replaced John Madden. The Miami Dolphins have only played three SNF games and none since 2017.
Even the New York Jets, a team in a major media market, have only appeared on SNF or NBC's playoff coverage eight times. In fact, nine of the league's 32 teams had fewer SNF appearances than the Lions entering this season. It's not great, but not enough to warrant such a cold remark by Collinsworth.
It's also probably not a great look for a national color commentator to imply he isn't all that familiar with a starting quarterback, let alone one entering his 13th season in the league.
Collinsworth should have plenty of chances to see how capable Stafford can be at quarterback
Collinsworth all but said he hasn't seen as much of Stafford as he would have liked. Luckily for him, that won't be the case much longer.
The Rams will tentatively play on SNF twice in the season's first nine weeks. After hosting the Bears in Week 1, the Rams will play in front of Collinsworth when they host Derrick Henry and the Tennessee Titans on Sunday, Nov. 7.
NBC can add other Rams games down the road through the flex rule. The network also has the rights to four playoff games, including Super Bowl 56, this season. 
Don't be surprised to see Collinsworth praising Stafford's arm and demeanor in the Super Bowl. As for the Lions, their only hope at appearing on SNF during the 2021 season is through having a game flexed.
Like Sportscasting on Facebook. Follow us on Twitter @sportscasting19.