Cris Collinsworth Once Proposed a Strict Rule To Help the NFL Cut Down on Its Big Problem
Cris Collinsworth has been around the NFL for quite some time. He played in the league for the Cincinnati Bengals, and he has since covered it for NBC and Pro Football Focus. What many fans don't realize about the league, though, is that for coaches and players to have success in it, they have to work long hours. Sometimes, those long hours result in divorces between the coaches/players and their spouses. Well, Collinsworth once came up with an idea that could cut down on those high divorce rates.
Cris Collinsworth has been around the NFL for years
RELATED: Terry Bradshaw Recently Made an Embarrassing Mistake on Live TV
Collinsworth is known for his work in the broadcast booth on NBC's Sunday Night Football with Al Michaels. He has been in the booth with Michaels for over a decade. However, he had a pretty successful NFL career prior to working in sports media.
The Cincinnati Bengals selected Collinsworth in the second round of the 1981 NFL draft. He immediately found success with the Bengals, too, as he caught 67 passes for 1,009 yards and eight touchdowns in his rookie season. He helped the Bengals have a great season that year, too, as Cincinnati went 12-4 and reached the Super Bowl. They ultimately lost to the San Francisco 49ers in the game, but Collinsworth caught five passes for 107 yards.
Collinsworth ended up earning three consecutive Pro Bowl selections in his first three NFL seasons. He also gained as many as 1,130 receiving yards in 1983, and had four different seasons in his career with 1,000 or more receiving yards.
Additionally, while the Bengals only made the playoffs in two other seasons with Collinsworth, he helped lead them to another Super Bowl appearance in his final season in 1988. The Bengals lost to the 49ers again, but Collinsworth led Cincinnati in receiving yards in the game. 
Overall in his career, Collinsworth had 417 catches for 6,698 receiving yards and 36 touchdown catches.
Cris Collinsworth came up with a plan to lower divorce rates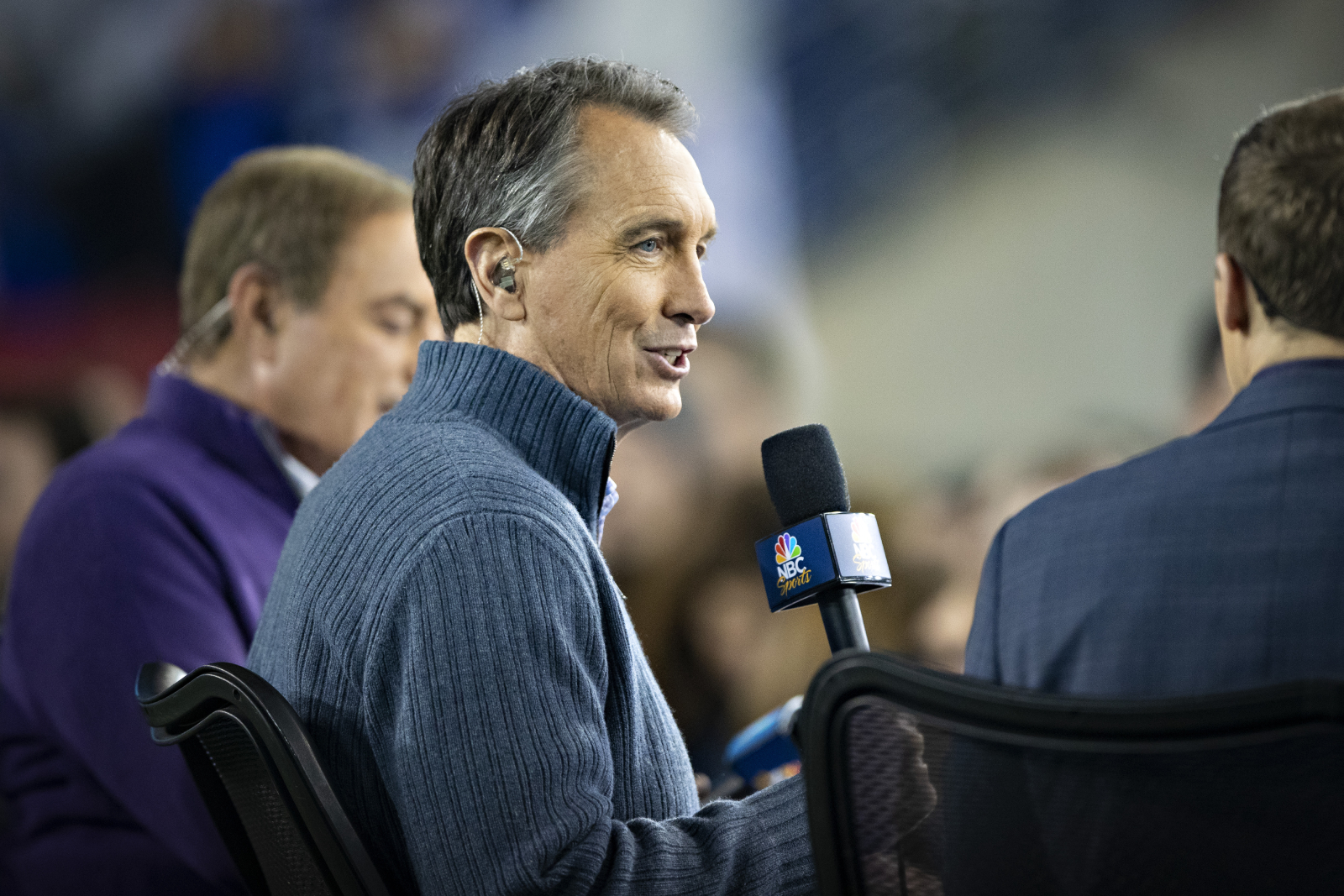 RELATED: FOX's Charissa Thompson Still Gets Asked Sexist Questions Despite Working in Sports for Years
In 2013, former New York Jets coach Rex Ryan received criticism for going to see Clemson play against Georgia on the same day that NFL teams cut their roster prior to the regular season. Ryan's son, Seth Ryan, was a walk-on at Clemson that year.
While appearing on The Dan Patrick Show in 2013, Collinsworth had a response to the criticism that was being thrown Ryan's way.
"Simply awful," Collinsworth said. "I know you got to get ratings; you have to sell newspapers and the whole thing. But if anybody really understood the kind of hours that these guys put in. They're never home. They never see their family. They're always away. … They're going to make that kind of blanket statement about a guy that's devoted his life to football. I think that's awful."
Collinsworth continued: "If anything, I think this entire league needs to go see their family more."
He then proposed an idea that would help coaches be able to do that.
"If I had a way of changing the game, I would institute a rule that said, 'No office could open before 7 a.m., and they're all going to close and lock the doors at 7 p.m.' As long it's equal, as long as it's fair. Quit seeing all the divorces associated with coaches and families. It would go a long way in this league."
That rule could certainly help. But are divorce rates in the NFL really that high?
The divorce rate among NFL coaches is high
RELATED: Cris Collinsworth's Son Is Following in His Dad's Footsteps
Being a football coach isn't easy, as coaches typically have to work long hours. It can ultimately put a strain on their families, too. According to a 2013 Bleacher Report article, it was estimated that the divorce rate for NFL coaches is between 60% and 70%. Additionally, according to a Sportscasting article from May 2020, one study showed that the divorce rate for high school coaches is about 50%, and the rates only increase in the higher levels.
"Sometimes, the wives leave. They push through," Mike Freeman wrote in Bleacher Report in 2013. "They miss the kids' soccer games and graduations. Sorry, my bad. Got a game coming. They push through. Pain in the chest? It'll go away. Go to the doc right after practice."
It certainly isn't easy being an NFL coach. Maybe, the league should listen to Cris Collinsworth and his idea so that it doesn't see its divorce rates continue to climb.
Stats courtesy of Pro Football Reference