Cris Collinsworth's Potential $12.5 Million Power Play Puts Drew Brees in an Unexpectedly Comfortable Position
Article Highlights:
Cris Collinsworth is reportedly finalizing a lucrative extension with NBC Sports
The former Pro Bowl receiver has been a mainstay of the network's football coverage since 2006
Collinsworth's extension could work in NBC colleague Drew Brees' favor
When NBC signed then-New Orleans Saints quarterback Drew Brees in 2020, the original expectation was that he would join Sunday Night Football in 2022 and eventually replace former Pro Bowl receiver Cris Collinsworth as the color commentator.
Things took a slightly different turn when Brees retired earlier this year and joined NBC on a full-time basis. Although he recently worked his first NFL game as a color commentator, don't expect to see the legendary quarterback take over for Collinsworth just yet.
Cris Collinsworth is reportedly working on a lucrative extension with NBC Sports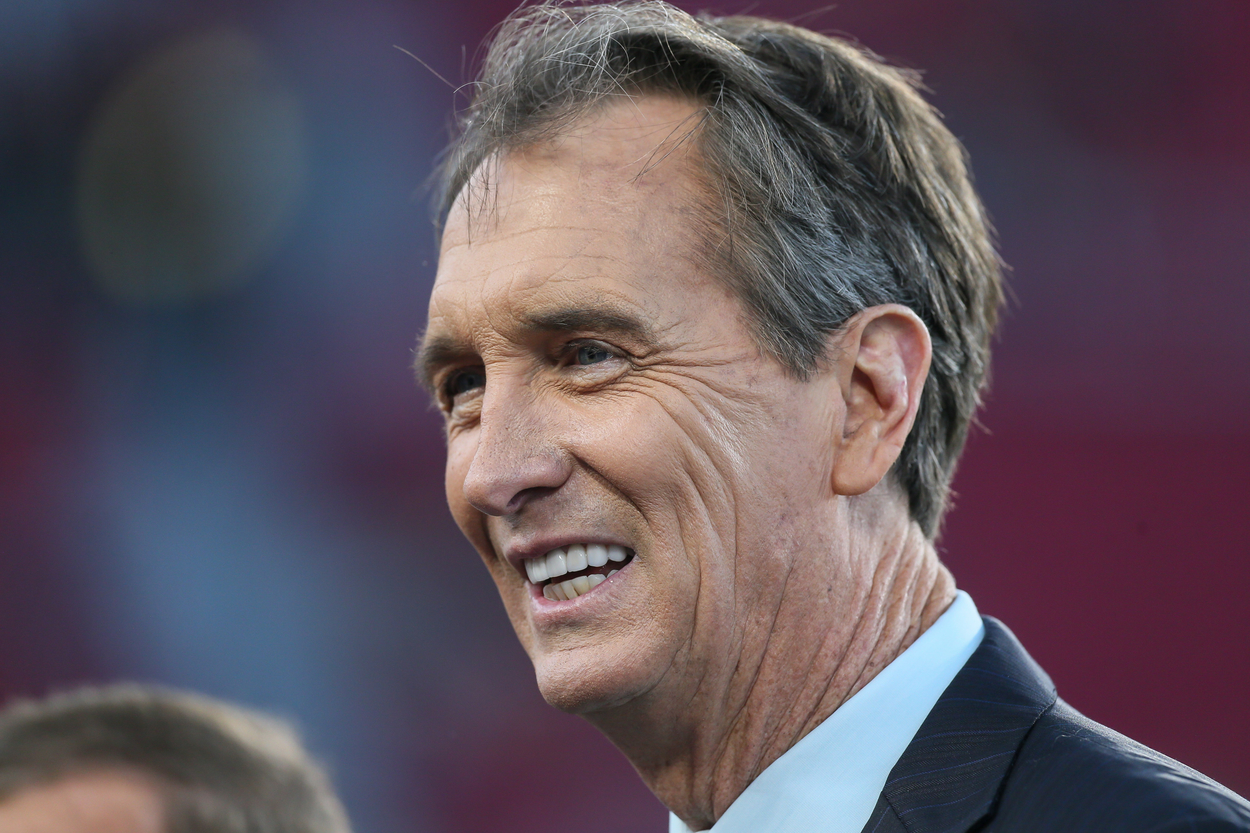 For nearly 15 years, never every Sunday night during the football season has featured Collinsworth sliding into the booth and trading lines with Al Michaels for three hours. Things could change next year if Mike Tirico, the current host of Football Night in America, replaces Michaels as SNF's primary play-by-play voice when the latter's contract expires in February 2022.
Although it is not yet known if the 77-year-old Michaels will re-sign with NBC and have a reduced workload next year, Collinsworth clearly expects to be a significant part of the network's football plans moving forward. According to the New York Post, the veteran announcer is negotiating a lucrative long-term extension with his longtime employer.
How lucrative are we talking? Collinsworth and NBC are reportedly discussing a contract that would pay him $12.5 million per season. Conversely, Dallas Cowboys star running back Ezekiel Elliott is currently scheduled to make $12.4 million in base salary in 2022.
If Collinsworth's reported potential salary sounds extremely high, consider that CBS Sports' Tony Romo earns $17 million per year.
Collinsworth's potential extension is actually good news for Drew Brees
If NBC signed Brees and imagined a long-term team involving him and Tirico, they at least got that reality for Notre Dame football games and FNIA discussions this season. Unless NBC suddenly creates a three-man booth, Collinsworth's extension would almost certainly keep Brees in the studio on Sunday nights and away from Tirico.
With respect to Brees, that isn't a bad thing. And with respect to Notre Dame football games, that platform is a far better space for a newer analyst to develop and continue honing their craft. If you're skeptical, just remember what happened when ESPN had Jason Witten do Monday Night Football games immediately after he retired following the 2017 season.
Brees drew rave reviews for his work alongside Tirico on the Nov. 25 game between the Buffalo Bills and New Orleans Saints. However, one successful game in the booth — and remember, he is intricately familiar with the Saints organization — won't turn him into the next Romo or Greg Olsen.
Brees turns 43 in January and shouldn't be in a rush to take the reins on SNF. The more time he spends in an NFL broadcast environment will help him when the opportunity arises for him to rejoin Tirico in a booth on Sunday nights.
Don't forget the best part, at least for Brees. According to Sporting News, the Super Bowl 44 champion is reportedly earning over $6 million per year in his current contract. 
Collinsworth and Tirico have already shown signs of being a solid broadcast duo
Sunday nights will look and sound far different when Tirico eventually takes over for Michaels. NBC has widely given us a preview of what's to come and partnered him and Collinsworth multiple times since the start of the 2020 season.
All in all, there are plenty of positives to take away from the small sample size. Both are extremely experienced broadcasters who remain atop their game and don't rely on cliches or focus too much on how great the game was 40 years ago. Tirico knows when to set Collinsworth up, and the latter still excels at breaking down plays for the audience.
Consider a play midway through the Baltimore Ravens' Nov. 28 victory over the Cleveland Browns. After Browns quarterback Baker Mayfield connected with receiver Jarvis Landry on a 46-yard gain, Tirico didn't need to ask Collinsworth for his analysis. The transition felt natural, and Collinsworth quickly explained how a 5-yard rush on the previous play set the Browns up to catch the Ravens' defense off guard and throw it deep.
Not only will Collinsworth get to keep sliding into the booth next year, but he may do so with significantly more money in his pocket. We should all be so lucky.
Like Sportscasting on Facebook. Follow us on Twitter @sportscasting19.