Cris Collinsworth Reveals the Best Advice He Ever Received Since Becoming a Broadcaster: 'You Don't Want to Be the Clown'
Cris Collinsworth spent eight seasons in the NFL playing for the Cincinnati Bengals and made it to three Pro Bowls. However, the 62-year-old has enjoyed a significantly longer career talking about football.
The NBC Sports analyst and announcer is one of the most recognizable figures in the game today. Still, it took him longer than expected to get to this point.
Cris Collinsworth is a polarizing figure in the broadcast booth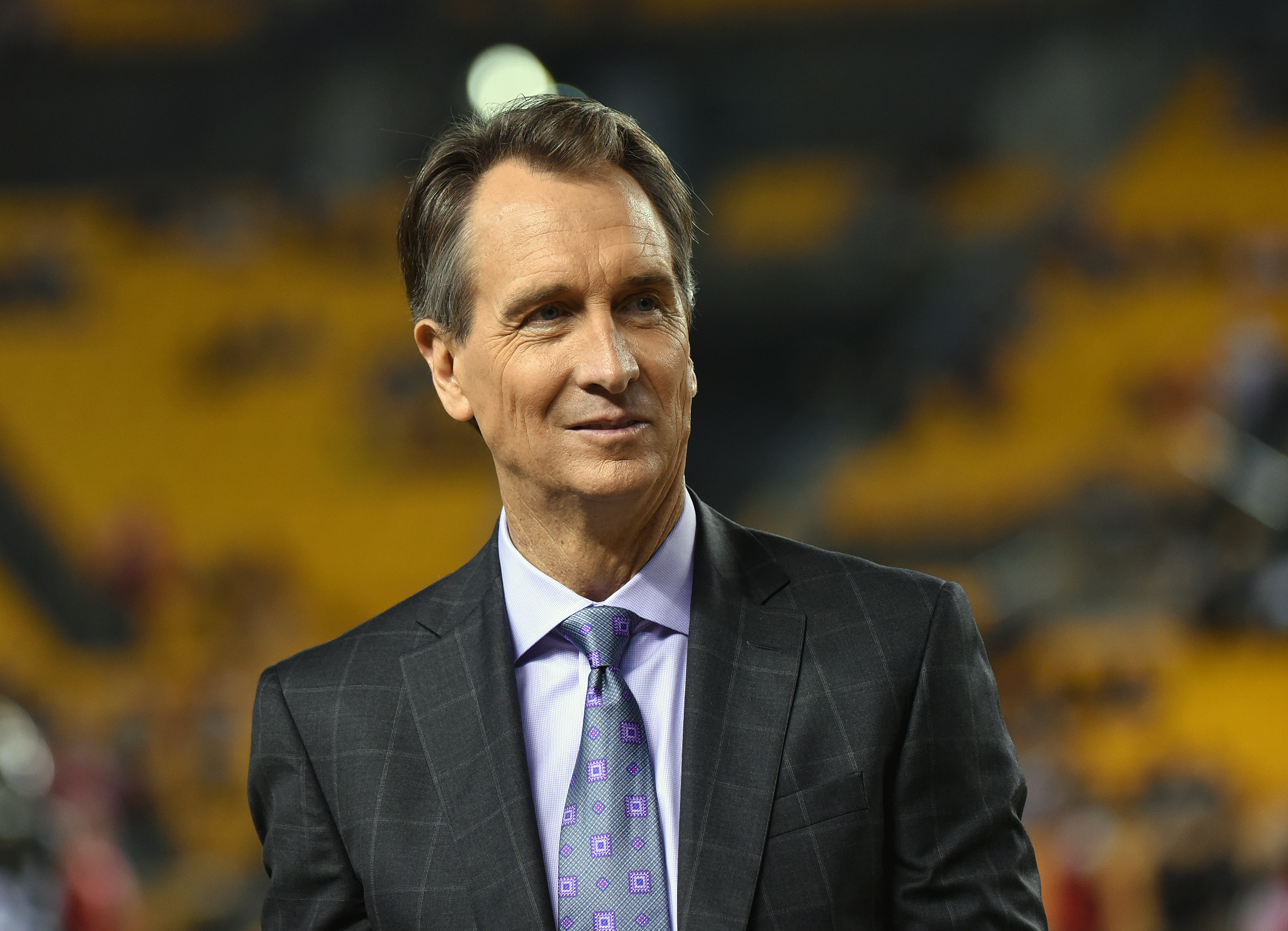 At 6-foot-5, 192 pounds, Cris Collinsworth presented a matchup nightmare for opposing defenders. After retiring from the NFL in 1988, the former Bengals star found something he could be better at than football.
Collinsworth initially went to law school in preparation for his next career path, he revealed on The Rich Eisen Show. He soon received a call from HBO's Rick Bernstein and Ross Greenberg, which changed his life completely.
The former wideout previously spent time as a feature reporter on Inside the NFL and a sports radio talk show host in Cincinnati.
Collinsworth now serves as an NFL analyst and broadcast announcer for NBC's Sunday Night Football coverage. He and Al Michaels form one of the most popular broadcasting duos in sports media today.
Cris Collinsworth knows the game very well, but football fans debate how good he is at calling games on Sunday nights. Despite the criticism, he has maintained a successful post-playing career spanning more than 20 years.
The NBC Sports analyst shares piece of advice that sticks with him
Cris Collinsworth recently joined The Rich Eisen Show for the "Voices of the NFL" segment, highlighting media personalities around the league.
In the interview, the former Pro Bowler shared stories about his transition from playing in the NFL to talking about it in the broadcast booth.
For as long as Collinsworth has been covering the NFL, he undoubtedly has plenty of memories. When asked about his favorite piece of advice he ever received from someone in the industry, he gave an interesting response.
Ross Greenberg is the former president and executive producer for HBO Sports. He called Collinsworth into his office and gave him a valuable piece of advice that stuck with him throughout his career.
"I think you have a chance to be really good in this business," he said. "But you don't want to be the clown. It's OK to try to be funny, but you don't want to be the clown. You want to be the one that's taken seriously."
Collinsworth admits it is easy to try and be funny when doing a broadcast. However, Greenburg suggested that being knowledgeable would take the former wideout's career to greater heights.
"I can't tell you how many times that's rung in my head over the years," said Collinsworth. "There's way more people who want something smart than people who want a bad comedian to try and make them laugh. There's a lot of people out there trying to do that on television."
Collinsworth has used early struggles to fuel his career
While Cris Collinsworth has spent more than two decades in the sports broadcasting industry, he didn't always have it easy. He quickly learned that discussing football on a broadcast was much different from playing on the field.
When the former Bengals star decided to forgo his law career for the broadcast booth, he was ready to take the bull by the horns.
As Collinsworth tells it, though, he nearly didn't make it to where he is now. When he first started with NBC, the network initially relegated him to only small market football games.
"When you're doing talk radio, you've got to be crazy just to survive," said Collinsworth. "You got to throw out junk just to stir the pot and get people to call in. What I knew about broadcasting was doing talk radio. I'm throwing out heaters left and right on these games. I was so bad."
Collinsworth admits that he was completely out of his element calling games. He thought he'd be ahead of the curve writing players' names and numbers on a folder, but he made a fool of himself instead. His producer started to get concerned.
"He goes, 'listen, this is going to be a train wreck. I can't believe they gave me you, but we're going to make this work.'" Collinsworth didn't think he'd make it through a four-game deal he agreed to.
"I hope I'm a better lawyer than I am a broadcaster," he said. "Cause this is not going to last very long."
Well, it looks like Cris Collinsworth has proven even himself wrong.
Like Sportscasting on Facebook. Follow us on Twitter @sportscasting19.