Cris Collinsworth Says He and John Madden Nearly Had Their Own 'ManningCast' Before the Broadcasting Legend Retired: 'I'm Sort of Like, How Hard Can It Be?'
Article Highlights:
NBC Sports analyst Cris Collinsworth said he and John Madden nearly did a 'ManningCast'-type broadcast in 2006
Collinsworth would have served as the play-by-play announcer on a conversational broadcast
We can only wonder what would have been, especially with how successful Eli and Peyton Manning's simulcast has been 
When NBC Sports acquired the Sunday Night Football rights in 2005, the network's first significant move was signing Pro Football Hall of Fame coach and longtime color commentator John Madden.
NBC had over a year to figure out who would serve as the play-by-play announcer and, as we know, the company famously traded the rights to Oswald the Lucky Rabbit (we're serious) to Disney for Al Michaels, who'd worked alongside Madden on Monday Night Football games since 2002. However, according to current SNF color commentator Cris Collinsworth, NBC originally had a far different idea for how games would look.
Cris Collinsworth elaborated on what NBC's original vision for 'Sunday Night Football' would have looked like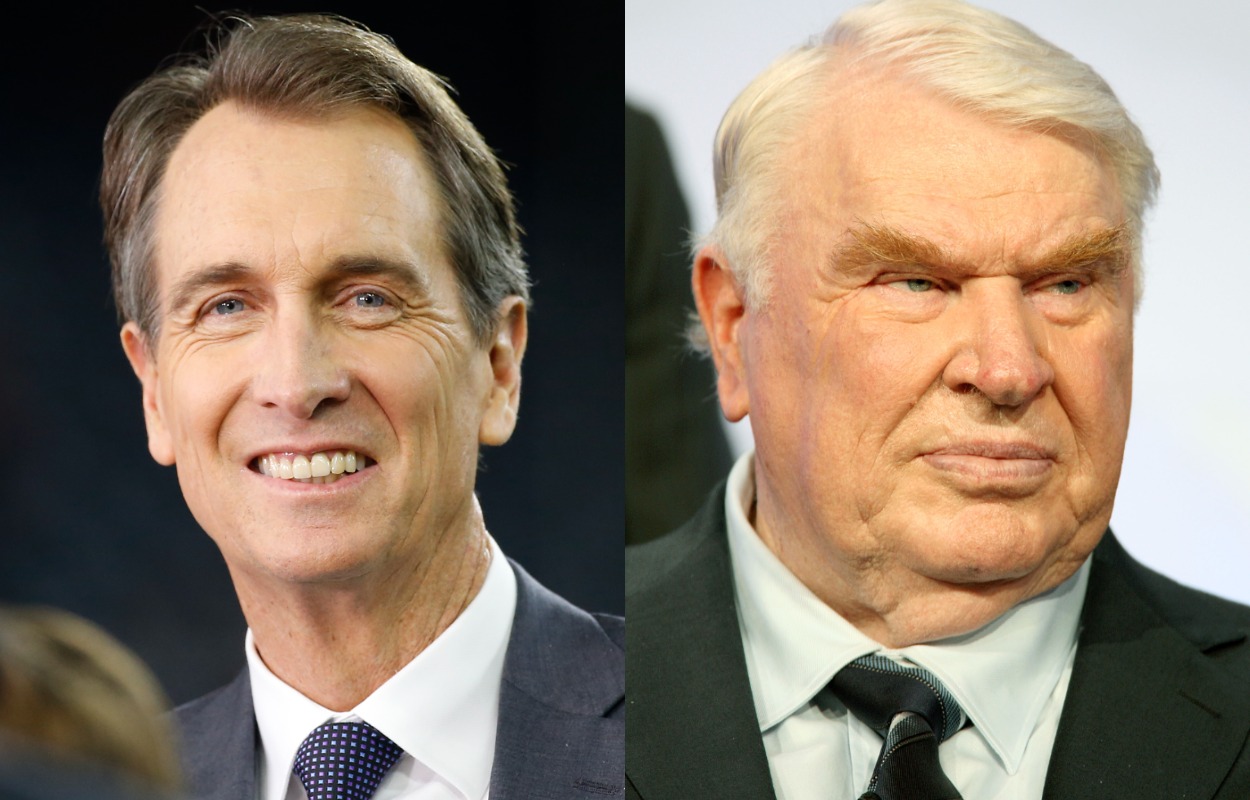 Although NBC didn't air the Sunday night package until the 2006 preseason, the company started setting things up a year earlier. In July 2005, a month after signing Madden, the network added Collinsworth, who at the time worked alongside Joe Buck and Troy Aikman on Fox's No. 1 broadcast crew.
You might not remember that from 2006-08, Collinsworth primarily served as a studio analyst on Football Night in America. It wasn't until 2009 that the former Pro Bowl receiver joined Michaels in the broadcast booth upon Madden's retirement.
On the Nov. 10 episode of Just Getting Started with Rich Eisen, Collinsworth explained how NBC nearly made him a play-by-play announcer … well, of sorts. The four-time Pro Bowl selection said NBC's original vision involved two analysts calling the game conversationally instead of breaking down each play. Sounds a bit like Monday Night Football With Peyton and Eli, no?
"They fly a jumbo jet 747 across the country," Collinsworth recalled. "They take the whole NBC Sports team to John Madden's studios. We go in to do this game. I'm doing the play-by-play. I'm sort of like, how hard can it be?"
Collinsworth didn't need long to realize that he didn't have the makings of a play-by-play announcer.
"I couldn't undo what I had learned to do my whole life. When I broadcast the game, I don't watch the football. A lot of times, I lose where it is. I think Al's job is to tell you what's happening to the football and my job is to tell you something you didn't see. When I'm trying to do play-by-play, now I've got to watch the football. I didn't really know just getting on-the-air; that's a lot harder than you think it is."

Cris Collinsworth
NBC Sports executive Dick Ebersol told Collinsworth that if he wanted the job, he could have it. However, NBC also had an opportunity to acquire Michaels from ESPN.
Do you want to take a guess what NBC did next?
ESPN experimented with a similar alternate broadcast until settling on the Megacast
Although the ManningCast has set the gold standard for alternate broadcasts, it was far from the first of its kind. ESPN has used the Megacast for significant events, usually the College Football Playoff and a Wild-Card Round playoff game.
Several years before the Megacast became a frequent event, however, ESPN had an occasional simulcast called Full Circle. The network produced six Full Circle broadcasts — four college basketball games, one NASCAR race, and an Eastern Conference quarterfinals showdown between the Miami Heat and Chicago Bulls — from 2006-07.
While ESPN aired the traditional broadcast, ESPN2 provided alternate camera angles, and ESPN.com offered a live chat. Although videos aren't widely available, a YouTube user uploaded screen captures of ESPN2's simulcast of Florida State's 13-10 victory over the University of Miami on Sept. 4, 2006.
ESPN discontinued the alternative broadcasts until the Megacast debuted in 2014. That's when we began seeing more of the conversational and non-traditional simulcasts, whether it was coaches breaking down the game on ESPNews or a "homer" broadcast on ESPNU.
Now, we have the ManningCast, which likely has more f-bombs and middle fingers than what NBC expected from Collinsworth and Madden.
The 'ManningCast's success doesn't mean things would have gone as smoothly for Collinsworth and Madden
Interestingly, the first regular-season Sunday Night Football game on a Sunday came when Peyton and Eli Manning squared off on Sept. 10, 2006. Viewers might have been in for an unexpected sight had they heard Collinsworth and Madden discuss what food is kept on the Madden Cruiser while New York Giants running back Tiki Barber tried rushing through the Indianapolis Colts' stout defensive line.
Now, the Manning brothers are talking food, trading barbs, and laughing about the various teams they tormented in their respective NFL careers. If you're still skeptical of the appeal, consider that the brothers drew 1.96 million viewers when the Giants played at the Kansas City Chiefs on Monday, Nov. 1. The ManningCast accounted for 14% of the total audience.
We can only wonder what could have been if NBC stuck with what we'll call the MaddenCast. Madden certainly had charm and a propensity for creative commentary, but would that have been enough to work on the main broadcast? Remember, this wasn't a simulcast that would have aired on a partner network or the NFL's official website. This would have been what fans experienced each week.
Now, if NBC eventually wants to try a BreesCast with Drew Brees and someone else on Peacock, we're all ears. Just make sure Marshawn Lynch doesn't drink too much before calling in.
Like Sportscasting on Facebook. Follow us on Twitter @sportscasting19.