Cris Collinsworth Says NFL Teams Actually Benefited From COVID-19 This Season: 'I Didn't Know It Would Have That Kind of Impact'
Cris Collinsworth has gone from a solid NFL wide receiver with the Cincinnati Bengals to one of the most popular broadcasters in sports media. He typically always has some insightful analysis to give when it comes to the NFL.
NBC — Collinsworth's employer — isn't broadcasting the Super Bowl this year. So, Collinsworth's season is officially over. This led to him discussing the 2020 NFL campaign as a whole. He made some interesting comments, too, as Collinsworth ultimately said that some teams benefited from COVID-19 this season.
Cris Collinsworth knows a thing or two about high-powered offenses
Cris Collinsworth played in the NFL for the Cincinnati Bengals from 1981 through 1988. He had some excellent seasons, too. Collinsworth gained over 1,000 receiving yards four times in his career, and he earned three Pro Bowl selections.
He was also a part of some outstanding offensive units during his career. Collinsworth helped lead the Bengals to the Super Bowl during the 1981 season. They ultimately lost to the San Francisco 49ers, but a reason they were so successful was because of what they were able to do on the offensive side of the ball. Cincinnati was No. 3 in the NFL in scoring that year, as they averaged 26.3 points per game. Ken Anderson led the Bengals at QB as he earned First-Team All-Pro honors that season, and Pete Johnson was great on the ground for Cincy, earning Pro Bowl honors and gaining over 1,000 rushing yards.
Collinsworth and the Bengals did not reach the Super Bowl in 1982, but they were almost just as good offensively that season. Cincinnati was fourth in the NFL in scoring, as they averaged 25.8 points per outing. Anderson, Johnson, and Collinsworth were also all great again that year.
The Bengals were dominant offensively in other years with Collinsworth, but in 1988 — Collinsworth's final season — they were unstoppable. Cincy was No. 1 in the league in scoring that year, as the team averaged 28 points per game. Quarterback Boomer Esiason had a great year, earning First-Team All-Pro honors, but they also had two great backs in Ickey Woods and James Brooks. This was in addition to Pro Bowl receiver Eddie Brown, who gained over 1,200 receiving yards.
Collinsworth hasn't played in the NFL since 1988, but he clearly knows about explosive offenses. He was pretty impressed with the offensive play during this NFL season, too.
He said that NFL offenses benefited from COVID-19 this season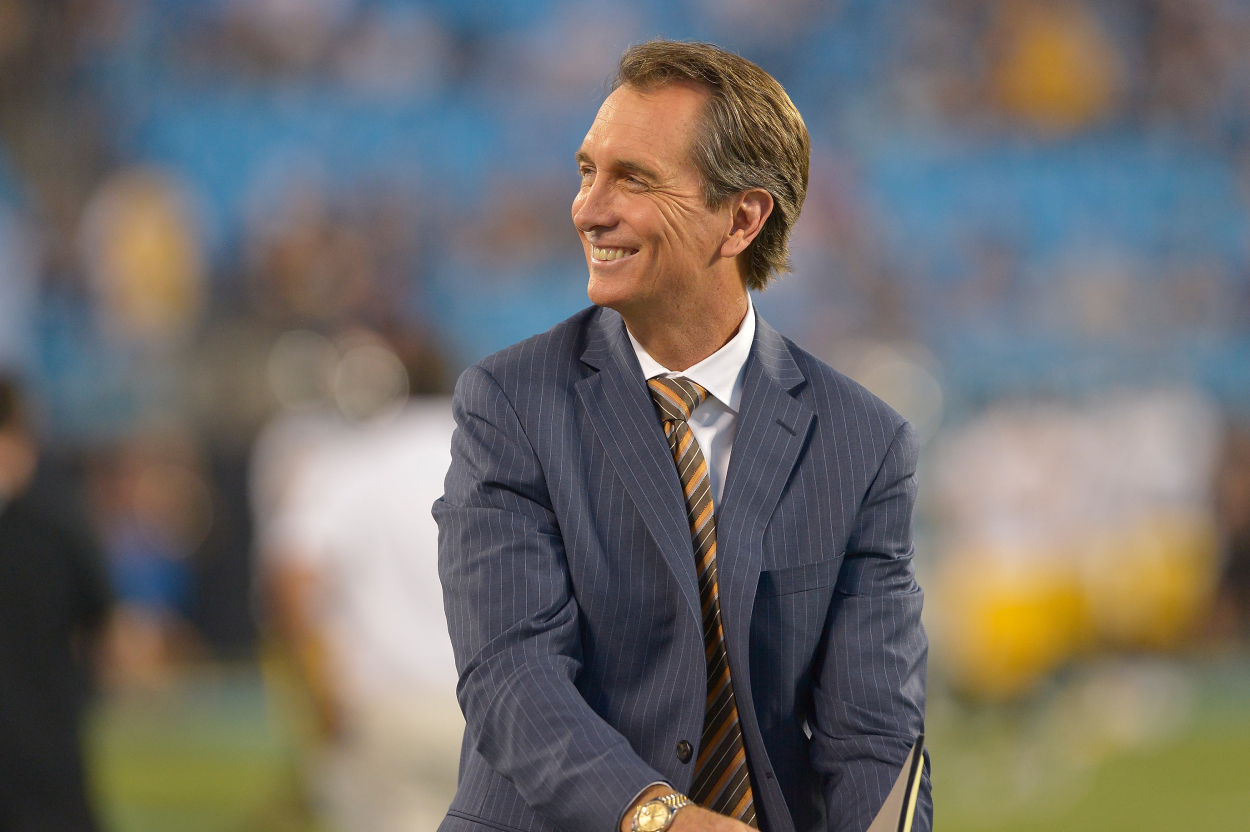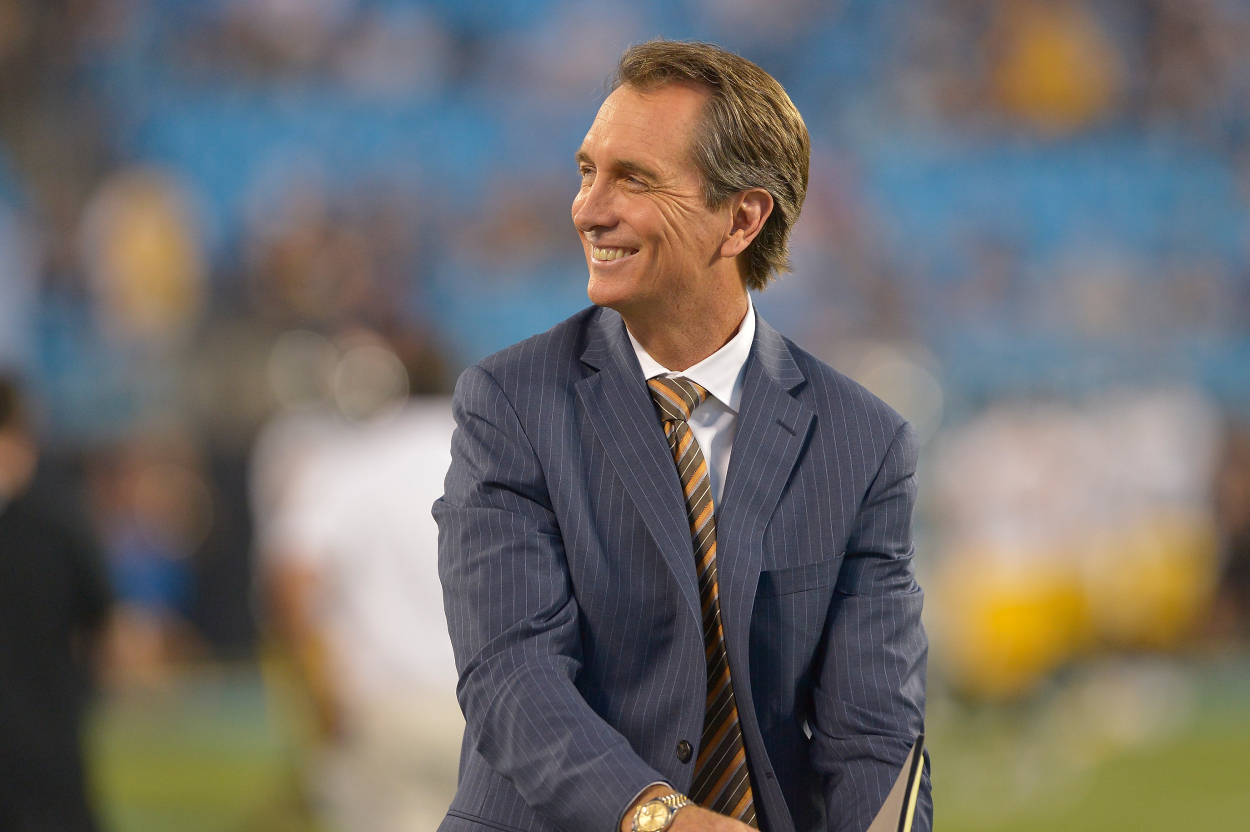 Collinsworth recently appeared on Mike Greenberg's podcast, Greeny.
Greenberg ended up asking him how this past NFL season was different from others due to COVID-19. He gave some interesting insight, too.
"I think the number one lesson for all of us was just how significant fans are to sports," Collinsworth said on the Jan. 26 episode. "… One of the great things about it was, though, that we got to hear conversations at the line of scrimmage that we've never heard. As a player, I kind of knew a little bit about them, but of course, the game changes and every team has a different way of communicating."
Collinsworth then explained how the lack of fans ultimately helped offenses this season.
"Everyone assumed that it was going to give the advantage to the defense, no training camp and all that kind of stuff. But the ability of some of these great quarterbacks to hear the defensive signal calls, where they're yelling back and forth and doing their conversation, for an Aaron Rodgers, and a Tom Brady, and a Patrick Mahomes to hear what they were saying out there, really tilted the tables in favor of offense, which was a little bit of a surprise. I didn't know it would have that kind of impact," Collinsworth said.
NFL offenses had a record-breaking season
So, is Collinsworth right? Did offenses have an advantage this season? It appears so.
According to NFL.com, the 2020 NFL season was the highest-scoring season in league history. Teams ultimately scored a total of 12,692 points, and the previous record was when teams scored 11,985 in 2013. NFL teams didn't just break that previous record, but they demolished it.
The 2020 NFL season was a challenging one as several big-time players had to miss games due to COVID-19 and multiple games even had to be postponed. However, some NFL teams — specifically the ones with dominant offenses — were still able to take advantage of playing football in the middle of a pandemic.
Stats courtesy of Pro Football Reference