Cristiano Ronaldo Took a Helicopter to the Ferrari Factory to Make a $2 Million Purchase
Wowing fans comes naturally to Cristiano Ronaldo. He joined Manchester United and the Premier League when he was only 18. Since then, he's dazzled crowds with his agility and footwork. A highly marketable player, Ronaldo made millions through lucrative football deals and endorsements. He's known for living an extravagant lifestyle, but one of his more recent purchases was over the top, even for Ronaldo.
Cristiano Ronaldo's net worth and legacy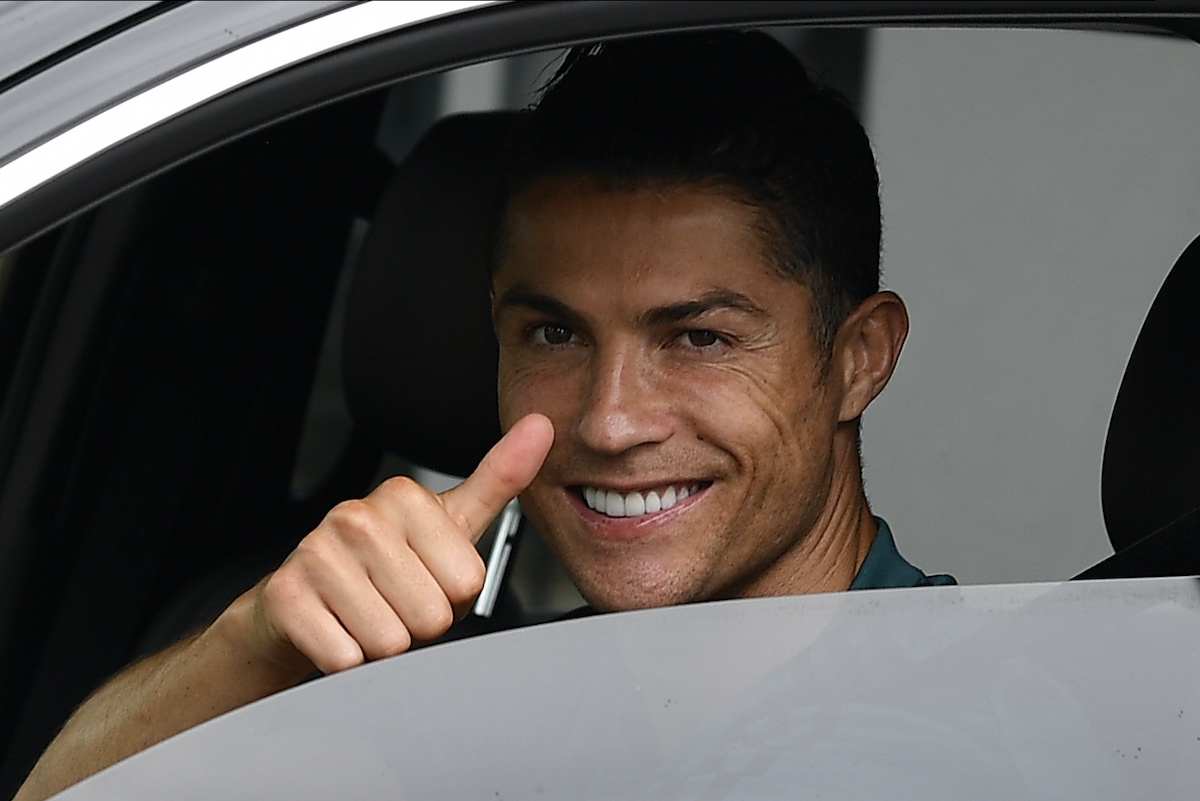 His soccer deals made him a rich man. Ronaldo is reportedly worth close to $450 million. While his soccer salary makes up a good portion of his income, he also has endorsement deals with Altice, Herbalife, and Nike. He's not afraid to spend that money either. He diligently details his jet-setting lifestyle on his Instagram. Vacations, cars, extravagant clothing … Ronaldo doesn't hold back when it comes to the finer things in life. 
As one of the most recognizable athletes in the world, Ronaldo also faces his fair share of criticism. From his spending habits to his perceived arrogant on-field persona, Ronaldo is always in the limelight. While there's no doubt he's one of the greatest footballers of all time, fans are quick to pit Ronaldo and Argentine footballer Lionel Messi against each other. The two have different playing styles and different personalities, but each has achieved an unprecedented level of success, always forcing comparisons.   
An over the top purchase
After losing a match to rival Milan, Ronaldo didn't stop to mope around. Instead, he skipped training and bought a car. Insider reports that Ronaldo made the trip to the Ferrari factory, in a helicopter no less, with Juventus president Andrea Agnelli. Maybe skipping practice isn't such a big deal when you're with the club's president? Anyway, the Agnelli family has a holding company, Exor, that controls both Juventus and Ferrari. 
Ronaldo bought a red Ferrari Monza SP1, priced at $1.95 million and only available by invitation. While that seems excessive, other athletes seem to love buying cars too. The Ferrari joins Ronaldo's car collection, which also includes Bentleys, Porsches, and a Bugatti. 
Cars aren't the only high-priced items he buys.  In addition to flashy watches and jewelry, Ronaldo also wanted a wax statue of himself. After seeing his likeness in a Madrid wax museum, he commissioned the artist to make another just like it. It reportedly set him back anywhere from $25,000 to $35,000. 
Ronaldo is super talented, good-looking, and can afford pretty much anything he wants. Maybe that's why he's constantly given grief for parading around his extravagant lifestyle.
Ronaldo's stunning career
Ronaldo was Manchester United's first Portuguese player. The team won the FA Cup his first year and went on to win three consecutive Premier League titles with United. Ronaldo and Manchester fans had a love/hate relationship throughout his time with the club. According to Manchester United, Ronaldo appeared in 292 games and scored 118 goals. However, before the start of the 2009 season, Ronaldo announced he would leave United for Real Madrid. Many fans speculated he only left for monetary reasons, but Ronaldo shared that he felt there wasn't anything left for him to achieve with United. 
Whatever the reason, Real Madrid paid $124 million to bring Ronaldo to their club, and it paid off. According to their Real Madrid website, Ronaldo scored the most goals in club history. He also led the team to two La Liga titles and four Champions League crowns. In 2018, he signed a four-year contract with Juventus, an Italian club, earning him $34 million per year — a record transfer fee for a player over age 30.