Mark Cuban 'Likes' the Luka Dončić and Kristaps Porziņģis Relationship
Kristaps Porziņģis joined the Dallas Mavericks in January 2019, and his performance has been uneven at best. Luka Dončić is considered the betting favorite to win NBA MVP honors this season but has reportedly been unhappy at times with Porziņģis. In turn, Porziņģis has bristled at his role in the Dallas offense. Yet through it all, Mavericks governor Mark Cuban is confident the two are fast friends.
During a recent appearance on a Dallas radio station, Cuban said he had a sure way of knowing that Dončić and Porziņģis have a healthy relationship. This declaration comes after the big Latvian's alleged strip club visit during last season's playoffs. Luka was not happy about that, per reports. Though he was probably less pleased with KP-6's disappearing act on the court.
The history between Luka Dončić and Kristaps Porziņģis is complicated
Luka Dončić has been a sensation since the moment he arrived in Dallas. The 2018–19 NBA Rookie of the Year has added two All-NBA seasons since then. He came with much fanfare after becoming the youngest EuroLeague MVP in history with Real Madrid in 2018. But the doubters are mostly silent after Dončić has averaged 28.3 points, 8.7 rebounds, and 8.7 assists per game in the last two seasons.
Kristaps Porziņģis was a star on the rise with the New York Knicks before tearing his ACL in January 2018. He missed the rest of that season and all of 2018–19 recovering. During that period, the Knicks shipped him to the Mavericks.
His numbers look OK at first glance since he returned: 20.3 points, 9.3 rebounds, and 1.7 blocks a night. His shooting in 2019–20 was dismal (42.7% overall, 35.2% from 3-point range) but recovered last season to 47.6% and 37.6%, respectively.
But in Dallas' seven-game loss to the Los Angeles Clippers in the first round last season, Porziņģis vanished. He shot 47.2% overall but hit only 8-of-27 from long range (29.6%) and averaged 13.1 points, 5.3 rebounds, and less than a block a game. When your second star puts up numbers like that, you lose.
And Dallas did just that, despite 35.7 points, 10.3 assists, and 7.9 boards a game from Dončić, who could have sued for lack of support. That is essentially the story of how the Mavericks became the first team in NBA history to win three road games in a best-of-seven series and lose.
Cuban is confident because they really, really 'like' each other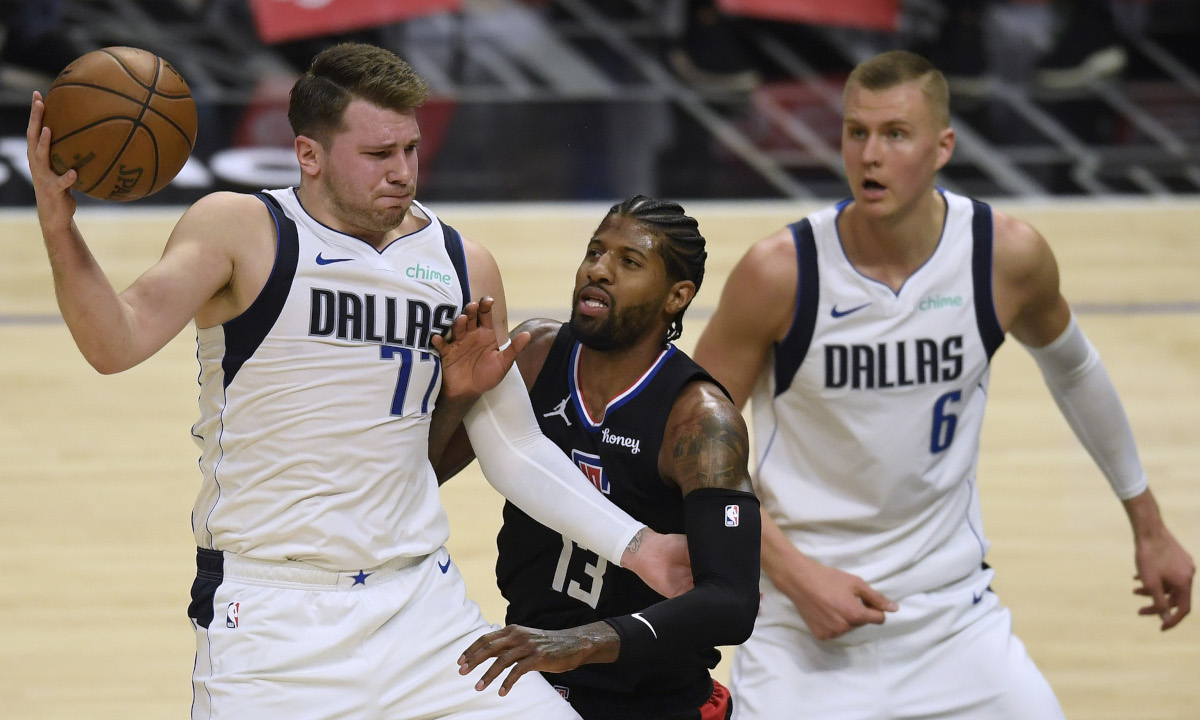 During his appearance on 97.1 The Eagle, Cuban said he had a "telltale sign" that relations between stars Luka Dončić and Kristaps Porziņģis were just ducky. Cuban is very active on social media, and that told him everything he needed to know.
That's right: Since Dončić and Porziņģis were "liking" each other's posts on social media, Cuban surmised that everything between the two was solid. Grant Afseth of SI.com reported on the radio appearance.
A new voice in the Dallas locker room might make a more significant difference than Luka or Porziņģis hitting the "Like" button. New head coach Jason Kidd has work to do in fixing the on-court relationship between the two stars.
Porziņģis needs to make defenses pay for overplaying Dončić, something he hasn't done consistently enough over the last two seasons. If The Unicorn can become a true second star, then Cool Hand Luka has more opportunities to do what he does best — create for everyone else.
Who knows? If that happens, maybe they'll like playing together as much as they like hanging out on social media.
What happens this season will define the relationship between Luka Dončić and Kristaps Porziņģis
As great as Luka Dončić has been so far in his career, he has the same number of playoff series victories as 2021 NBA Draft first-overall pick Cade Cunningham. That also happens to be the same number of series wins Kristaps Porziņģis has on his resume.
A 6-foot-7 point guard and a 7-foot-3 stretch big with a feathery touch should be a formidable combination. For a variety of reasons, it hasn't added up to playoff success yet in Dallas. During this offseason, the organization committed to Dončić this offseason, signing him to a max five-year, $207 million extension. Unless he pulls a Ben Simmons, Luka is the guy for the Mavericks for the foreseeable future.
Porziņģis got a max extension from the Mavs in July 2019, a five-year deal for $158.3 million that includes a $36 million player option for 2023–24.
Despite what Cuban might think, Luka Dončić and Kristaps Porziņģis have two seasons to show how far they can take Dallas. Ultimately, what happens on the court will have much more bearing on how much the two like each other than reading social media tea leaves.
Statistics courtesy of Basketball Reference. Contract information courtesy of Spotrac.
RELATED: Mark Jackson Sticks His Neck Out With Tremendously Bold and Premature Claim About Luka Dončić Just 3 Seasons Into His NBA Career