Curtis Blaydes Also Thinks UFC Fighters Should Make More Money
Just like in boxing, the heavyweight division in the UFC is one of the most exciting divisions in the organization. UFC heavyweights include the likes of Stipe Miocic, Daniel Cormier, and Francis Ngannou. However, despite being one of the top UFC heavyweights, Curtis Blaydes thinks that the UFC should pay its fighters more. 
A look at Curtis Blaydes' career and paychecks
Blaydes is one of the rising stars in the heavyweight division, and he has the track record to prove it. Tapology said that he's currently 14-2, with his two losses being against Ngannou.
That said, Blaydes has one draw on his record, and that draw was the result of him testing positive for marijuana. This was before the UFC softened its stance on weed, so despite dominating his opponent, his win was turned into a draw instead.
In any case, other than losing to Ngannou twice, Blaydes has beaten everyone else in the UFC. Not only that, but he's beaten some high-level fighters, too.
For example, in 2018, he knocked out Alistair Overeem, who's considered to be one of the best heavyweights ever. More recently, he knocked out a former UFC champ, Junior dos Santos. 
Tapology wrote that his total reported career earnings come in at just under $340,000. That said, the UFC doesn't report earnings after every fight, so Blaydes has definitely earned more money than that.
For example, Blaydes won his last fight against Alexander Volkov, a high ranked Russian heavyweight. MMAFighting said that Blaydes got paid $180,000 for that fight.
What Curtis Blaydes had to say about fighter pay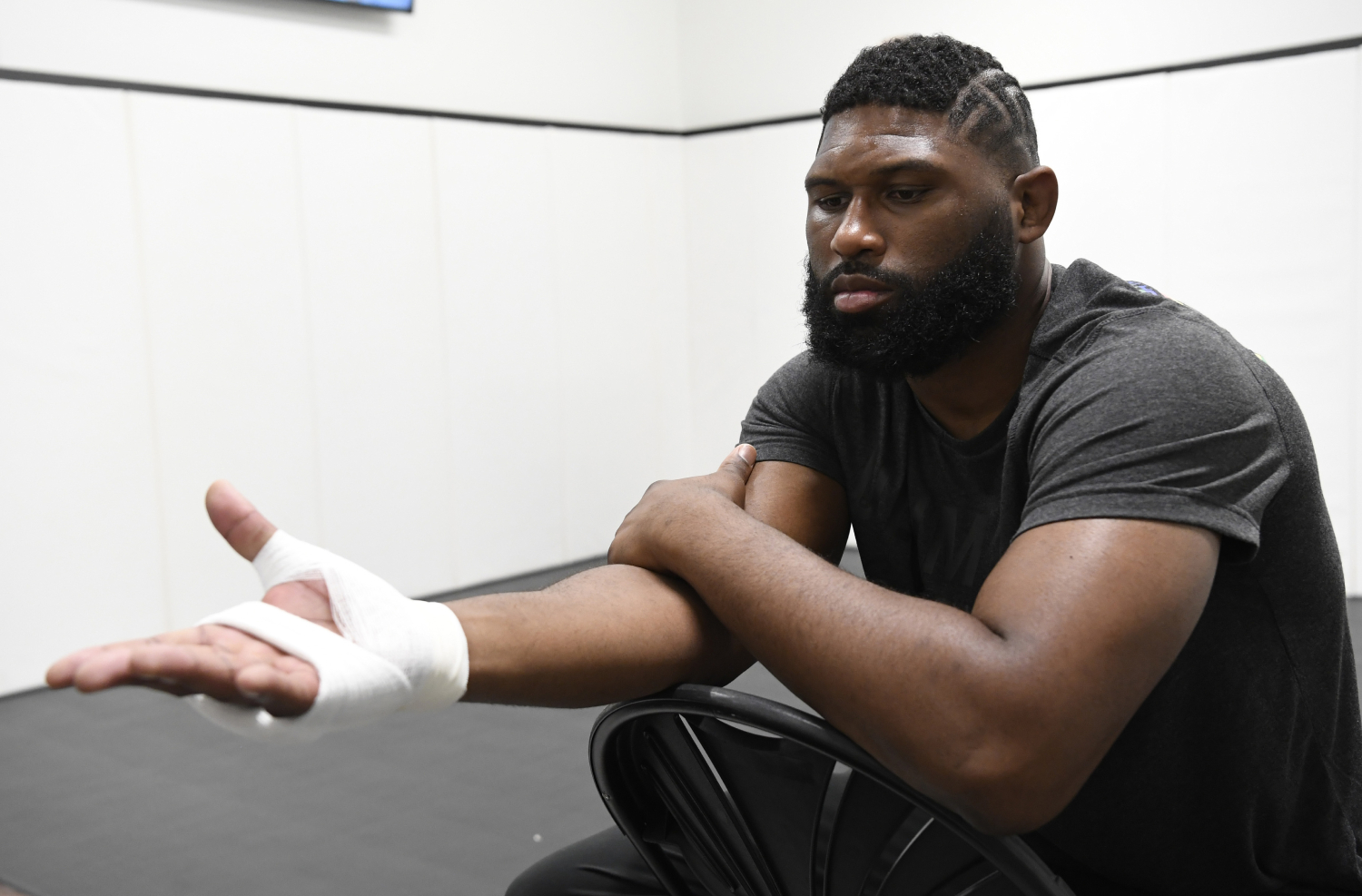 While $180,000 is nothing to scoff at, Blaydes thinks that he and others in the UFC should be paid more. CBS Sports reported that Blaydes said,
"We do deserve more money. I'm not even trying to be greedy. We are on ESPN now. That is supposed to mean something." 
He reasoned that, since the UFC is on ESPN, he and other athletes should be paid somewhere in the ballpark that the athletes in other sports are being paid.
Blaydes clarified that he doesn't think that fighters need to be paid "$20 million a fight," but instead, top fighters should be making at least "$5 million per fight." He thinks that this would create a trickle down effect for everyone else who's fighting for the UFC. 
On top of that, Blaydes said that he respects the fighters who are currently fighting with the UFC over fighter pay. According to CBS Sports, Blaydes said, "I'm very proud of the sacrifices they are making and I know that they are putting their careers and paychecks in jeopardy."
The long list of fighters who want better pay
Curtis Blaydes is just the most recent top fighter to speak up about pay, but he's not alone. Like CBS Sports reported, he's joining the ranks of Conor McGregor, Jorge Masvidal, and Jon Jones in asking the UFC for better pay.
In fact, McGregor recently "retired," likely over fighter pay. That said, this wasn't the first time that McGregor "retired" over fighter pay.
Unlike the first time that McGregor "retired," this time, other big names have joined him in fighting the UFC for more money. For example, Masvidal couldn't come to an agreement with the UFC over his paycheck for a title fight with Kamaru Usman.
Jones, like Masvidal, also couldn't come to an agreement with the UFC over his paycheck, though in Jones' case, it was for his heavyweight debut. 
While these three fighters have been the biggest and most prominent names in this struggle, more and more UFC fighters are coming out in support of them. It's entirely possible that at the end of this fight, a fighter's union will emerge that'll help get fighters a bigger paycheck.