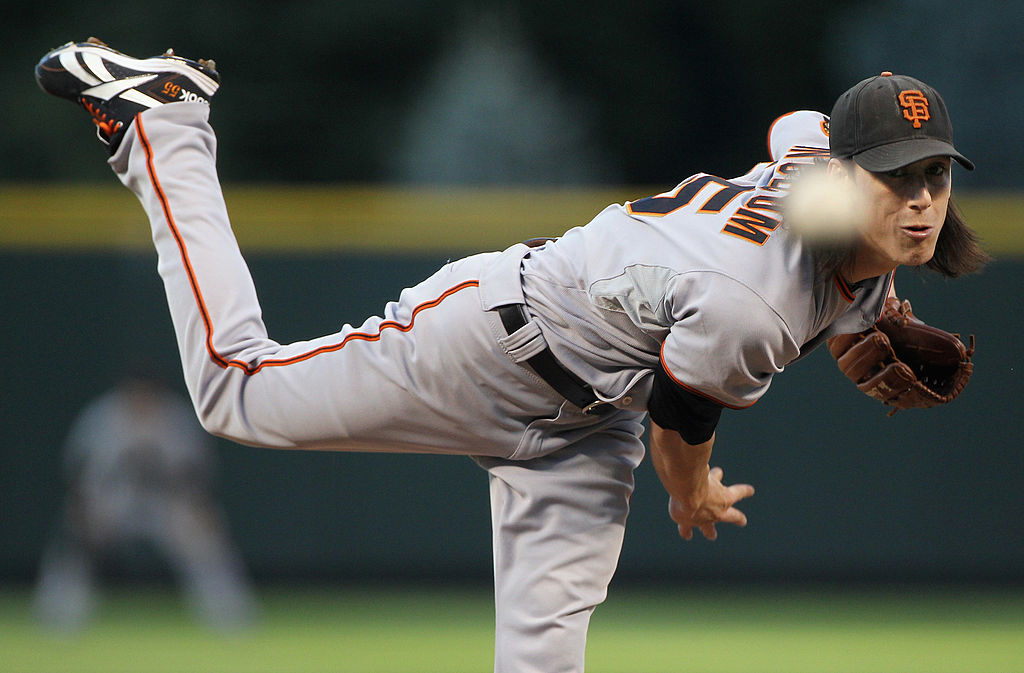 Cy Young Winner Tim Lincecum Earned $100 Million, Then Vanished Without a Trace
Tim Lincecum won two Cy Youngs with the San Francisco Giants, then vanished without a trace. Where did the fan favorite ace go?
Tim Lincecum experienced the highs of early Cy Youngs and the lows of an excellent career derailed by injuries. Lincecum earned over $100 million in 10 seasons, nine of which came with the San Francisco Giants.
Rather than transition into coaching or broadcasting like many other star pitchers, Tim Lincecum vanished without a trace after his playing days ended. Just how good was Tim Lincecum, and where is he now?
Tim Lincecum had a phenomenal start to his career
Tim Lincecum arrived in San Francisco with the highest expectations of any Giant since, arguably, Barry Bonds. Lincecum went 7-5 with an even 4.00 ERA and 150 strikeouts in 146.1 innings as a rookie in 2007.
That season went under the radar, though, as it coincided with Bonds' final season by the bay.
From there, the next few years belonged to Tim Lincecum. Nicknamed "The Freak," Lincecum went 18-5 with a 2.62 ERA and 265 strikeouts as a 24-year-old in 2018. Lincecum earned NL Cy Young Award honors on a Giants team that went 72-90.
Although Lincecum only went 15-7 in 2009, his ERA dropped to 2.48 and he threw four complete games. Lincecum again prevailed as the Cy Young winner and the Giants improved to 88-74. Lincecum and the Giants were poised to enter the 2010s with a bang.
Injuries prematurely ended Linecum's effectiveness and career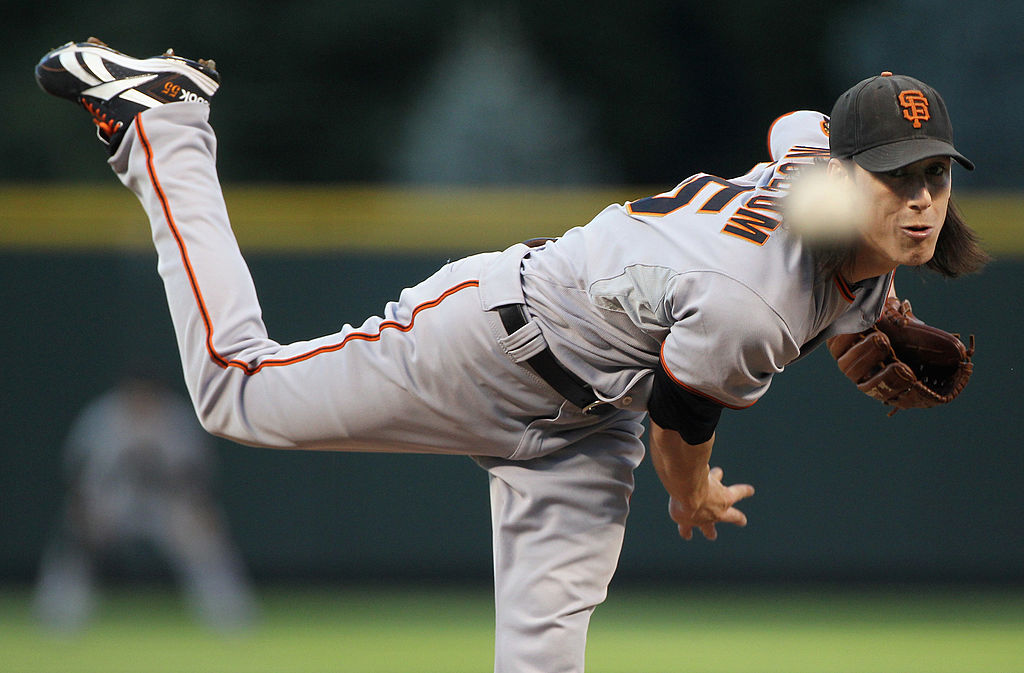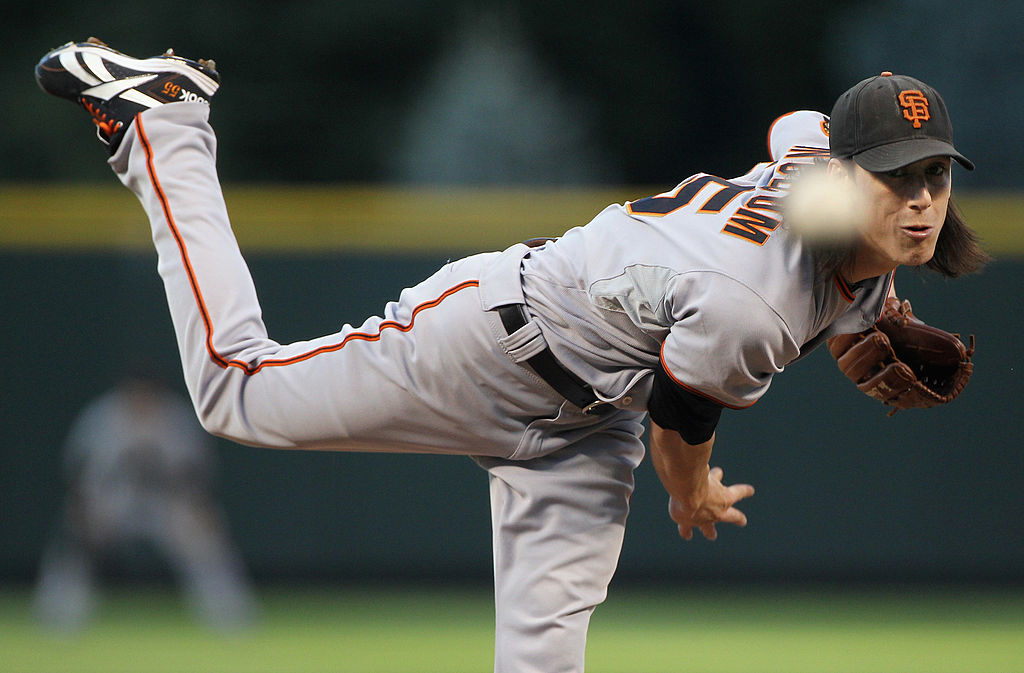 It is easy to forget Tim Lineceum was still an excellent pitcher in the early years of San Francisco's dynasty. Lincecum won 16 games with a 3.43 ERA in 2010 and posted a 2.74 ERA the next year.
Most importantly, Lincecum went 4-1 in the 2010 MLB Playoffs and helped the Giants to a World Series title. Among Lincecum's highlihts that fall were a 14-strikeout, two-hit shutout of Atlanta in the NL Division Series and a brilliant eight-inning performance in Game 5 of the World Series.
From 2012 on, though, Tim Lincecum was never the same. Lincecum's ERA climbed to 5.18 and he pitched out of the bullpen that October. Lincecum was mediocre in 2013 and didn't improve much in 2014.
Tim Lincecum, at least, no-hit the San Diego Padres in 2013 and 2014. While Lincecum showed flashes in 2015, he posted a 4.13 ERA in his final year with the Giants.
Tim Lincecum hoped he'd revive his career with the Angels in 2016. Lincecum, unfortunately, had a 9.16 ERA in nine starts and hasn't pitched in the majors since.
Where did Tim Lincecum go?
This is a question that no one quite has an answer to. When Tim Lincecum returned to San Francisco last September for manager Bruce Bochy's retirement ceremony, Lincecum didn't provide answers about his current whereabouts when he spoke with the San Francisco Chronicle that day.
Bruce Bochy admitted he became extremely emotional when the Giants announced Linecum's presence. Bochy called Lincecum a "tough one to get hold of" who didn't text him back.
Bochy hinted Lincecum now lives in Seattle. Lincecum told the paper he considered himself a recluse and isn't the best at texting people.
"I'm a Gemini through and through. I'd be happier if there were no phones. I'm terrible about texting."
Lincecum also told the paper he was "transitioning," but doesn't intend to become a coach.