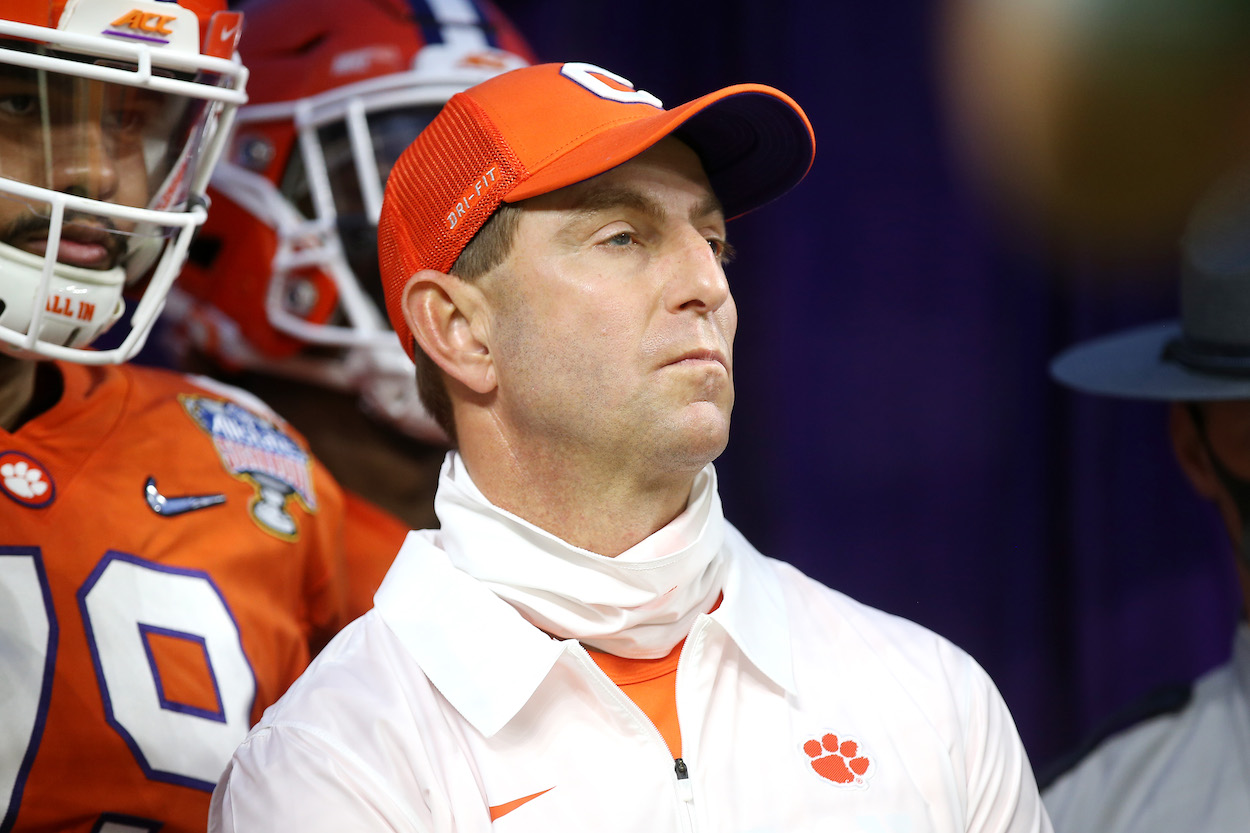 Dabo Swinney and Clemson Tigers Get Bad News With Unexpected Departure of Top Player
Clemson Tigers head coach Dabo Swinney is accustomed to losing players early to the NFL draft. Now he's lost a top defensive player to transfer. Could there be more to follow?
Dabo Swinney and the Clemson Tigers have consistently been one of the top college football programs in recent years, finishing fourth or higher in the final national rankings every season since 2015. That consistency is due in large part to Swinney's ability to bring in top high school talent and blend it in with the existing players on his squad. 
Like any top college team with NFL-caliber talent, Swinney's most significant challenge has been replacing players who've opted to leave early for the NFL, like Deshaun Watson and Tee Higgins. Rarely has Swinney or the Tigers experienced any defections or player transfers because, like Alabama, Clemson is one of the elite programs with a track record of producing NFL-ready talent on a consistent basis. Players want to play there. They don't leave. That changed this week as one of the team's top defensive players in 2020 entered the transfer portal.   
Dabo Swinney and the Clemson Tigers 2020 season
The 2020 college football season was a memorable one for Dabo Swinney and the Clemson Tigers for a variety of reasons. Like all sports and the rest of college football, the pandemic wreaked havoc on the program throughout the season, including the loss of superstar quarterback Trevor Lawrence.
Lawrence's absence from the lineup proved costly during one game in particular as the Tigers suffered their lone regular-season defeat of the year on the road to Notre Dame, 47-40, in a double-overtime thriller. 
The Clemson Tigers rebounded from that loss and exacted revenge on the Fighting Irish in the ACC championship game, winning convincingly, 34-10. Dabo Swinney's squad advanced to the college football playoff, where Ohio State easily defeated Clemson 49-28.
Dabo Swinney experienced early departures in years past
Entering the 2020 season, Dabo Swinney and the rest of the college football world knew this would be the final season for junior quarterback Trevor Lawrence, who was the Heisman Trophy frontrunner and projected No. 1 draft pick from the season's opening kickoff. 
While the Clemson Tigers came up short in their bid for the national title, Lawrence lived up to the expectations, throwing for 3,153 yards, with 24 touchdowns and five interceptions. Lawrence's situation was very similiar to former Tigers quarterback Deshaun Watson, who led Clemson to the national title in 2016 during his junior season, and then opted to forego his senior season and enter the NFL draft.
Watson is just one of numerous Clemson Tigers players who have left for the NFL early in recent years, including cornerbacks A.J. Terrell and Trayvon Mullen, defense end Dexter Lawrence, and wide receiver-return specialist Ray-Ray McCloud. 
Starting linebacker Mike Jones Jr. to transfer
Dabo Swinney understands when you recruit top high school talent and develop them, some of them will decide to leave early. It's part of the business. Swinney is not accustomed to spending time developing that talent and then watching it leave in the middle of the process. That's just what happened with the recent announcement of linebacker Mike Jones Jr.
Jones is a redshirt sophomore and started seven games for the Tigers in the 2020 season. He missed two games due to injury and finished the season with 30 tackles, four tackles for loss, four pass breakups, and two interceptions, including one in the Allstate Sugar Bowl against Ohio State.
He was a projected starter for the 2021 Clemson Tigers defense, which was expected to return all 11 starters for the first time under Swinney and will undoubtedly be one of the nation's top defensive units. With so much talent on the depth chart, Dabo Swinney won't have trouble finding Jones' replacement, the most likely candidate being sophomore Trenton Simpson.
While Jones' departure by itself won't pose any significant problems for the Clemson defensive unit in 2020, could his move be a sign of other potential problems in the program? Could more players transfer in the future? Time will tell.
Like Sportscasting on Facebook. Follow us on Twitter @sportscasting19.