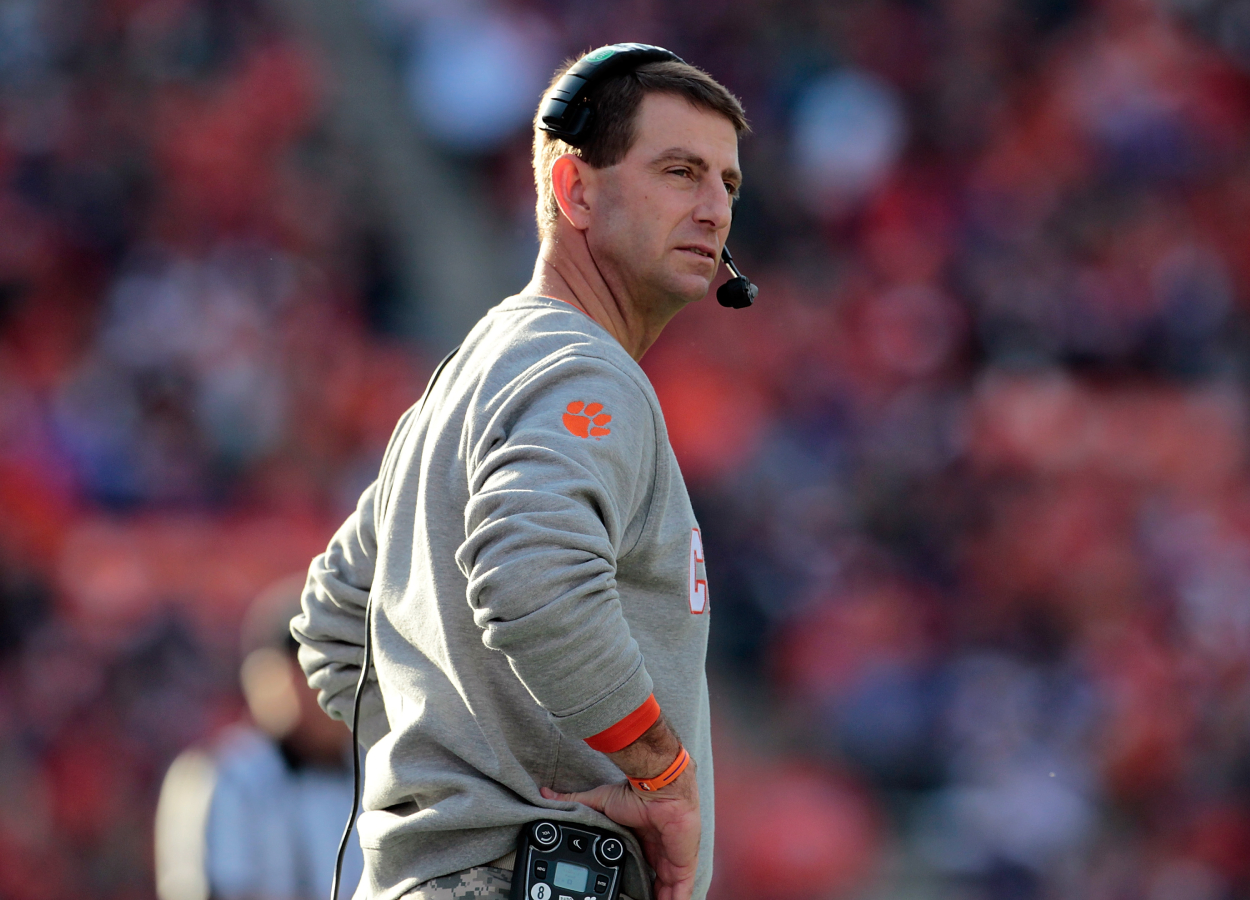 Dabo Swinney Is Getting Absolutely Roasted for His Past Comments: 'Has Dabo Quit Yet?'
Dabo Swinney, the head college football coach for the Clemson Tigers, has never been afraid to share his opinions. After the NCAA's recent NIL ruling, though, Swinney's past comments have come back to haunt him via Twitter, as he's now getting absolutely roasted by athletes, journalists, and fans across the country.
In the era of social media and Google, celebrities — specifically polarizing sports figures — have learned one important lesson: we all have the receipts. The days of "misremembering" what you said, or just flat out denying past comments altogether are over; everyone is now being held accountable for things they have previously stated and/or posted. Clemson's head college football coach Dabo Swinney just got a swift reminder of this reality.
Following a monumental decision by the NCAA to allow student-athletes to make money off their names, images, and likenesses (NIL), Swinney's past comments on paying players are coming back to haunt him.
Dabo Swinney said he would 'do something else' if players got paid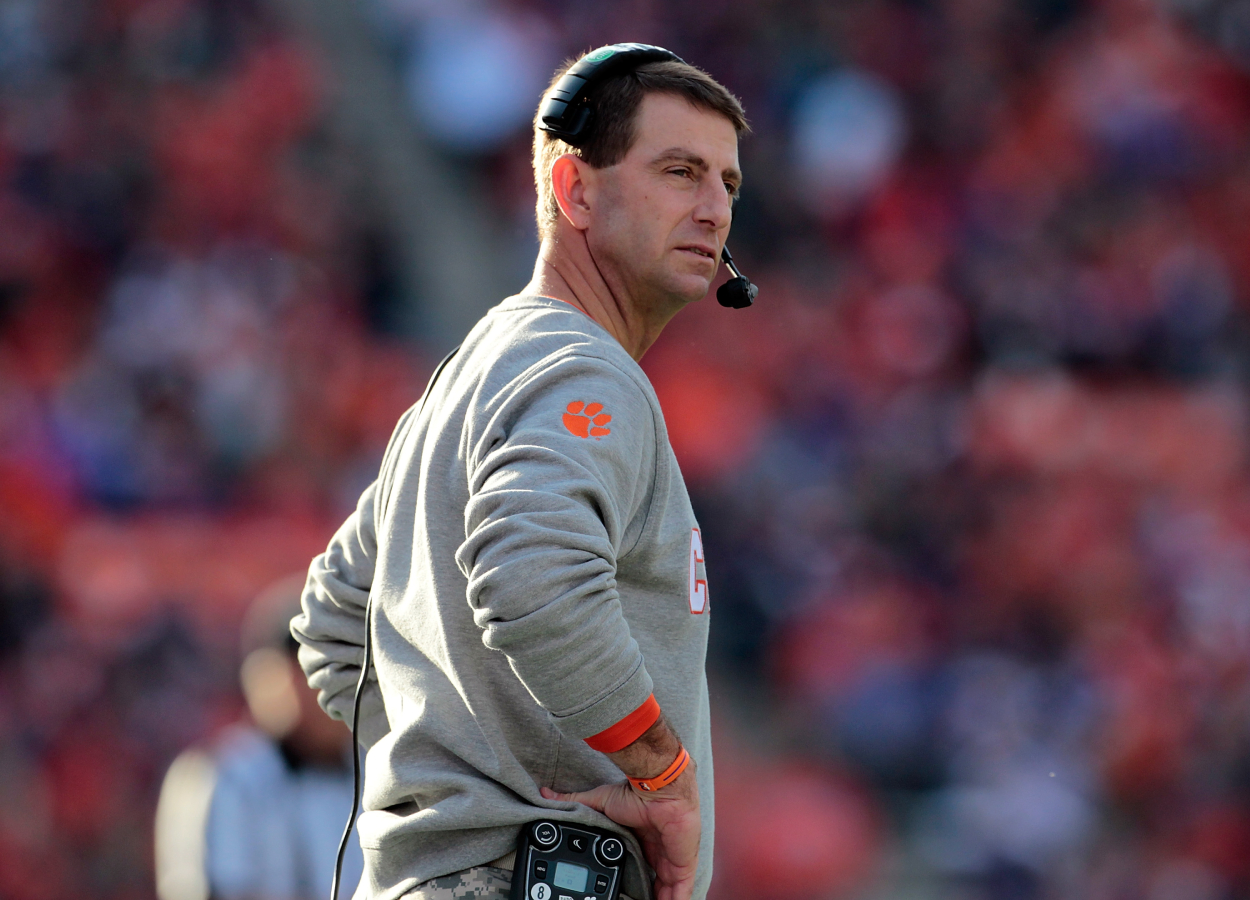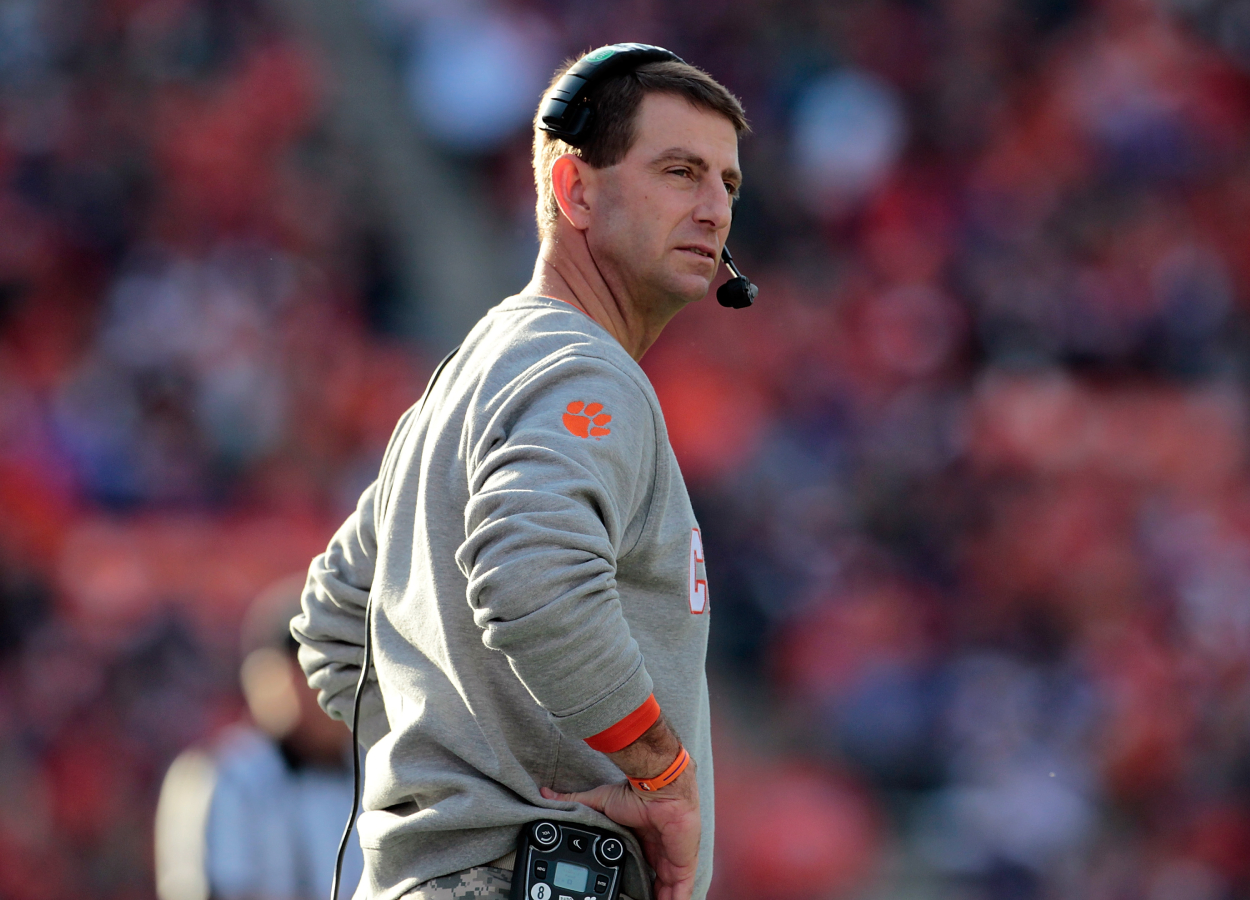 During an Al Jazeera America piece in 2014, Swinney made his thoughts on paying players quite clear.
"We try to teach our guys, use football to create the opportunities, take advantage of the platform and the brand and the marketing you have available to you," Swinney said, per The Post and Courier. "But as far as paying players, professionalizing college athletics, that's where you lose me. I'll go do something else, because there's enough entitlement in this world as it is."
While those were essentially some of his biggest comments, Swinney somewhat doubled down on that stance in 2019 when asked about his future with the Clemson Tigers.
"Who knows what's going to happen down the road? I have no idea," Swinney said, per ESPN. "… They may do away with college football in three years. There may be no college football. They may want to professionalize college athletics. Well, then, maybe I'll go to the pros. If I'm going to coach pro football, I might as well do that. I may get a terrible president or a terrible AD one day. I don't know. I have no idea what's down the road."
Swinney's stance, though, also softened to a degree in 2019.
"There are things I'd love to see in continued improvement, but I think everything should be tied to education and graduation," he said, per ESPN. "The very few, the 1.6 percent that get to go on to the NFL, for those who don't — maybe there's an annuity or stipend that when they graduate, they get that. That's a model that can be an improvement. Maybe it is the likeness. I don't know. Then you have others out there who say we should just professionalize college athletics."
Dabo Swinney is getting roasted for his past comments
No matter how he feels about the topic now, people aren't forgetting about Swinney initially standing against paying players, especially with the NCAA officially allowing college athletes to make money off NIL as of July 1.
Many people have quote-tweeted a 2019 NBC Sports post that came out at the time of his "maybe I'll go to the pros" comments. The NBC tweet said, "Dabo Swinney says he may quit college football if players get paid."
Philadelphia Eagles defensive back Darius Slay tweeted, "When u [gonna] make that announcement?" Sportswriter Mike Rutherford, on the other hand, said, "Happy Dabo Swinney retirement day."
Baltimore Ravens defensive back Marlon Humphrey also tweeted, "Didn't Dabo say he was going to quit if athletes could get paid?" And former Cincinnati Bengals offensive lineman Willie Anderson said this: "I'm not being messy. Cuz the man is a great coach. But has Dabo quit yet? Remember he said 'he would quit if they allowed players to make money?' Just wondering what the fate of a great program like Clemson is gonna be without him!"
It has ultimately been a great week for college athletes; not so much, though, for Swinney.
Athletes are already cashing in on the NCAA's NIL ruling
The NIL ruling just went into effect on July 1, and athletes are already cashing in.
Arkansas wide receiver Trey Knox and his dog Blue have partnered with PetSmart, and Wisconsin quarterback Graham Mertz filed to trademark a personal logo to use for "wearable garments and clothing, namely shirts; sport caps and hats," per CBS Sports.
Auburn QB Bo Nix, on the other hand, has a new sweet tea deal, while Fresno State women's basketball stars Hanna and Haley Cavinder have teamed up with Boost Mobile, per Yahoo Sports.
Of course, many other athletes have also taken advantage of the new NIL ruling, as this is just the beginning. We are now in a new era of college athletics.
Swinney better just stay off social media while this is all still fresh.