Dabo Swinney Will Never Coach At Alabama
Although Alabama head coach Nick Saban just signed a contract extension to coach at the school until 2028, there are already whispers of which coaches could take his place.
Saban has plenty of current and former ex-assistants to choose from but don't look for one famous Alabama alum to take his place and that's Clemson head coach Dabo Swinney.
Although he graduated from Alabama and was an assistant under former head coach Gene Stallings, Dabo's chances of becoming the next head coach at the Capstone have dwindled over the years for various reasons.
Dabo Swinney's stance on certain social issues may hurt his chances
Although Swinney comes off as this nice good old country boy, his stance on certain issues in the past may hurt his chances.
Swinney has let it be known publicly that he didn't approve of players getting paid and even threaten to quit if they did. So far, that hasn't happened since the NCAA decided to allow players to make a profit off their name, image, and likeness.
But that stance, along with comments he made about the Black Lives Matter movement, may not sit well with African-American recruits and their parents.
Although according to Bleacher Report, Swinney supports the movement, he didn't support wearing a patch in support of BLM.
While Saban on the other hand, not only marched with his players last summer in support of BLM, he made a video as well with them.
There seems to be more support for Saban's former assistants than Swinney
If you check out social media, particularly Twitter, Swinney is not well-liked among some Alabama fans. 
All you have to do is check out the comments from last year when LSU and Clemson played for the national championship. Most Alabama fans made it known who they were pulling for and it wasn't the Bama alum.
There also seems to be a groundswell of support for former Alabama assistants Mississippi head coach Lane Kiffin and Texas head coach Steve Sarkisian. Both coaches are beloved by the fan base.
Sarkisian may have the edge right now because of the job he did as offensive coordinator last year and because of the job he did as head coach for the Iron Bowl when Saban came down with COVID-19.
Dabo Swinney's price to come to Tuscaloosa may be too high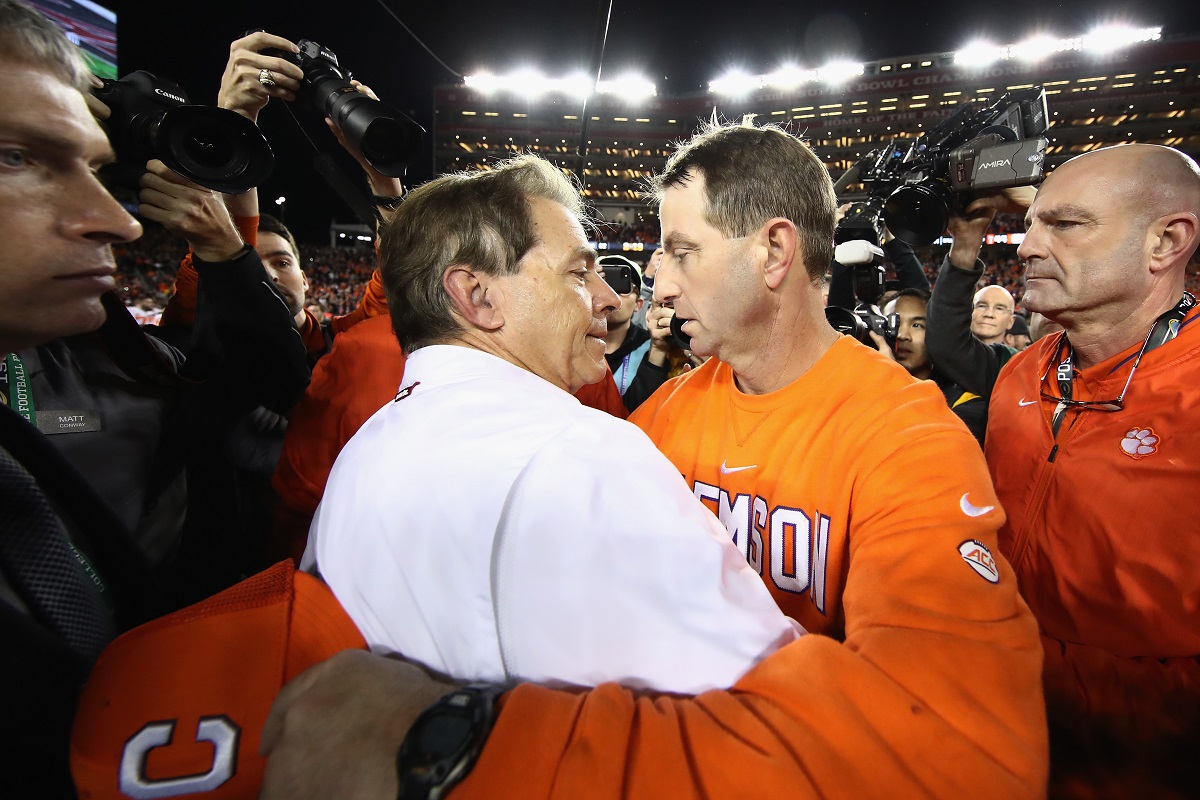 Although Dabo still has friends and family in his hometown of Pelham, Alabama, the price to bring him home might be too steep to pay.
According to the Greenville News, Swinney makes about $8.25 million a year, which makes him one of the highest-paid coaches in the country.
Two years ago, Swinney signed an extension with Clemson until 2028, which by the end, will pay him $10 million a year. Right now, his non-Alabama buyout is $4 million. However, if he leaves for Alabama, it's only $2 million.
Swinney obviously has his eye on the job when Saban leaves, but will money and other factors keep him in Clemson years for to come? Time will tell.