Dak Prescott's 5 Simple Words Will Have Jerry Jones and Cowboys Fans Jumping for Joy
The Dallas Cowboys watched backup quarterback Cooper Rush lead them to a thrilling Sunday Night Football victory over the Minnesota Vikings. Dak Prescott missed the game with a calf strain and worked hard to get back on the field for Sunday's game against the Denver Broncos.
Prescott insisted he could have played against the Vikings but was held out due to precautionary measures. With the Broncos' game just days away, Prescott's availability — or lack thereof — is the main priority for Jerry Jones and America's Team.
Dak Prescott's injury didn't blow the Cowboys fortunes
Leading into the Vikings game, Prescott was listed as a true game-time decision. He tested it out pregame, but the team decided to hold Prescott out.
It didn't matter. Cooper Rush stepped in and shocked the world with a masterful performance. He finished the game with a 24-of-40 line and threw for 325 yards with two scores and one interception.
Rush looked more than comfortable on the big stage and in primetime. With the Cowboys down a field goal with under three minutes, Rush and the Cowboys' offense put together a masterful drive. It was topped off by a beautiful touchdown pass to Amari Cooper in the corner of the end zone.
Even with Prescott out, Rush stepped in and led the Cowboys to a victory.
Prescott uttered five words that will have Cowboys fans jumping for joy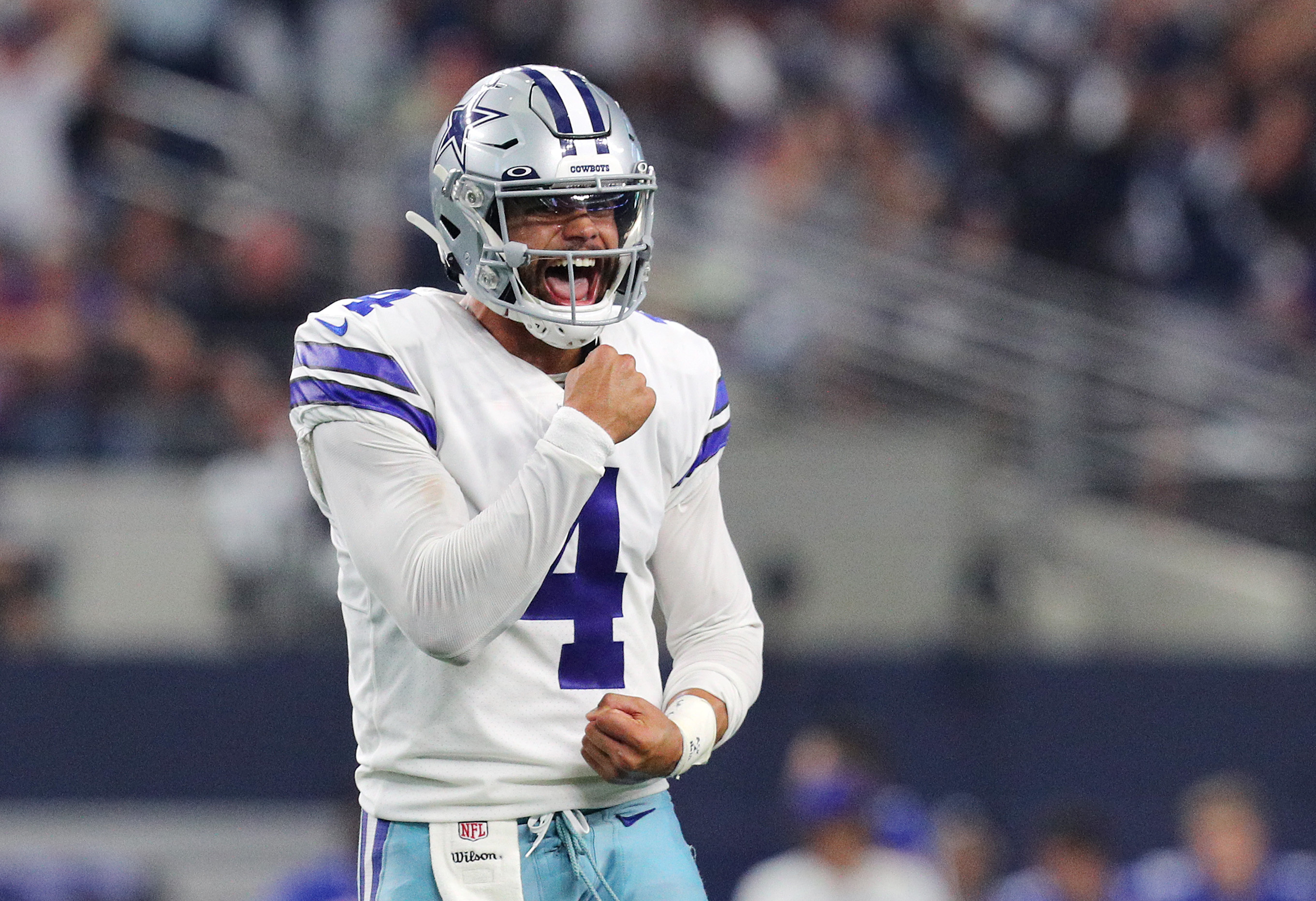 As the weekend gets closer, the availability of Prescott is a significant talking point in Dallas. On Thursday, Prescott himself uttered a few words to send the Dallas fans into an uproar of excitement (h/t Jon Machota of The Athletic).
"I'm looking forward to Sunday."

Dak Prescott on his imminent return
Well, that is undoubtedly a good sign. However, it isn't crystal clear that he is ready to go, although all signs indicate that he is ready to play.
Ian Rapoport of NFL Network also mentioned Prescott was a full participant on Thursday, which the Broncos do not want to hear.
Nobody wanted to be on the field more than Prescott this past Sunday, either. The Cowboys star quarterback was asked about what he learned from watching the game from the sideline, and the All-Pro gave a perfect answer (h/t Clarence E. Hill Jr. of the Fort Worth Star-Telegram).
"That I don't necessarily like to watch. That I like to play."

Dak Prescott on watching the Vikings game
He won't have to do that against the Broncos, which is terrific news for the Cowboys.
Mike McCarthy and Jerry Jones are loving life right now
Somehow, someway, the Cowboys are 6-1 and way ahead of everybody else in the NFC East. With Prescott returning, things are getting even better.
Ezekiel Elliott is back to his Pro Bowl form, and CeeDee Lamb and Amari Cooper are enjoying success. Rookie sensation Micah Parsons is off to a fantastic start to his career, and things look good for Dallas.
However, the NFC is loaded, but head coach Mike McCarthy and Jerry Jones have to like their chances through the first half of the year.
If Prescott can return and play at a high level as he has been, the Cowboys could be headed for a shot at a bye once the playoffs roll around.
Stats Courtesy of Pro Football Reference
RELATED: Jerry Jones Delivers Major Update on Dak Prescott That Doesn't Bode Well for Cooper Rush or Teddy Bridgewater