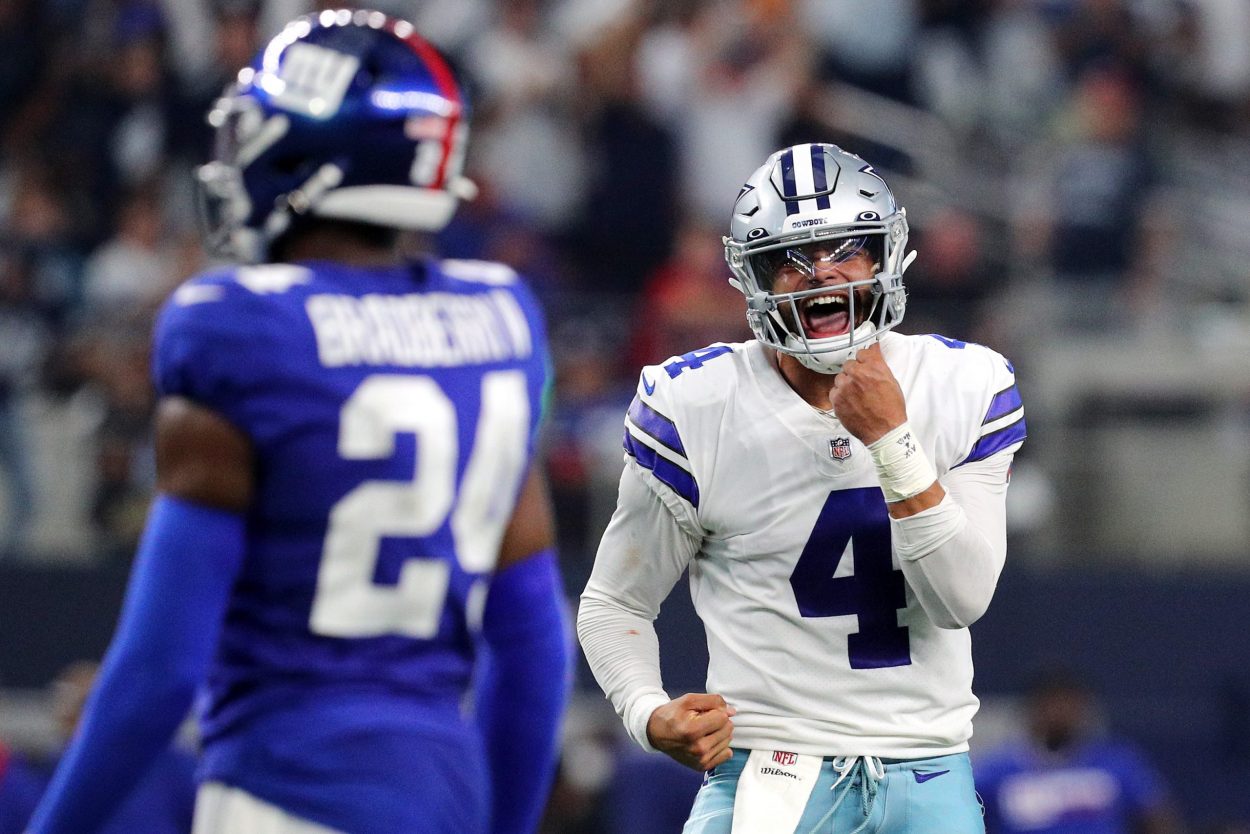 Dak Prescott Is 8-0 Against the Giants Since '17, but Win No. 8 Was Particularly Special
Dallas Cowboys quarterback Dak Prescott can beat the New York Giants for the 9th time in a row on Sunday.
The New York Giants have long been Dak Prescott's favorite opponent. Until that one terrible day last season when suddenly they weren't. But, now, they are again.
When the Dallas Cowboys take the field on Sunday at Met Life Stadium, Prescott will be looking to continue one of the most dominant individual streaks in the NFL. Since 2017, the Cowboys are 8-0 against the Giants when Prescott is the starting quarterback, including victory No. 8 in Arlington earlier this season.
That 44-20 victory for No. 8 was particularly special for Prescott after what happened to him in a decidedly unlucky No. 7 back in 2020. Prescott's horrific ankle injury threatened not just a fun, personal streak of tormenting a divisional opponent, it could well have ended his career.
So, when Prescott lines up under center against the Giants on Sunday, in search of consecutive win No. 9, he takes nothing for granted.
Prescott's ankle injury in 2020 left the entire sports world devastated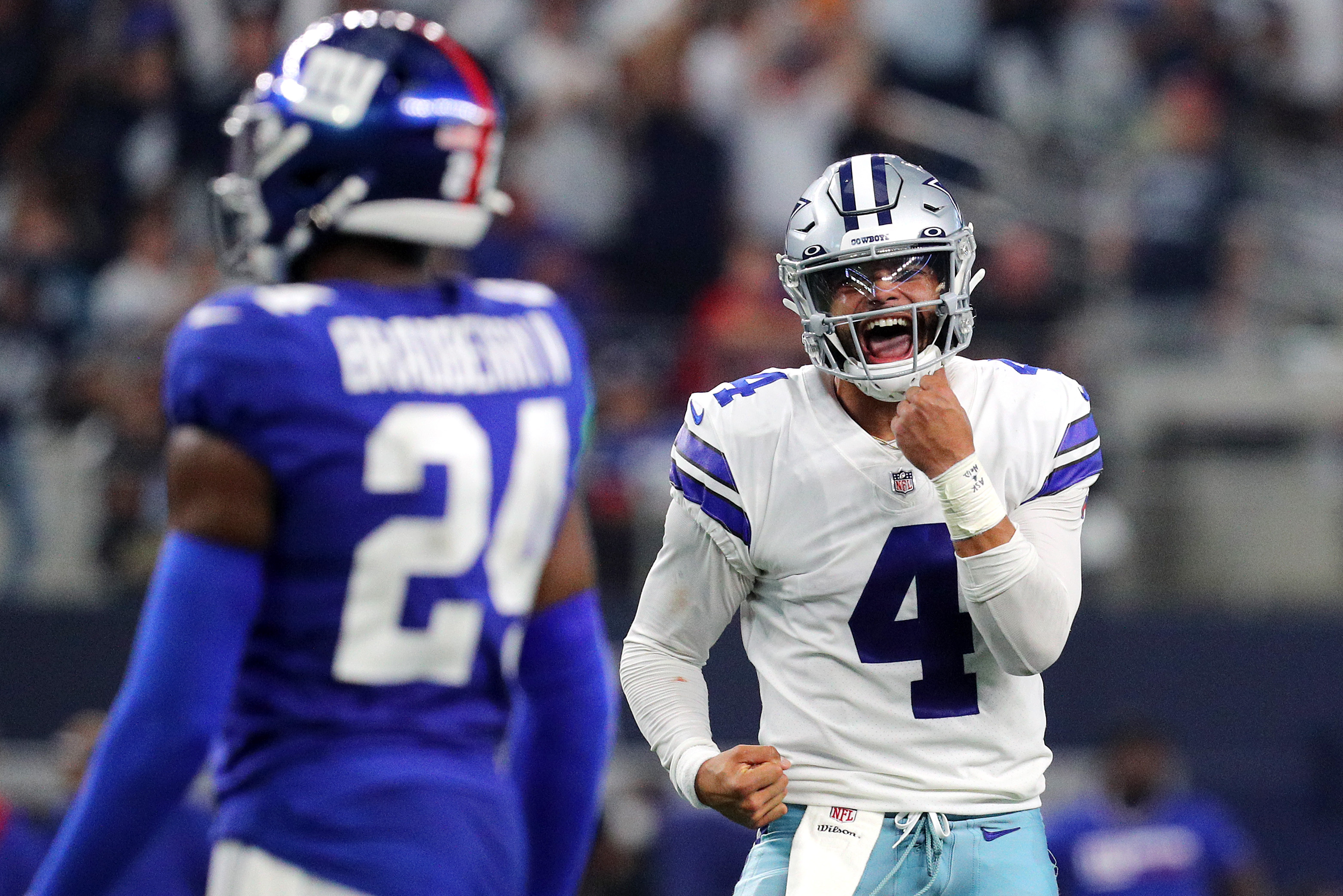 Prescott last lost to the Giants five years ago last week, a 10-7 loss on Dec. 11, 2016. But from the start of the 2017 season until now, it's been nothing but blue skies against Big Blue.
It's not just the fact that the Cowboys haven't lost a game in eight tries, it's the way Prescott has dominated. Over the course of the eight victories, Prescott has averaged 284.6 yards passing, has a touchdown-interception ratio of 19-3 and a quarterback rating of 113.5.
And that includes the harrowing Sunday afternoon last Oct. 11, when it was all almost lost on the turf of AT&T Stadium.
Even over a year later, the play is too gruesome to watch. Midway through the third quarter, Prescott took off on a designed run and had gone about nine yards when Giants defensive back Logan Ryan tackled him. But as he brought Prescott down on a clean, legal tackle, Prescott's right ankle got trapped awkwardly under Logan's body.
The result was a terrible injury: A compound fracture and dislocation of the ankle that required surgery. The lasting image is that of Prescott being taken off the field on a motorized cart, tears streaming down his face.
The devastation was felt on both sidelines, and throughout the league and sports world. At the time, despite a recovery window that would allow him to suit up for the 2021 season, it was not known if Prescott would ever be the same player again.
Back on the field in 2021, Prescott faced down his fears, as well as the Giants
Once the 2021 season began, it was clear that Prescott was back, in a big way. In the season opener against the Tampa Bay Buccaneers, Prescott threw for 403 yards and three touchdowns. But the real test would come in Week 5, when he faced the Giants for the first time since the injury. Physically, Prescott would be fine, but would the mental scars play a factor.
Apparently not. Prescott faced down his demons, as well as the Giants, throwing for 302 yards and three touchdowns in the 44-20 victory.
"I'm glad it's over with, I'm glad I'm past that and I think this was the final shovel in burying this thing," Prescott told ESPN."As much as I've tried to put it off, as much as I've tried not to think about it, I think it just naturally does, right? And it's in the back of your head, unconsciously or not.
"Yeah, I would say I didn't quite feel as energetic or as myself early in the game. I don't know if that played a part in it or not, but once I threw that touchdown to CeeDee [Lamb], that was kind of when I just started rolling and got in a groove."
No better time to face the Giants for a slumping Prescott
Prescott has only missed one game this season, against the Vikings in Week 8 on Halloween night. But that was because of a calf strain, not the ankle. And Prescott played well in two games after his return. But since Week 10, Prescott has not quite been himself. In his past four games, Prescott has more interceptions (5) than touchdowns (4) and has topped 240 yards in a game just once. Even owner Jerry Jones conceded that Prescott is in a slump.
Enter the Giants. As history has shown, there is no better opponent to get Prescott back on the winning track. And with his ankle injury well behind him, victory No. 9 should be well within reach.
Stats courtesy of Pro Football Reference