Dak Prescott and the Cowboys Just Helped Amari Cooper Get Bragging Rights Over Odell Beckham Jr.
Amari Cooper has turned his career around since being traded to the Dallas Cowboys from the Raiders. After having an up-and-down career in Oakland, Cooper is now one of the top options on one of the most explosive offenses in the NFL. In fact, Cooper now actually has bragging rights over one of the best receivers in the game — Odell Beckham Jr. He has the Cowboys and quarterback Dak Prescott to thank for it too.
Amari Cooper started his career on the Oakland Raiders
RELATED: Cowboys LB Jaylon Smith Was Just Ridiculously Disrespected by His Peers
After a pretty great college career at Alabama, Cooper went to the Oakland Raiders — now known as the Las Vegas Raiders — with the fourth overall pick in the 2015 NFL draft. Cooper, who played with Derek Carr as his quarterback in every season on the Raiders, had a solid rookie year too. He caught 72 passes for 1,070 yards and six touchdowns. His play also helped him earn a Pro Bowl selection.
Cooper then earned his second Pro Bowl selection in 2016 when he caught 83 passes for 1,153 yards and five touchdowns. However, in 2017, Cooper had an awful year. In 14 games, Cooper had 48 catches for 680 yards and seven touchdowns.
Additionally, while Cooper's catch percentage was never that high while on the Raiders — 55.4% in 2015 and 62.9% in 2016 — he had the lowest percentage of his career in 2017. Cooper only caught 50% of his targets in 2017, which was 190th in the NFL. Compared to other top receivers, Jarvis Landry caught 69.6% of his targets that season, and Michael Thomas caught 69.8%.
Cooper played in six games with the Raiders in 2018, and he, again, did not play well with Carr. He had 22 catches for 280 yards in those games. However, in October 2018, the Raiders traded Cooper to the Dallas Cowboys.
He has turned his career around on the Dallas Cowboys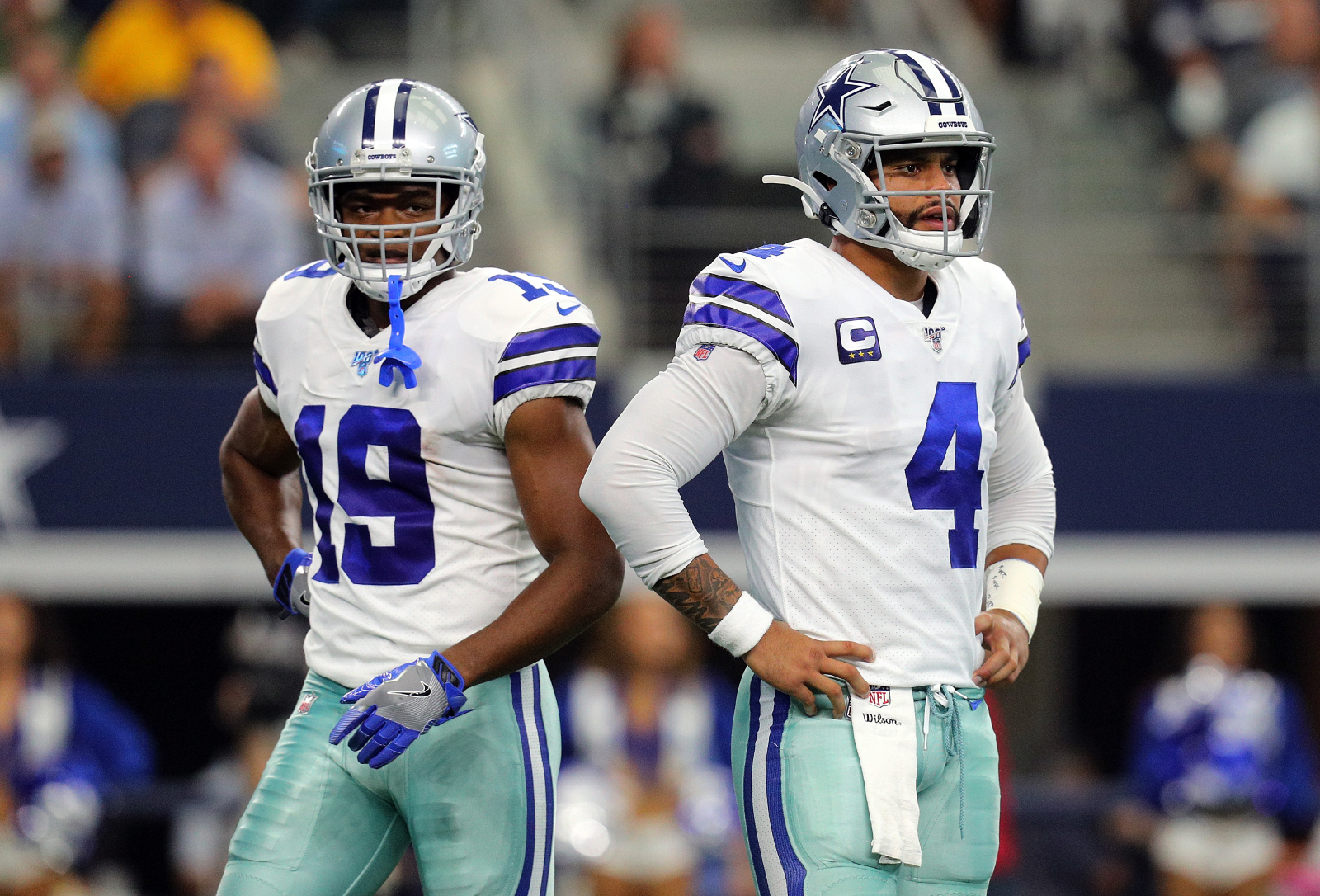 RELATED: Ezekiel Elliott Is in an Exclusive Club With Hall of Fame RB LaDainian Tomlinson
Cooper played in nine games with the Cowboys in 2018, not including the two playoff games that the Cowboys played in. In those nine games — with Dak Prescott as his quarterback — he caught 53 passes for 725 yards and six touchdowns. Cooper improved his catch percentage drastically that season too as it was a career-best 70.1%.
He ultimately became a significantly better receiver with Prescott and the Cowboys. On the Raiders in 2018, his dropped-passes-per-target percentage was at 9.7%. Once he got to the Cowboys, his drop percentage was only 3.9%. It had a lot to do with the quarterback play too. The passer rating on his targets in Oakland in 2018 was 96.2, and the passer rating on his targets on the Cowboys was 115.3.
Cooper then continued to have a ton of success with Prescott and the Cowboys in 2019. He caught 79 passes and had career-highs in receiving yards with 1,189 and touchdown catches with eight.
Moving forward, Cooper will be with the Cowboys long-term now. He signed a five-year, $100 million deal with the team this offseason, per ESPN.
Amari Cooper ranks higher than Odell Beckham Jr. on the NFL Top 100
RELATED: Keenan Allen Just Sent a Stern Message to the Entire NFL and Put a Ton of Pressure on Himself While Doing It
Cooper recently received his NFL Top 100 ranking for the 2020 season. The NFL Top 100 is a list that ranks the best 100 players in the NFL based on votes by NFL players.
After his solid 2016 season with the Raiders, Cooper was the 53rd best player on the 2017 list. Then, following his season in 2018 with the Raiders and Cowboys, he was the 64th best player on the 2019 list. On the 2020 NFL Top 100 rankings, Cooper earned the best ranking of his career as he is 49th.
This has a lot to do with the offense he is in and the quarterback he is playing with now. Dak Prescott's career quarterback rating is 97, while Derek Carr's career quarterback rating is 90.7.
In addition to this being a career-best ranking for Cooper, he also has bragging rights over one of the best receivers in the game — Odell Beckham Jr. Beckham ranks 59th on the 2020 list.
In his career, Beckham ranked as high as eighth on the 2017 NFL Top 100 list. He has been very reliable on the field in his career too. Beckham has 464 receptions for 6,511 receiving yards and 48 touchdown catches in his career. Cooper — who entered the NFL one year after Beckham but has not missed significant time in a season whereas Beckham missed 12 games in 2017 — has 357 career receptions for 5,097 yards and 33 touchdown catches.
During the 2019 season, though, Beckham had 74 receptions for 1,035 yards and four touchdowns in his first season on the Cleveland Browns. His 64.7 receiving-yards-per-game average was the lowest of his career.
Cooper and Beckham have both changed teams so far in their careers. Cooper's move appears to be working out better so far, though, as he now has bragging rights over Beckham on the NFL Top 100 list.
Stats courtesy of Pro Football Reference