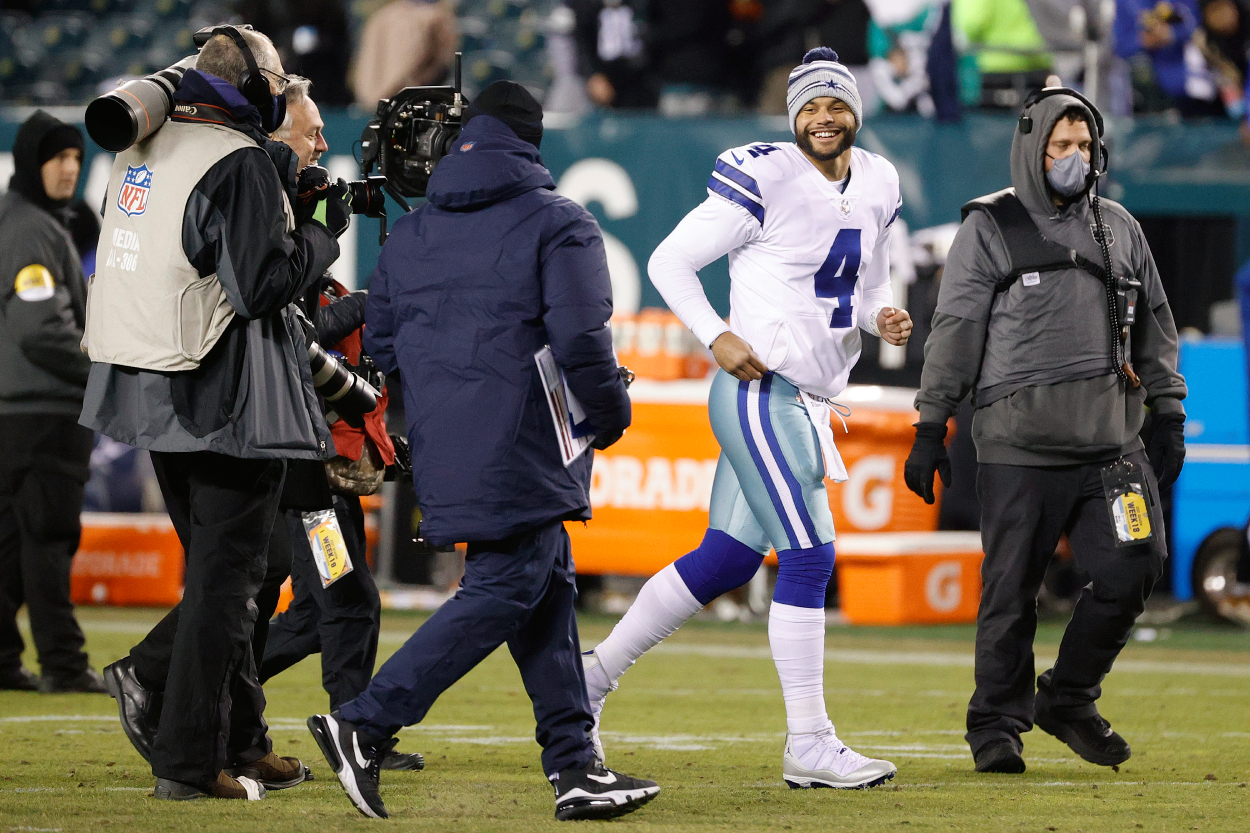 Dak Prescott Doesn't Understand the Word 'Pressure' Despite Having 'a Lot of Weight on His Shoulders' vs. 49ers
Dak Prescott is prepared to handle Sunday's playoff game against the 49ers as he does every other game.
This is step-up time for Dak Prescott. The Dallas Cowboys quarterback is on a bigger stage now as his team preps for a first-round playoff meeting with the San Francisco 49ers on Sunday. The Cowboys inked Prescott to the largest deal in team history this year, and now it's time for Prescott to show his worth. It's prove-it time for the sixth-year starter, but he's prepared to handle this game like he does all the others.
Dak Prescott has 'a lot of weight on his shoulders' this postseason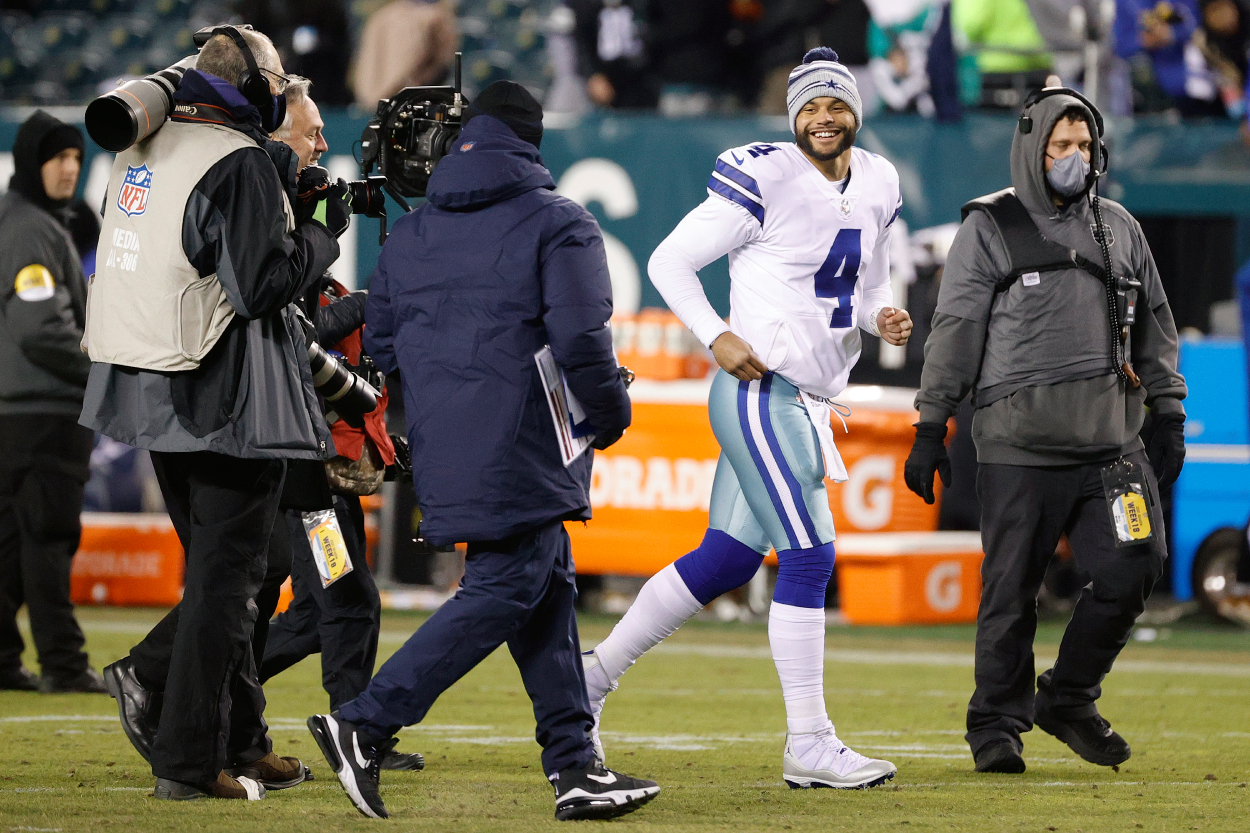 During his six years in the NFL, Prescott has played in three postseason games, going 1-2. His teams have not qualified for the playoffs the last two seasons. Prescott suffered a serious ankle injury during Week 5 last year and missed the remainder of the season. His future was in serious question.
Prescott inked a four-year contract worth $160 million. According to the Dallas Morning News, the deal paid him an NFL-high $75 million for the 2021 season.
Prescott hasn't disappointed. Coming off a 2020 season where the Cowboys finished 6-10, the Cowboys quarterback returned as if he hadn't missed a beat. He led Dallas to a 12-5 record and an NFC East crown. In 16 games, he threw for 37 touchdowns and 4,449 yards.
Prescott is back. The Cowboys are back. Now it's time for No. 4 to step it up.
"Dak's got pressure to be good and to get this team to the Super Bowl," said former NFL Network analyst Steve Mariucci, per the Dallas Morning News. "Gosh, they haven't been there since '95 so there's a lot of weight on his shoulders. There's high expectations on that team but especially that position."
Dak Prescott doesn't understand the word 'pressure'
The stakes might be a lot higher Sunday when the Cowboys and 49ers meet, but don't tell that to Prescott. He will approach this one as he does every other game. He's got the money now, but he still has the same midset he's always had.
"I mean I do what I normally do," he said. "I don't necessarily know why people have labeled the word 'pressure' as such a bad thing, honestly.
"It creates high expectations and high standards, and they usually create high results. So for me it's just about being who I am, staying true to that, knowing who I am, preparing the same way that I have, and that I do trust in the people around me, trust in my play-callers and my preparation. Then just going out there and playing the game that I love without any hesitation."
Prescott and the Cowboys earned the right to play at home. They are the No. 3 seed in the NFC and enter Sunday's game as a field-goal favorite. Even if pressure isn't felt by Prescott, it will likely play a role with some of the players and possibly Cowboys head coach Mike McCarthy.
Former Cowboys offensive coordintor Norv Turner said there's only one real way of alleviating that pressure.
"Well, how you handle it is winning," Turner said.
Prescott handles himself well as a leader of the Cowboys
Prescott is saying all the right things heading into Sunday's game. Expectations are high for the Cowboys, and they should be. Prescott has a wide range of weapons at his disposal. For the Cowboys, getting to the postseason won't be enough.
Prescott, however, is taking things one game at a time. He knows his role as the leader, and the Cowboys will go as far as he takes them.
He knows what he has to do.
"As the leader of this team as the quarterback, I understand my obligations. It's as simple as that," Prescott said. "People can put as much pressure as they want on it. I hold myself to high standards and high expectations, and I plan to go out there and fulfill everything that I want."