Dak Prescott's Historic $66 Million Signing Bonus Proves That a 2016 Scouting Report Was Dead Wrong
The Dallas Cowboys have finally ended their saga with Dak Prescott. The team and their star quarterback agreed to a new contract, keeping him in Texas for the next four years. Prescott has waited a long time for his big payday from Jerry Jones, and he finally got it.
The Mississippi State product has come a long way, rising from an unheralded draft pick to becoming one of the highest-paid players in NFL history. His historic contract is the perfect evidence that one specific scouting report was completely wrong about him.
Dak Prescott signs a four-year contract with the Dallas Cowboys
RELATED: Dak Prescott's Dad Delivers Dynamite Quote After Son Secures $160 Million Contract From the Dallas Cowboys
The Dallas Cowboys have been negotiating a new contract with Dak Prescott since whenever. As time progressed, Prescott gained more leverage in contract talks. On March 8, both sides finally agreed on a four-year, $160 million deal, with $126 million guaranteed. That is the second-most guaranteed money in NFL history per Spotrac.
Prescott and Dallas were able to get a deal done right up against a crucial deadline. March 9 was the last day teams could place the franchise tag on players. The two-time Pro-Bowler played on the franchise tag this past season, and there were speculations that the Cowboys might tag him a second time. Nevertheless, Prescott is finally getting paid like a big-time quarterback.
The finer details of Prescott's contract tell a better story than the raw numbers. The Dallas quarterback will average $42 million per year in the first three years of his deal, including $75 million in the first year, according to NFL Network. His contract also comes with a no-trade clause and a no-tag provision, meaning that the Cowboys can't place the franchise tag on him again.
The most significant part of Dak Prescott's deal, however, is the signing bonus. His $66 million signing bonus is the largest in NFL history, passing Russell Wilson's $65 million. This historic contract keeps the 27-year-old quarterback in Big D for the foreseeable future and proves that a 2016 scouting report was dead wrong about him.
Scouts Inc. gave Prescott a really low pre-draft grade
RELATED: Dak Prescott and the Cowboys Just Brutally Gave the Eagles a Painful Reminder of Their $33.8 Million Mistake
Becoming the player with the biggest signing bonus in NFL history wasn't an easy feat for Dak Prescott. He had to overcome personal obstacles and prove many draft scouts and front office personnel wrong.
When he entered the draft, he was coming off an exceptional season at Mississippi State, where he threw for over 4,500 yards and 25 touchdowns. He was also a force running the ball, accounting for over 500 yards and 10 touchdowns on the ground.
Despite his sensational senior season, scouts weren't totally sold on Prescott's talent. Well-known scouting organization Scouts Inc. thought he was the worst quarterback of his draft class. They gave him a pre-draft grade of 48 out of 99, as Paul Hembekides noted in a tweet after Dak signed his new contract.
A lot of quarterbacks were given a better grade than the Cowboys signal-caller. Paxton Lynch and Connor Cook received grades in the mid-80s. Neither Lynch nor Cook has started in more than five NFL games, and both are currently free agents. Jared Goff and Carson Wentz, the first two picks of the 2016 draft, were given grades in the 90s. We've seen how their careers have played out compared to Prescott's.
Dak Prescott's contract with the Cowboys brings huge expectations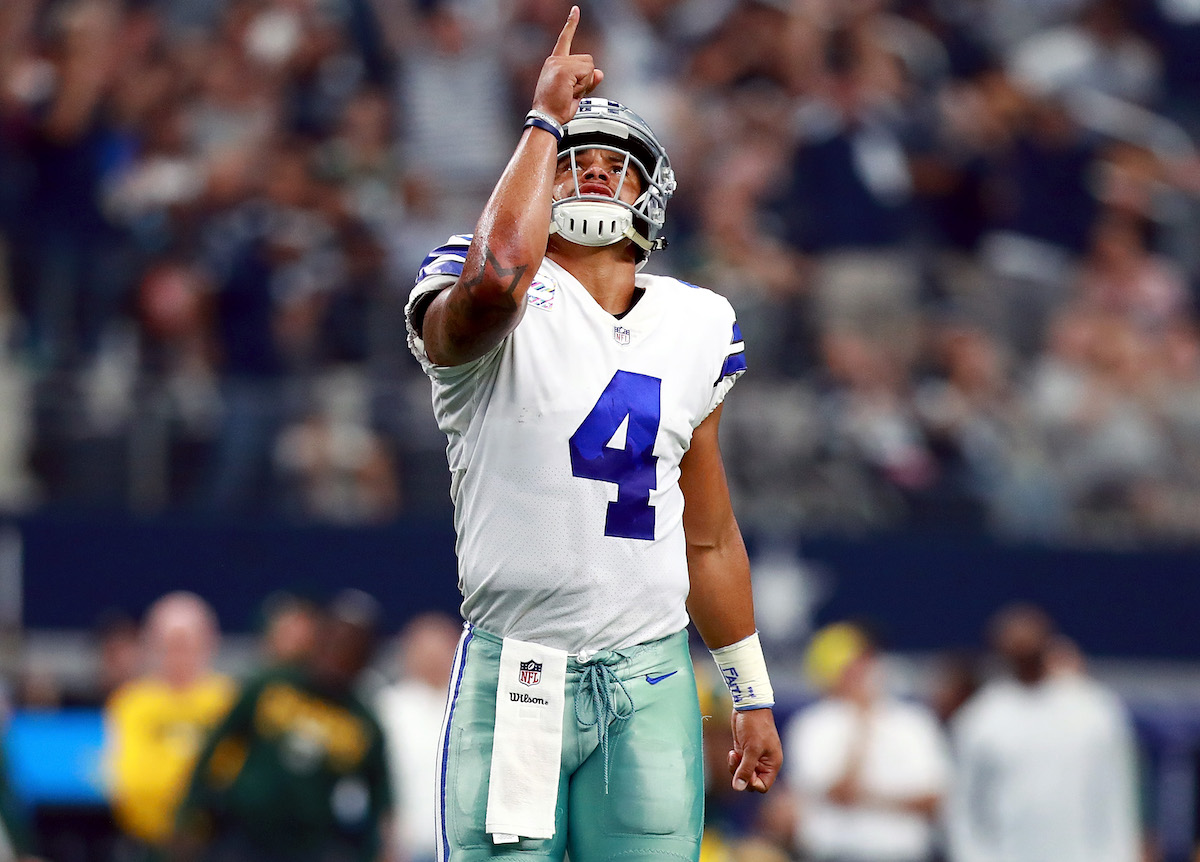 RELATED: Dak Prescott Overcame His Childhood Asthma Thanks to 2 Chihuahuas and Some 'Voodoo Ways'
Now that Dak Prescott is making elite quarterback money, there are expectations that he will take the Cowboys to the next level. The team hasn't won a Super Bowl since the 1990s, and Jerry Jones has been vocal about his desire to win another. With the 78-year-old general manager paying Prescott $160 million, he's hoping that No. 4 can bring Dallas a championship.
Prescott has performed like a top-level quarterback since he became the starter. He's never had a losing season with the team and was on pace to break Dallas' single-season passing record before a gruesome ankle injury ended his 2020 season.
When he was out of the lineup, the Cowboy's offense was abysmal. They averaged 21.1 points per game, a far cry from the 32.6 points they put up with Prescott. Many of Dallas' skill players saw a decrease in production when their Pro-Bowl quarterback was off the field. The team's offensive struggled showed how valuable Prescott was to the team.
The Dallas Cowboys have finally locked up Dak Prescott to a long-term contract. The five-year quarterback has proven he's worth every penny of his new deal. He's waited years for his payday, and now he and the Cowboys can focus on winning a championship. Prescott is expected to be 100% healthy by the time offseason workouts start.
Stats courtesy of Football Reference and Sports Reference