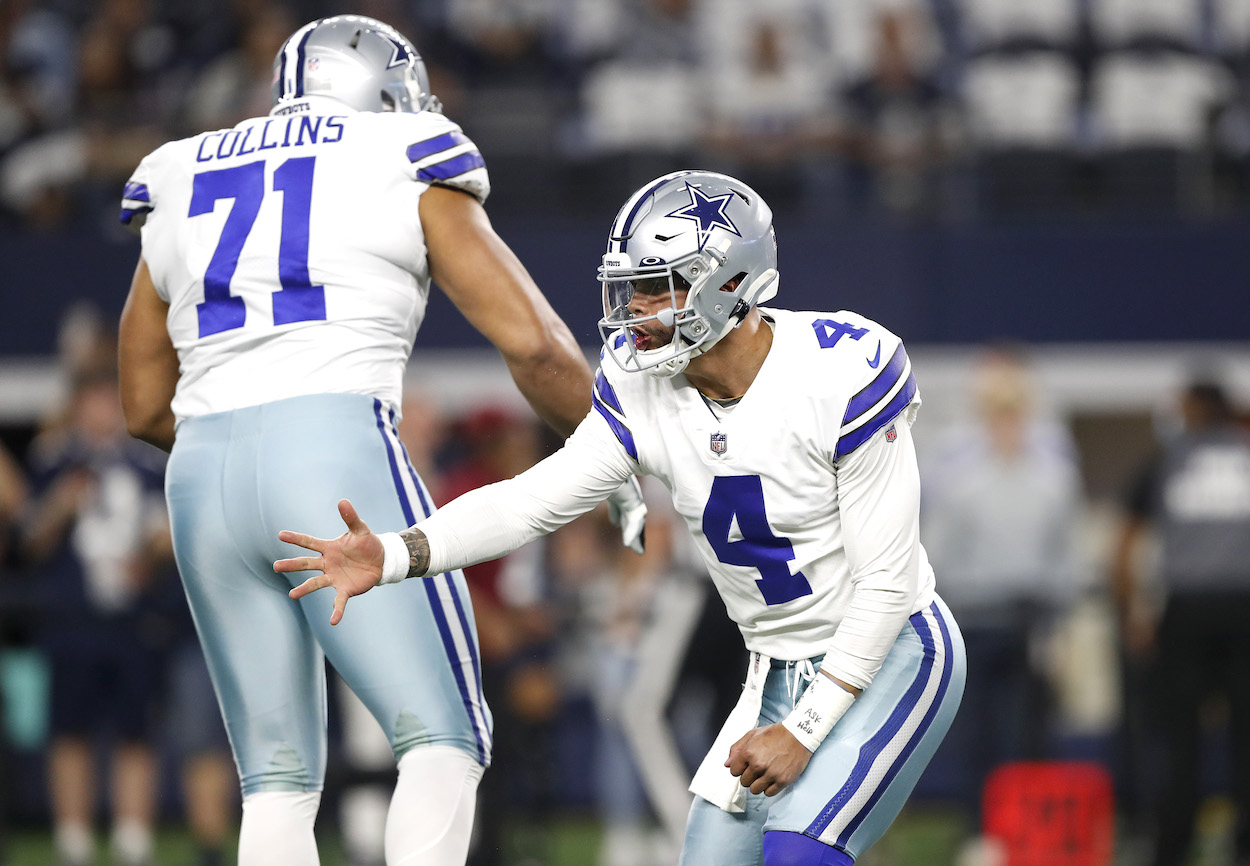 Dak Prescott Is Unintentionally Forcing the Cowboys to Trade La'el Collins
The Dallas Cowboys are being forced to trade OT La'el Collins due to the presence of Dak Prescott's lofty cap number.
The Dallas Cowboys are desperately trying to free up cap space this offseason. They've already restructured Dak Prescott's contract and are rumored to part with former franchise cornerstones Amari Cooper and Demarcus Lawrence.
After years and years of heavy spending, the Cowboys are finally being forced to deal with the consequences. They need to keep shedding payroll if they want to be players in free agency this offseason.
While Dallas is off to a decent start, more money still needs to come off the book, and it appears they've identified another cap casualty.
The Cowboys are trying to trade OT La'el Collins
Everyone knows the Cowboys are still working to dump salary this offseason. However, what everyone didn't know is the lengths the front office would be willing to go to make sure it happens. According to NFL insider Ian Rapoport, Dallas is now shopping starting offensive tackle La'el Collins.
Sure, the Cowboys need to free up cap space, but dipping into the offensive line to do so is a risky endeavor. Collins has been a valuable starting lineman for Dallas since 2015, proving capable of playing both tackle and guard. Between himself, Tyron Smith, and Zack Martin, the Cowboys had one of the better offensive lines in football. It's a big reason the team's offense has been so successful the past few seasons.
However, all Dallas seemingly cares about is the cap number. Collins is owed $10 million in 2022, the sixth-highest number on the Cowboys' payroll.
If you exclude Cooper and Lawrence (who are likely to be released), Collins has the fourth-highest cap hit on the Cowboys.
Dak Prescott is responsible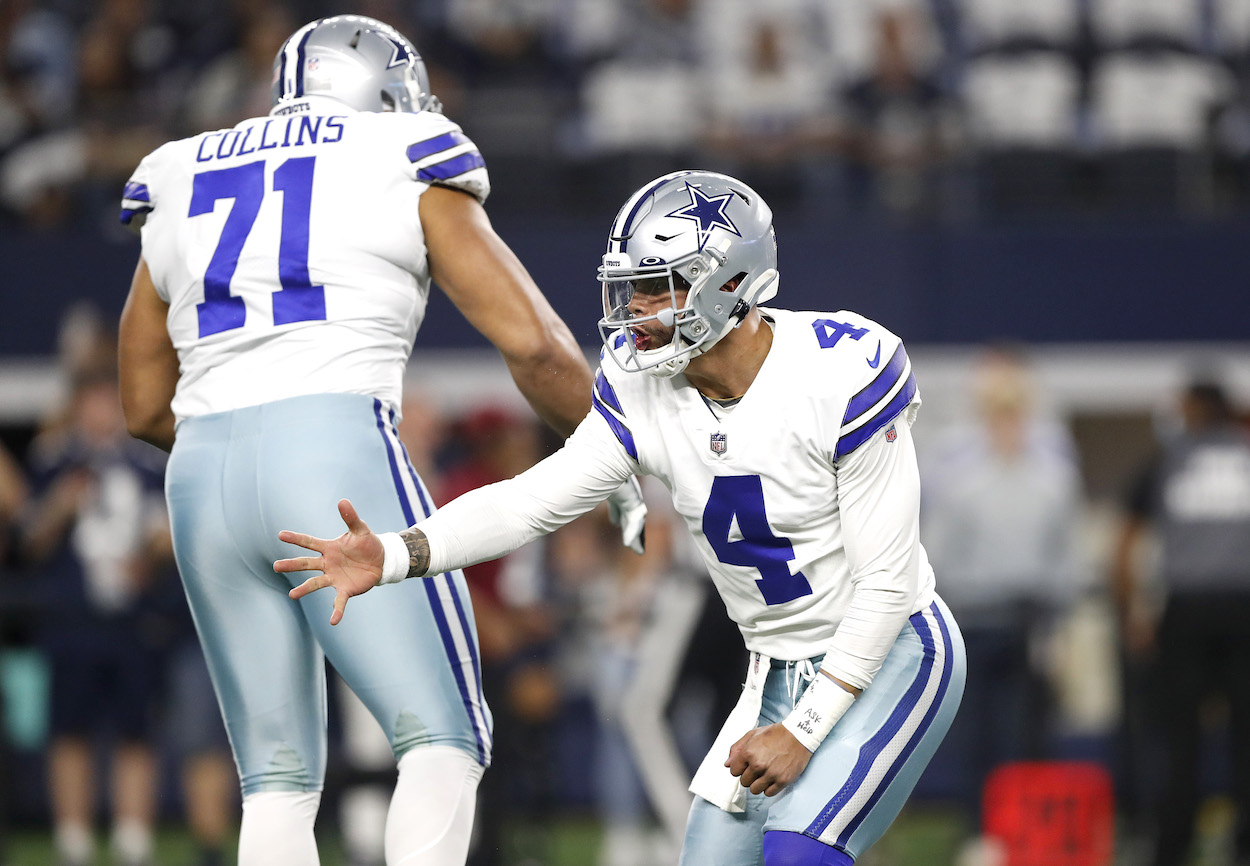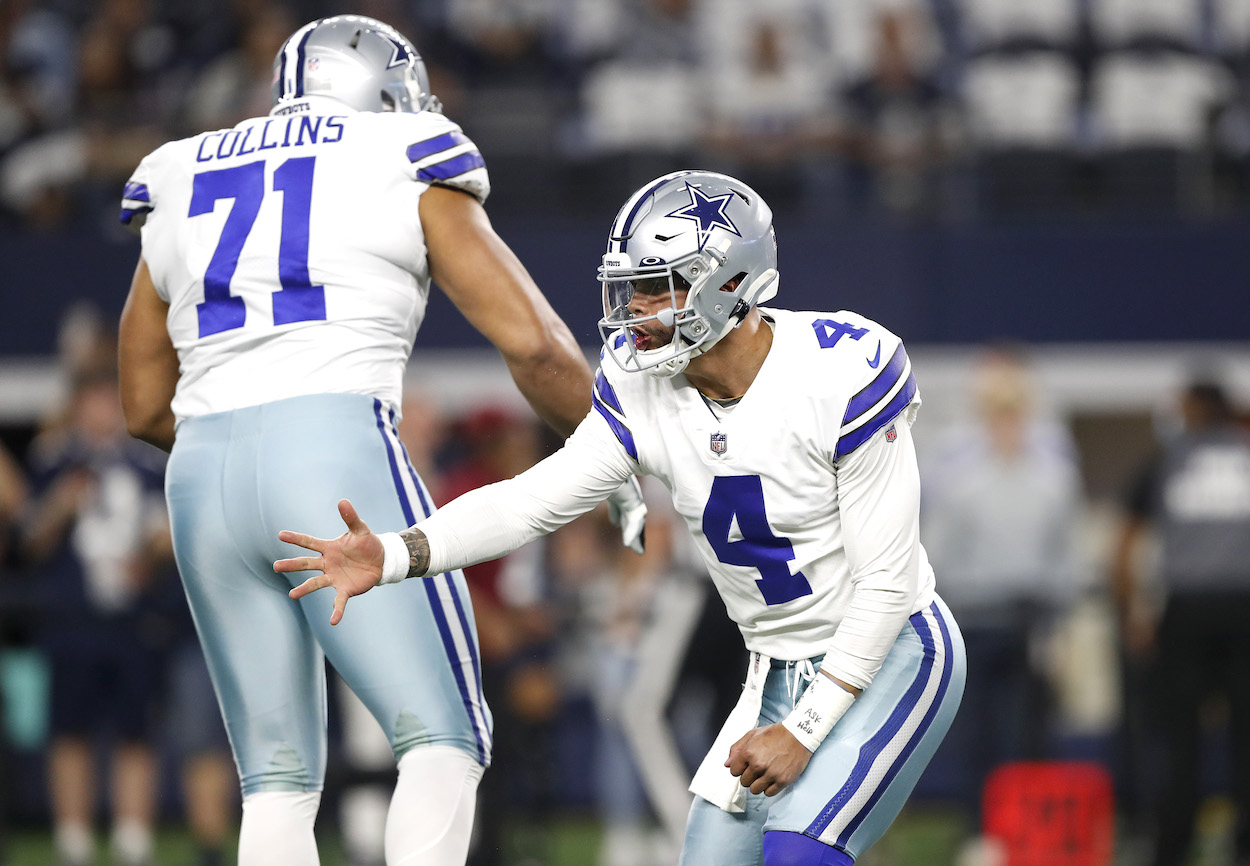 As the headline of this article suggests, Dak Prescott is actually the driving force behind this trade rumor.
No, it's not because he dislikes Collins or has asked the front office to find him a new starting right tackle. Instead, it's due to the fact Prescott's mega-contract extension is finally kicking in this year. Prescott's cap number jumps to $19.7 million this year, $49.1 million next year, and $52.1 million in 2024.
Dallas has already restructured Prescott's contract once, hence the lofty salaries in 2023 and 2024, and the lower cap number in 2022. However, it's clear the front office is aware of the predicament they're putting themselves into. They can't push money off into the future forever. They need to start appropriately budgeting for Prescott to be paid in full.
This is why Prescott is partly to blame for Collins hitting the trade block. Sure, you can blame Ezekiel Elliott's lofty salary as well. However, Prescott is the more pressing issue at the moment. Ultimately speaking, he's going to have to deal with the consequences. It's his offensive line that's getting worse.
The Cowboys should have no problem trading La'el Collins
Collins is a premier player who pays a premier position. The Cowboys should have no trouble finding a suitor for him over the coming days/weeks. They'll likely get a good haul of draft picks in return as well.
It's rare for starting-caliber offensive tackles to hit the trade block.
However, the Cowboys' once-feared offensive line will be taking a significant blow. How Prescott responds in 2022, only time will tell.
All stats courtesy of Pro Football Reference.