Dak Prescott, Jalen Hurts, or Ryan Fitzpatrick? Which Will Have the Most Impact on Their Team This Season?
This will be a critical year for several NFC East quarterbacks as they are not only vying for a playoff berth but perhaps also gearing up for a Super Bowl run. But which will have the biggest impact on his team? 
Will it be Dallas Cowboys quarterback Dak Prescott, who missed the majority of the 2020 season because of an ankle injury?
Will it be Philadelphia Eagles starting quarterback Jalen Hurts, who was given the reins at the end of last season?
Or will it be the Washington Football Team's Ryan Fitzpatrick, who will be depended on to bring his magic to last year's NFC East champs?
Dak Prescott, Dallas Cowboys
We all witnessed what losing Prescott meant to the Cowboys. The team basically fell apart without his presence.
Still, Dallas was one game away from winning the NFC East and heading to the playoffs. So what does having him back in the lineup mean for the Cowboys?
It means more stability on offense. The Cowboys' offense was stagnant in losses last year and could have used Prescott to help win a few more ball games.
His presence will also open up the ground game for running back Ezekiel Elliott, who had an off year compared to years past. He only had six touchdowns and 979 yards rushing.
You can make the argument that Prescott will be the most important player in the NFC East this season. With Prescott in 2019, the Cowboys finished first in total offense and sixth in scoring. Last year, the Cowboys were 14th in scoring, averaging 24.7 points per game.
Jalen Hurts, Philadelphia Eagles
To say the Philadelphia Eagles' offense struggled under former starting quarterback Carson Wentz last year would be an understatement. 
The Eagles finished 19th in scoring, and Wentz was part of the reason. Wentz threw 15 interceptions and was sacked 50 times.
When it was quite obvious that Wentz had lost his confidence, rookie quarterback Jalen Hurts replaced him and brought life to the team.
Now, will that life continue into the 2021 season? Hurts has a few things going for him that Wentz didn't. He is mobile, and he has a new weapon to play with: former Alabama wide receiver DeVonta Smith. The Eagles will lean heavily on them to carry their squad this year.
But the question remains: Can the Eagles' offensive line hold up?
Ryan Fitzpatrick, Washington Football Team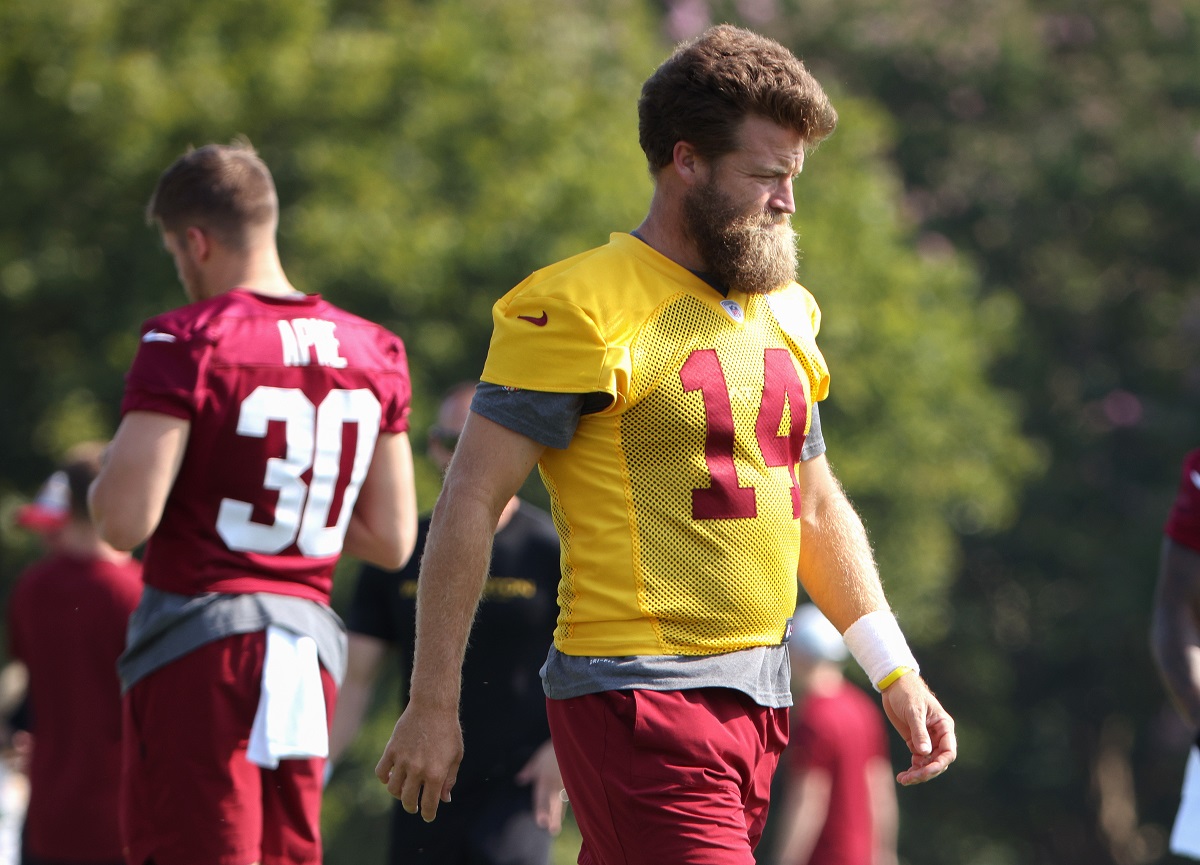 Fitzmagic is back! But this time, it's in Washington. 
After almost helping lead the Miami Dolphins to the playoffs last year along with rookie quarterback Tua Tagovailoa, Ryan Fitzpatrick brings his desperately needed experience to Washington. Following the sudden retirement of starting quarterback Alex Smith, WFT needed to find a new starter, and they have that in Fitzpatrick.
Although their defense was elite, finishing fourth overall in points allowed at 20.6 per game, their offense was not, according to Pro Football Reference. The WFT finished 25th in scoring, averaging 20.9 points per game.
Fitzpatrick might find himself in the same situation he did with the Dolphins last year: not having enough weapons surrounding him.
It's going to take more than his magic to win ball games this year.