Dak Prescott Just Delivered a Fiery and Arrogant Message to the Rest of the NFL Following the Cowboys' Massive Week 10 Win
Dak Prescott and the Dallas Cowboys were embarrassed during their Week 9 loss to the Denver Broncos. Steamrolled at home by a score of 30-16, many walked away from the game wondering if Denver had finally revealed the blueprint on how to beat Dallas. Up to that point, Prescott and the Cowboys had mainly looked unbeatable.
Even during their Week 1 loss to the Tampa Bay Buccaneers, Prescott and the offense had little trouble moving the football. They just happened to be going up against the defending Super Bowl Champions.
Losing to Denver was a different story. The Broncos aren't a good football team — they had no business blowing out the Cowboys in Dallas. However, fast forward to Week 10, and it appears the loss may have been one giant fluke after all.
Dak Prescott and the Cowboys crushed the Atlanta Falcons
After a week of reflecting on what went wrong against the Broncos, the Cowboys came out firing on all cylinders against their next opponent, the Atlanta Falcons.
The game was an absolute bloodbath, to put things bluntly. The Cowboys won by a score of 43-3. Falcons quarterback Matt Ryan threw two interceptions and only mustered up 117 total passing yards on just nine completions. Backup Josh Rosen was under center for Atlanta by the time the fourth quarter rolled around.
The Cowboys' offense, in particular, looked elite again. Prescott passed for two easy touchdowns, zero interceptions, and 296 yards, and Ezekiel Elliott rushed for two touchdowns. Wide receiver CeeDee Lamb finished with 94 receiving yards and two receiving touchdowns as well.
It was a dominating performance by the Cowboys on all counts. It was such a good performance that Prescott fired back at those who paid extra attention to Dallas' embarrassing loss the prior week.
Dak Prescott fired back at the doubters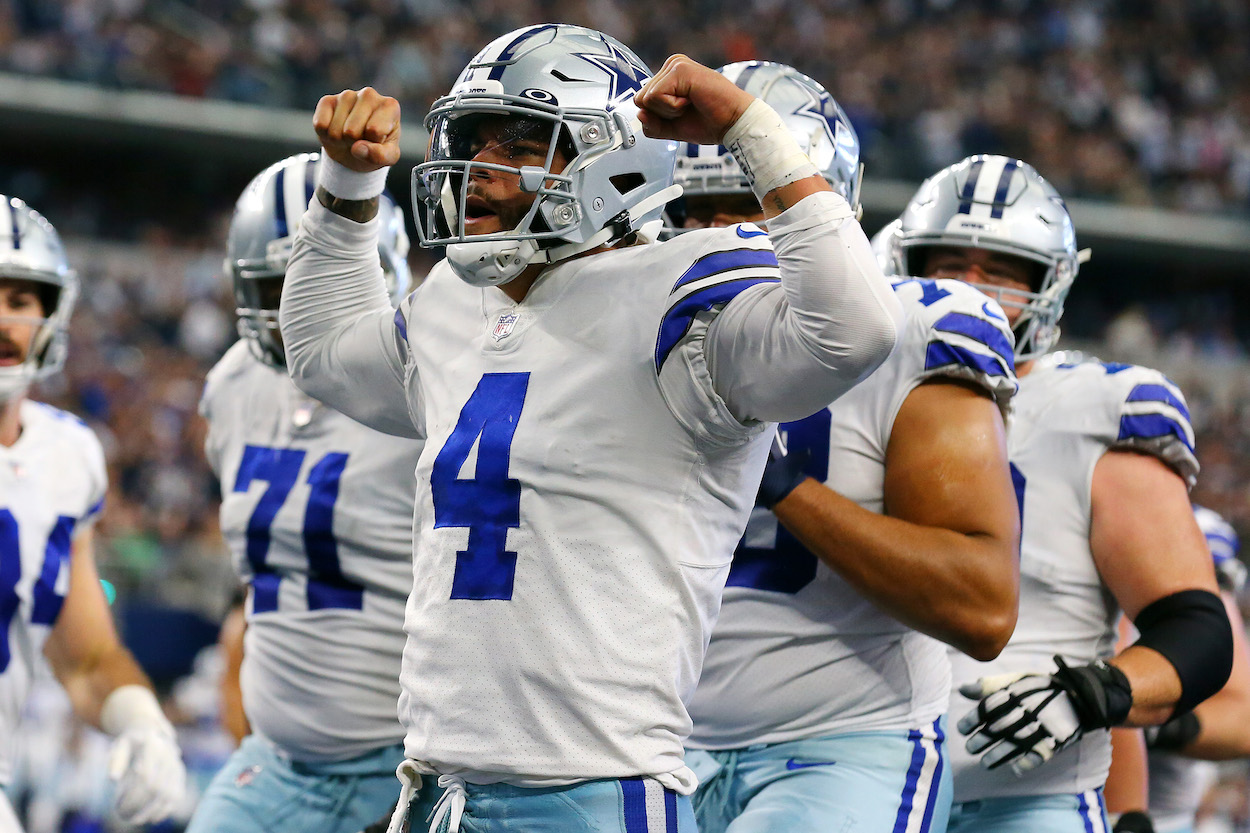 Following his team's impressive win, Prescott used his postgame time as an opportunity to fire back at those who felt the Cowboys' loss to Denver was an example of them being figured out by an opposing defensive coordinator.
"If they think that is the recipe for success against us, then good luck to them," Prescott said. "We know what we're capable of, and I think last week was something we needed in a sense of just refocusing, recentering, and realizing this is the NFL, and it's tough. You've got to earn it each and every day of practice, and you've got to come out on Sundays and earn it again."
"Last week just wasn't us, and everybody in that locker room knows that. It left a bad taste in our mouth. I think it was taste that we needed to understand how tough this game is, but tonight just shows that when we focus in, take it one play at a time, our minds are where our feet are, we're capable of doing some great things."
The Cowboys should be able to keep on rolling
If Prescott is correct in his belief that there isn't a blueprint on how to stop his team's offense, they will presumably cruise toward a postseason appearance.
The Cowboys lead the NFC East by multiple games. They also recently activated wide receiver Michael Gallup off injured reserve — another weapon for Prescott to target in the passing game.
In conclusion, the vibes are definitely good in Dallas at the moment.
All stats courtesy of Pro Football Reference.