Dak Prescott Once Crushed the Hopes of Jerry Jones' Former Team
Quarterback Dak Prescott is the leader of Jerry Jones' Dallas Cowboys. He has played excellent since the Cowboys drafted him in the 2016 NFL draft, and many Cowboys fans hope that he can lead them to where they haven't been in over 20 years — a Super Bowl. Jones is, of course, rooting for Prescott now, and has been since 2016. However, there was a point in Prescott's career where Jones was probably not rooting for him. It didn't turn out well for Jones either.
Dak Prescott played college football at Mississippi State
RELATED: Jerry Jones Just Received a Stern Message from 1 of His Star Players on the Dallas Cowboys
In college, Prescott played in the SEC for Mississippi State. He had an excellent career for the Bulldogs too. After spending time as a short-yardage and red-zone quarterback in his redshirt freshman season in 2012, Prescott then got some more playing time in 2013. 
He was a part of a two-quarterback system that year, according to Mississippi State's team site. Prescott threw for 1,940 yards, 10 touchdowns, and seven interceptions that season. He was outstanding when he ran with the ball, though, as he racked up a team-best 829 rushing yards to go with 13 rushing touchdowns.
Then in 2014, Prescott had a breakout year. He was an Honorable Mention All-American as he set 12 school single-season records. He ran for 986 yards and threw for 3,449. Prescott also ultimately threw for 27 touchdown passes and ran for 14 touchdowns. Mississippi State had an excellent season too as they went 10-3 and finished 11th in the final AP poll. 
Prescott then continued to have success in 2015. He threw for 3,793 yards and 29 touchdowns, compared to only five interceptions. He also ran for 588 yards and 10 touchdowns. Mississippi State Ultimately went 9-4 that season and won the Belk Bowl over North Carolina State.
His play at Mississippi State ultimately led to the Cowboys selecting him in the NFL draft. 
He has been a star for Jerry Jones' Dallas Cowboys
RELATED: Cowboys Owner Jerry Jones Could Soon End His Silence on Social Injustice
Jerry Jones and the Dallas Cowboys selected Prescott in the fourth round of the 2016 NFL draft, but he has played like a first-round talent. 
In his rookie season, he threw for 3,667 yards, 23 touchdowns, and only four interceptions, earning a Pro Bowl selection. He ultimately led the Cowboys to a 13-3 record that season, but they lost to the Green Bay Packers in their lone playoff game.
In 2017, Prescott threw for 3,324 yards, 22 touchdowns, and 13 interceptions, but the Cowboys went 9-7 and missed the playoffs.
Prescott and the Cowboys then had a good year in 2018 as he threw for 3,885 yards, 22 touchdowns, and eight interceptions, earning another Pro Bowl selection. The team ultimately went 10-6, reached the playoffs, and won a playoff game too. 
However, in 2019, Prescott was one of the best quarterbacks in the NFL. He threw for a crazy 4,902 yards to go with 30 touchdowns and 11 interceptions, proving that he can be the Cowboys' quarterback of the future. Dallas, however, went 8-8 in 2019 and missed the playoffs.
Prescott has been a star for Jones' team. He, however, crushed the hopes of Jones' former team once. 
Prescott dominated Arkansas in 2015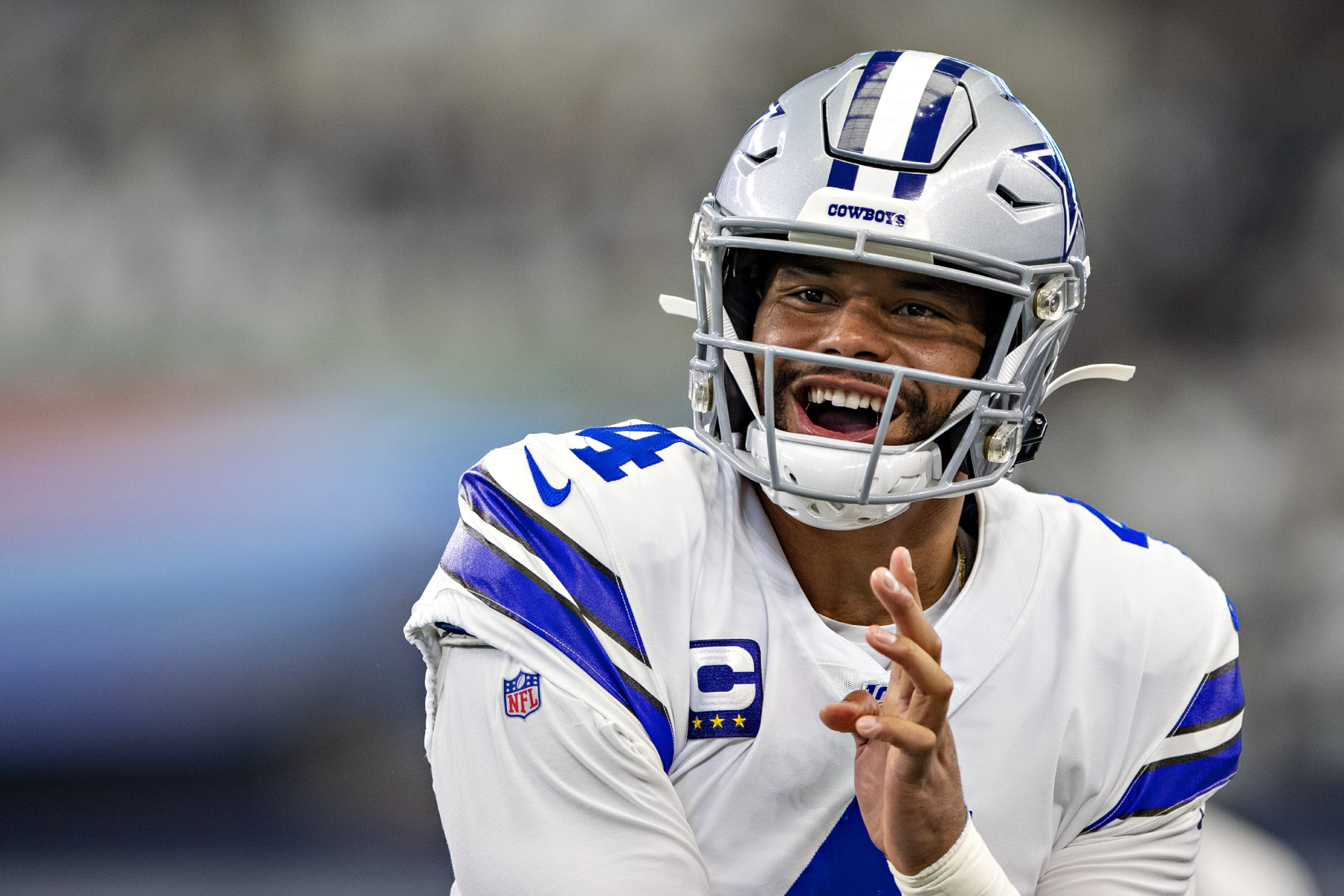 RELATED: Why Do People Still Argue Over Dak Prescott and Carson Wentz?
During Prescott's 2015 season with Mississippi State, he played Arkansas, which is who Jones played for in college. In fact, Jones was the co-captain of Arkansas' national championship team that won the 1965 Cotton Bowl.
When Prescott and Mississippi State played Arkansas in 2015, the game was actually very competitive. Mississippi State ultimately won 51-50 as they blocked a field goal with 40 seconds left, according to AL.com. 
Prescott went completely off too. He threw for 508 yards and five touchdowns while also running for 46 yards and two touchdowns. Prescott scored seven total touchdowns on Jones' old team and also tossed the game-winning TD with 3:05 left. 
So far in his NFL career, he has not quite thrown for 500 yards in a game yet, but he has thrown for over 400 yards four times. 
Jerry Jones was most likely not too happy with Prescott that night. Prescott crushed his former team's hopes of getting a win in that game. Jones, however, probably hopes that Prescott can now crush the hopes of some NFL teams moving forward.
Stats courtesy of Sports Reference and Pro Football Reference