Dak Prescott Once Proved That He Has No Fear by Facing a Potentially Rabid Raccoon
The Dak Prescott contract situation has been one of the hottest topics of conversation during quarantine and during the NFL offseason. Prescott has been a good quarterback for the Dallas Cowboys in the last four seasons, and he was excellent last season. It is important for quarterbacks to have a no-fear attitude when they're on the field, especially while playing in big moments, and Prescott has shown that he fears nothing. This has also been the case off of the field.
Dak Prescott has been good ever since his rookie season
The Dallas Cowboys drafted Dak Prescott in the fourth round of the 2016 NFL draft. He then ended up being a really nice surprise for the Cowboys as a rookie. Prescott led the Cowboys to a 13-3 overall record during his rookie season. His stats were excellent too as he threw for 3,667 yards, 23 touchdowns, and only four interceptions. Those numbers helped him earn a Pro Bowl selection and the AP Offensive Rookie of the Year award.
After not playing as well in 2017 (the Cowboys went 9-7 with Prescott throwing for fewer yards, fewer touchdowns, and more interceptions), he has played really well again the last two seasons. Prescott threw for 3,885 yards, 22 touchdowns, and eight interceptions in 2018. He earned a Pro Bowl selection that year, led the Cowboys to a 10-6 record, and they even won a playoff game. Then in 2019, the Cowboys only went 8-8, but Prescott was one of the best quarterbacks in the NFL. He threw for 4,902 yards, 30 touchdowns, and 11 interceptions. 
Dak Prescott has been really good for the Cowboys in the last four years. He proved his potential on the field early in his career. He also proved his potential off of it.
Prescott faced a potentially rabid raccoon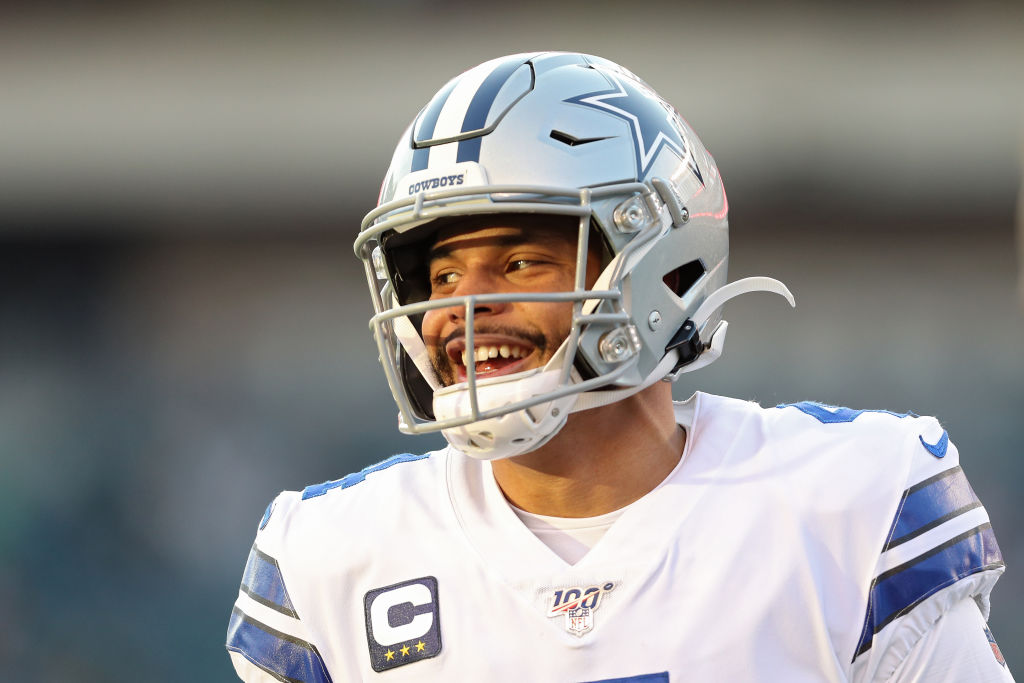 After his stellar rookie season, GQ did a story on Dak Prescott in August 2017. The writer, Michael J. Mooney, followed Prescott during a golf tournament in Dallas. Prescott, who had just played his first ever round of golf a month beforehand, was paired with representatives from corporate sponsors of the Cowboys.
During the tournament, someone noticed that a raccoon had come out of the woods and went onto a golf cart, according to GQ. The men golfing realized that raccoons are mostly nocturnal, so that it might have been rabid since it was up during the day. Prescott, on the other hand, walked toward the animal, which ended up going under a bridge.
"By the time the group catches up to him, he's only a few feet from the raccoon, and he's feeding it salt-and-vinegar potato chips," Mooney wrote. "Each time he tosses a chip, the raccoon picks it up and devours it, and Prescott smiles like a little boy."

Michael J. Mooney
So, while some of the guys were worried about potentially getting rabies, Prescott instead just fed the raccoon. He had no fear at all. That can certainly be important for the Cowboys in the future.
Will the Cowboys give their QB a new contract?
Being a fourth-round draft pick, Dak Prescott has only earned an estimated $4.9 million in his career, according to Spotrac. There has been a lot of speculation on whether he will finally get a massive deal with the team this offseason, though.
The Cowboys gave Prescott the exclusive franchise tag in March, according to DallasCowboys.com, which is worth around $33 million. They have also offered him a five-year contract with more than $106 million guaranteed, according to Sports Illustrated. Clarence Hill Jr. of the Star-Telegram reported earlier this month, though, that the two sides have not been able to agree on the length of the deal, according to CBS Sports.
The Cowboys better figure something out.
While Dak Prescott maybe is not quite as talented as Patrick Mahomes or has not won as much as Russell Wilson, he is still one of the best young quarterbacks in the league. The Dallas Cowboys need to get this deal done. Once they do, Prescott's talent and no-fear attitude can help the franchise do some special things. If they don't get him locked up, though, the fans could have to endure several more years of mediocrity.