Dak Prescott's Pregame Meal Sounds Like a Picky 10-Year-Old's Lunch
Dallas Cowboys quarterback Dak Prescott is a finely tuned NFL player with extraordinary physical abilities and technical skills on the field. So it might come as a surprise to learn he has the palate of a 10-year-old. Just what does Prescott prefer to chow down on as a pregame meal? The answer might surprise you.
Dak Prescott has been a force in the NFL since 2016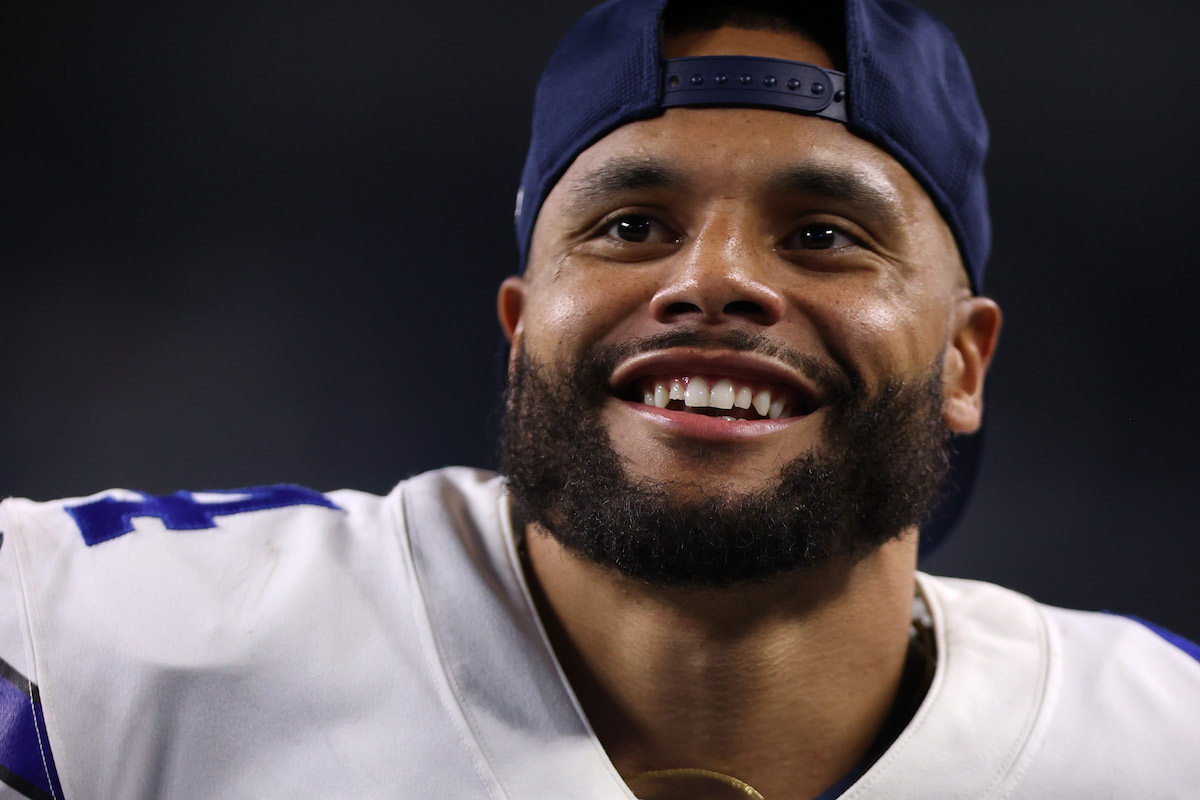 Born in 1993, Dak Prescott hails from Louisiana and attended college at Mississippi State University. The Dallas Cowboys drafted him into the NFL as a fourth-round pick. And he has remained with the team for the duration of his professional football career to date, Britannica reports.
Prescott holds the distinction of being Rookie of the Year in 2016 and playing in the Pro Bowl twice. Those accomplishments gave the quarterback negotiation power when re-signing with the Cowboys in 2020. But his contract was delayed amid disagreements over the terms.
He eventually accepted a four-year deal for $160 million. And despite recent reports that his contract saw restructuring, Sports Illustrated says nothing changed financially for him. That deal makes him one of the most valuable and well-paid players in the league.
Dak Prescott's diet before games is puzzling
Considering his fortune and physically demanding profession, you might expect Prescott to pregame with something incredibly decadent or particularly healthful. Instead, the athlete has stated his affinity for a meal that has left fans scratching their heads. He prefers spaghetti with ranch dressing and chicken to get his head in the game.
According to USA Today, Prescott doesn't see anything odd about his meal choice. "Just my whole life, we've always eaten spaghetti or something before the games in college and now in the pros, so I guess it'd be spaghetti with a little ranch on it," he said. "And some chicken."
Though Prescott made this comment back in Prescott's rookie days, he was already a well-paid athlete. Sportrac reports he made over $1 million that year.
At first glance, ranch dressing on spaghetti sounds like something a picky 10-year-old would eat. But the combination isn't that different from creamy Alfredo sauce on pasta.
The Cowboys QB also appreciates authentic Louisiana cuisine
Before you jump to conclusions about the limits of Prescott's palate based on his love of ranch-covered spaghetti, know that he also appreciates his home state's cuisine.
In an interview with Men's Journal, Prescott shared where to find authentic Louisiana fare.
"When you're driving in New Orleans, and you're going through those small towns, and you see that the gas station has food, just stop there," he said.
"In my opinion, those are some of the best places. The hole-in-the-wall places, the place where you can barely understand what they're saying because their accents are so rich — that's Louisiana, that's where you're going to get the most authentic food."
Some of Prescott's favorites are classic Louisiana dishes:
"I love fried boudin — that's my number one food to eat. I also really love some smoked or grilled, crawfish, jambalaya. Stuff like that is the best."

Dak Prescott via Men's Journal
The avid fisherman added that coming off the water from a long day of fishing and grabbing food at one of these hole-in-the-wall places is his favorite.
But the athlete also recognized that his metabolism would likely catch up with him. These days, he lays off fast food as much as he can.
Clutch Points reported in 2018 that Prescott, pointing to the fact he's getting older, said, "I figure I better fix my diet now. I guess I've dropped a few pounds, but it's more about not eating the fast food, being 22, and realizing my metabolism is going to slow down."
RELATED: Injured Dak Prescott Could Embarrassingly Still Lead the Cowboys in This Stat